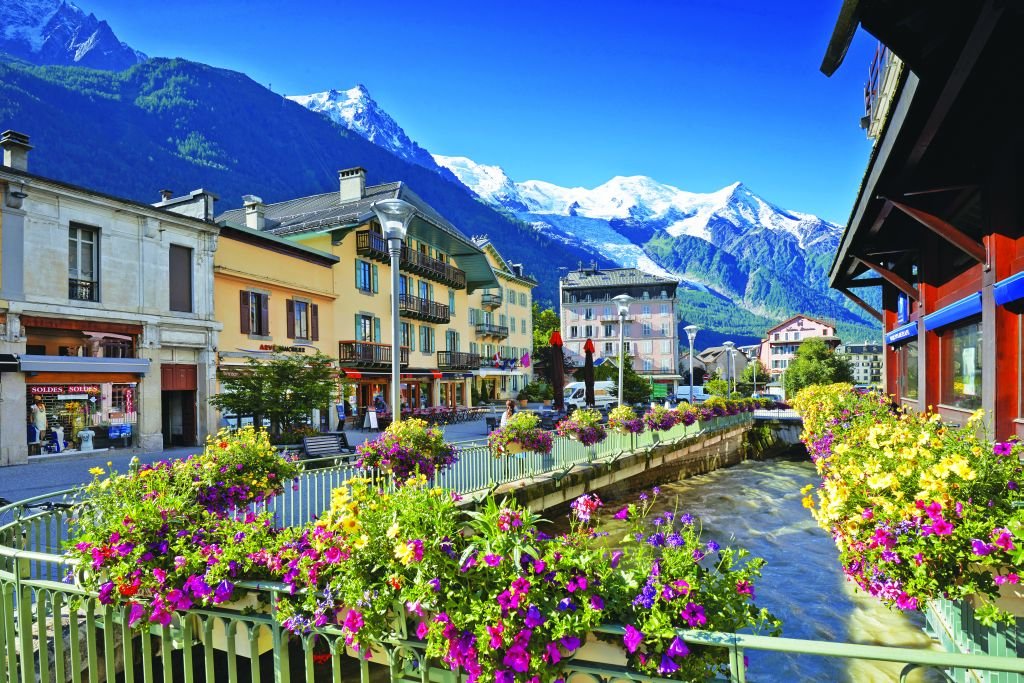 Where would you head for your stag do? Prague, Dublin, Krakow, Amsterdam…! "How about Chamonix?" That's what I thought…"Chamonix????" The French Alps, and in particular the pretty mountain village of Chamonix, probably didn't even register on your radar on the list of places to take your best mate for the ultimate stag weekend.
Well if you are looking for something a bit different and not your typical run of the mill stag party then stick with me to find out why you should head for a stag weekend in Chamonix for your friend's last weekend of freedom.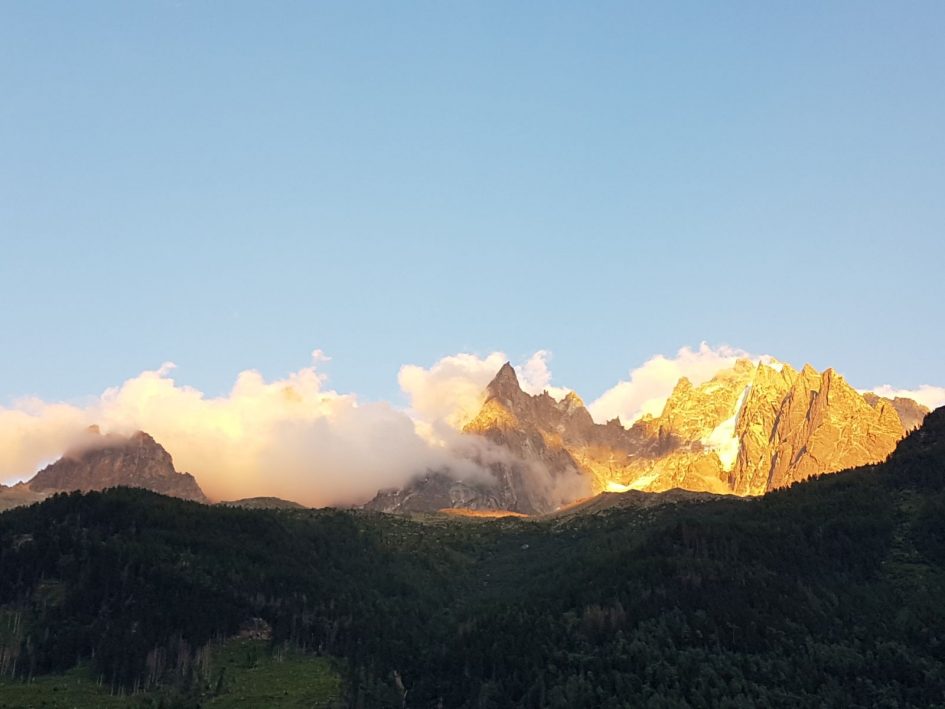 So, what do we know about Chamonix? It is a charming mountain village famous for the Mont Blanc and it welcomes thousands of visitors from around the world each year for their luxury ski holiday in the Chamonix valley. However, that is not all Chamonix has to offer. With summer activity holidays in the Alps becoming increasingly more popular and with Chamonix being located only 1 hour from Geneva airport you can quickly understand why it is an ideal destination for a summer alpine weekend away as well as a winter break.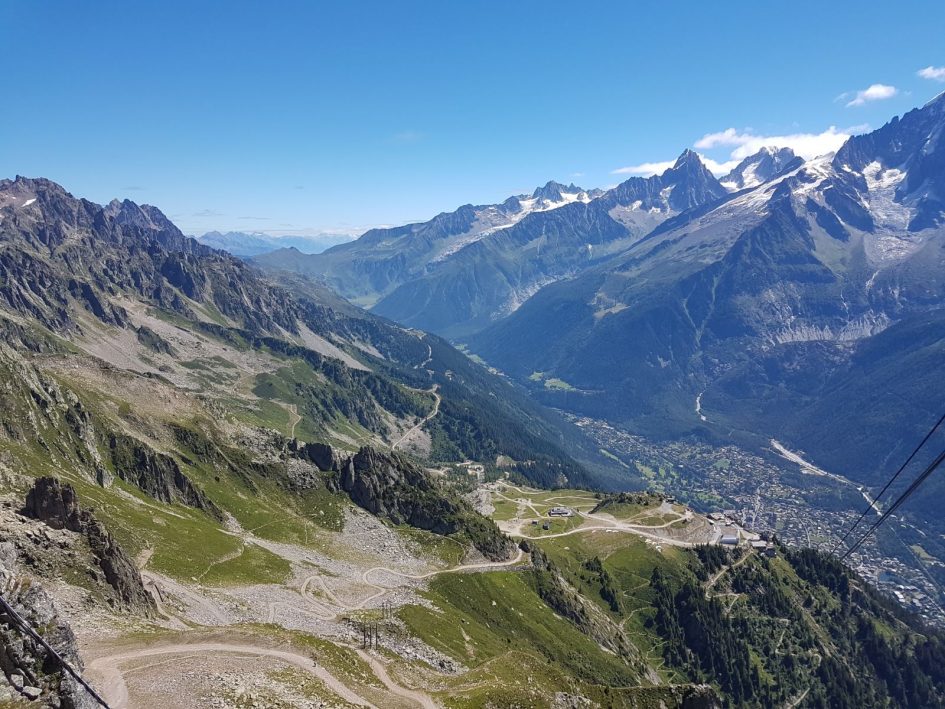 So, will Chamonix be a good enough destination to make this the stag party of the year? A venue that everyone will be talking about for years to come? If you're looking for a little bit more that just the usual antics that come with a British stag do then Chamonix is a must visit destination in the Alps.
Chamonix has a host of alpine activities on offer, an abundance of nightlife to keep you going well into the early hours of the morning, and a range of luxury summer chalets to relax in before your next adventure begins. This might just explain why my husband decided to get the boys together and head to Chamonix to celebrate his best friend's Alps stag party in style. 
CHAMONIX STAG ACTIVITIES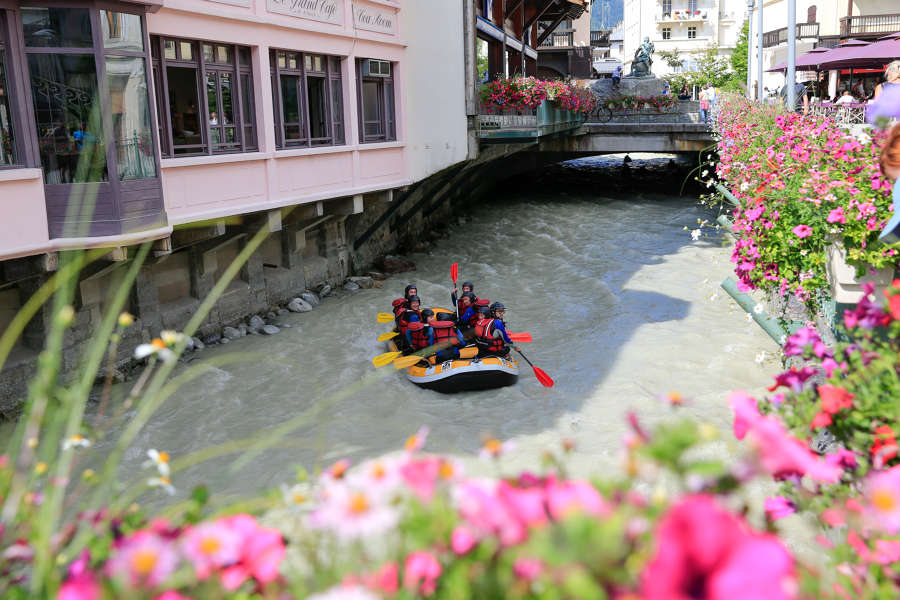 White water rafting is a perfect summer activity for a group of guys on a stag do who are seeking a fun experience which gets the blood pumping. Depending on your level of hangover you can either head down the Arve river through Chamonix town centre for some light rapids and sightseeing, or alternatively head through the Mont Blanc tunnel to Italy for some serious rapids (highest grade in Europe). Just make sure you don't decide on a 9:30am start after getting back at 6am in the morning, like this lot did.
If you fancy carrying on the water theme then make sure hydrospeeding and canyoning are also on the list for your weekend stag summer adventure holiday.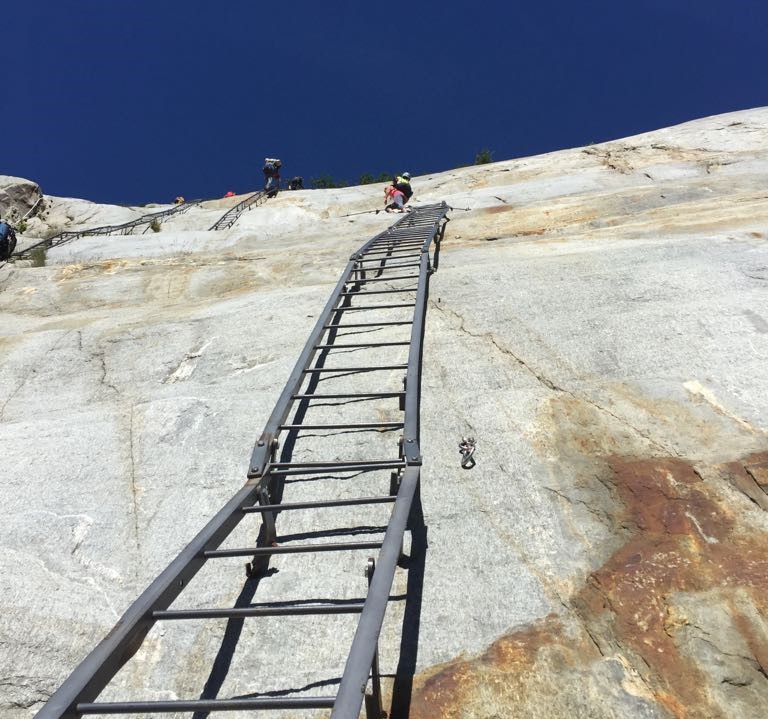 If, however, you are looking for something even more adrenaline fuelled than white water rafting, then via ferrata is definitely the activity for your stag party. You just better hope that everybody in the group has a head for heights as it's not for the faint hearted. Enjoy a day of scaling the rock faces by cables and ladders, taking in the incredible views if you dare, before climbing back down to Earth to enjoy that much needed beer in one of the many bars.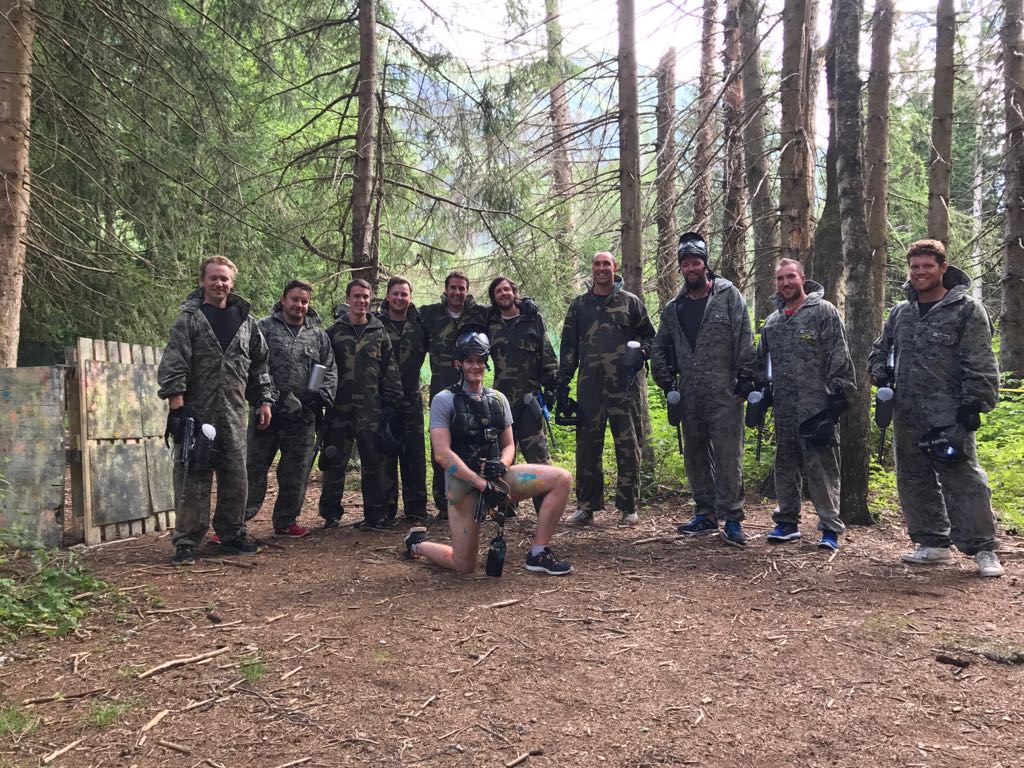 Needing a quick activity for the end of the day like the boys, then opt for a spot of paintballing. They clearly didn't want to miss the opportunity of having some fun shooting paint balls at the groom while he was running around in as little clothing as possible. Luckily the wedding isn't until next week, just enough time for the bruising to go down.
If you have more time on your stag do in the Alps or are just a little bit nicer than my husband and his friends then some alternative summer activities I would recommend would be downhill mountain biking, paragliding, rock climbing or a round of golf. Chamonix really is a perfect destination for any adrenaline junkies out there or activity enthusiasts who want to fit in as many alpine activities as possible.
STAG NIGHTLIFE IN CHAMONIX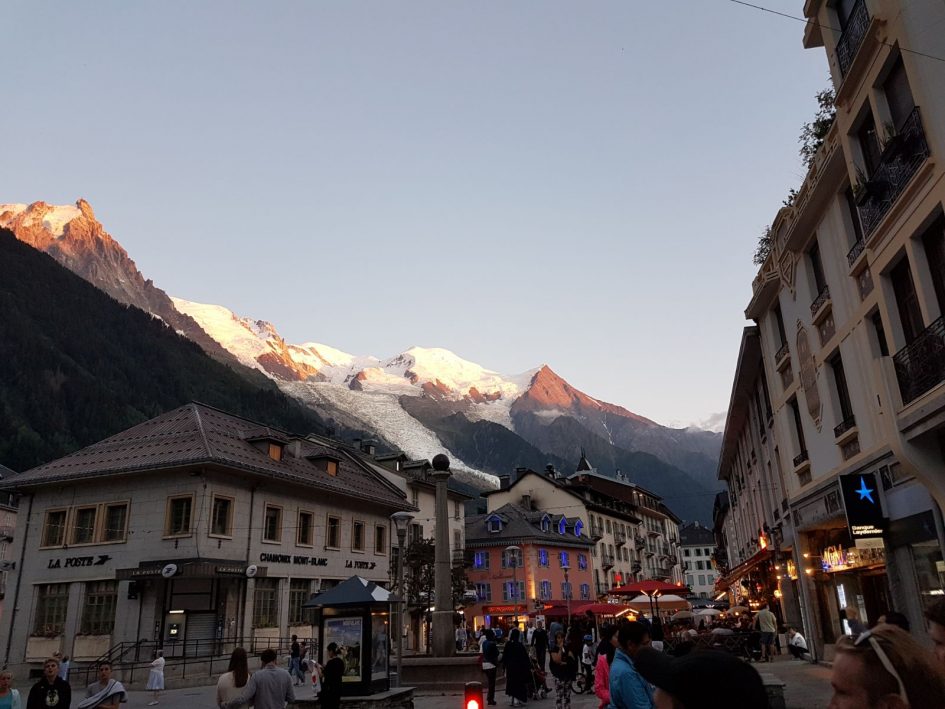 With Chamonix open for business all year round and not just as a purpose built resort, it offers a great atmosphere where both locals and tourists come together to enjoy a great selection of nightlife. Here are just a few suggestions to get you started.
Having finished your fun-filled activities for the day and it being beer o'clock, the first place of call would have to be Monkey Bar as it is ideal for a spot of afternoon drinking in the sunshine.
If you are a fan of ales then make sure you head to MBC for some homemade, hearty, delicious food accompanied by some fine ales from their very own brewery. If you feel that a stag do wouldn't be complete without a few more drinks then just make sure to bump into a French rugby team who you end up spending the rest of the night with and insist on buying the stag a Jagermeister every once in a while! However, if there are no French rugby teams about you can always rely on the staff to explain their traditions and supply the stag not only with alcohol but also some rather special headgear.
A few other recommended bars would be La Terrasse, Moo Bar, Munster Bar and Elevation to name just a few. When you are finally ready to make your way back to your summer chalet then make sure you head to Midnight Express for that unbeatable steak, frites and fromage. Just try not to get lost and do what my husband did, ending up getting a lift home with the friendly French fire service at 6am.
SUMMER CHALETS IN CHAMONIX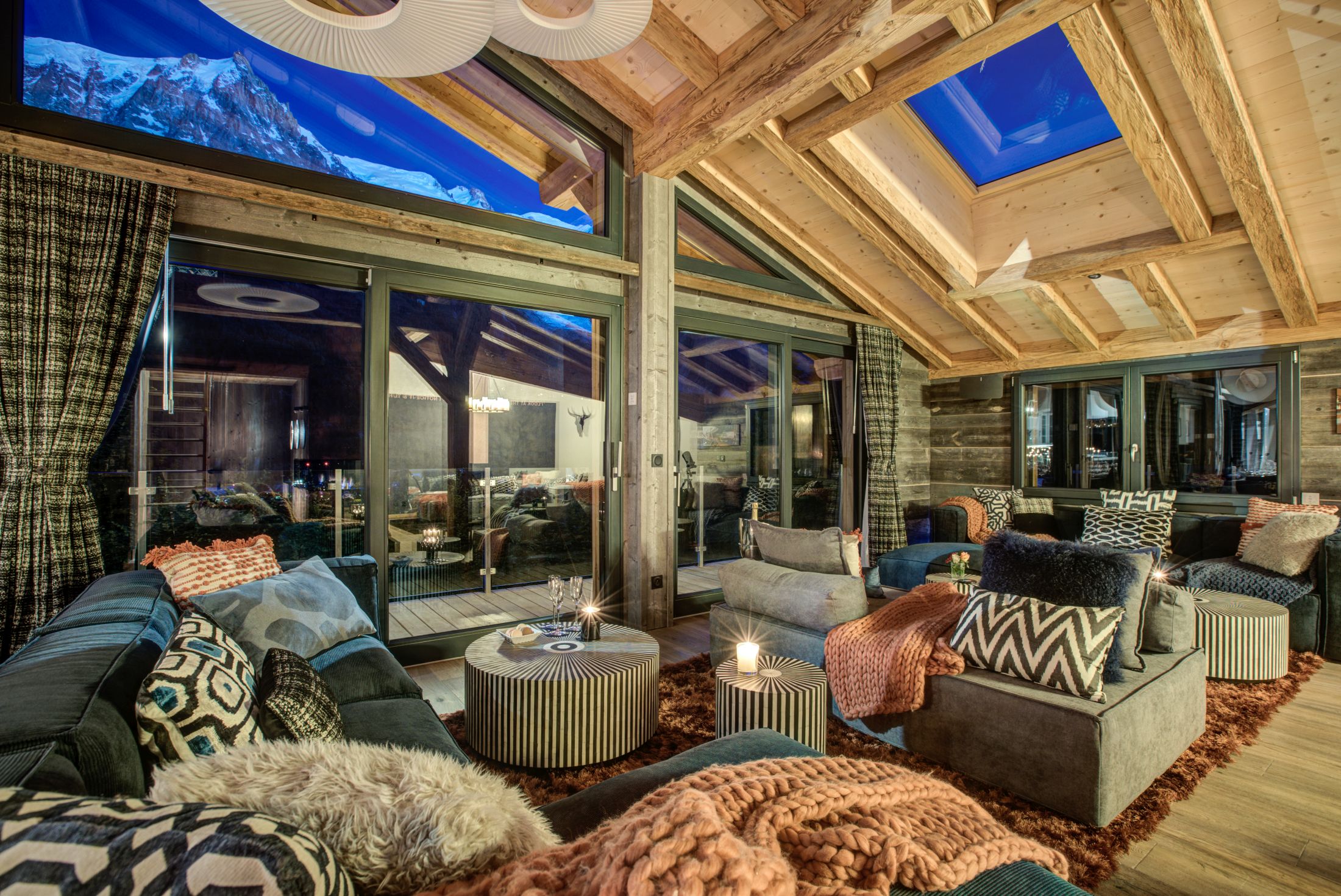 If you are looking for the 'wow' factor with uninterrupted views of the surrounding peaks and only a 15 minute walk to the bars and restaurants of Chamonix then look no further than the stunning Chalet Rock and Roll for a stag do to remember. This luxury chalet will be sure to keep everybody entertained with two fabulous outdoor hot tubs, a large sauna, bouldering room and a private gym.  Enjoy table tennis in the games room, and make the most of the summer sun in the large gardens and terraces; perfect for a BBQ and alfresco dining.  Live like a rockstar for your stag do at Chalet Rock and Roll in Chamonix, for an alpine holiday you won't soon forget!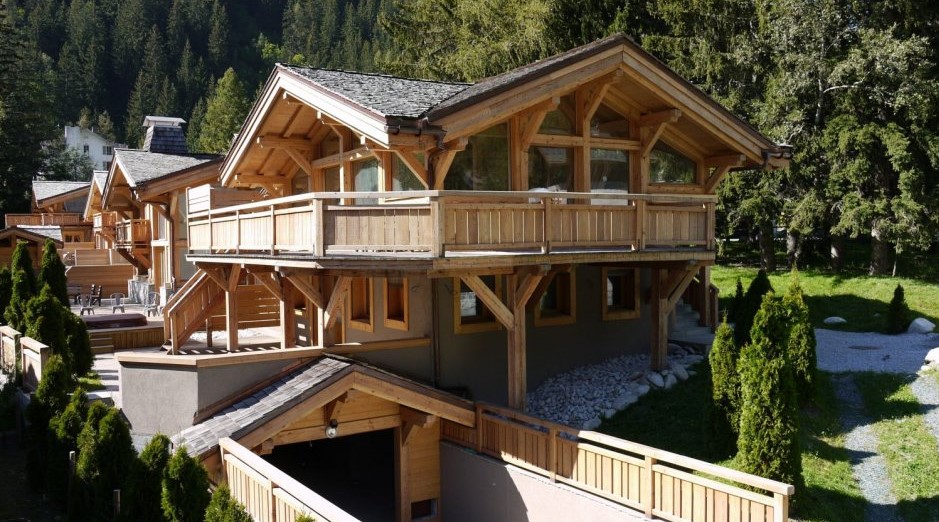 If you are requiring a large chalet for over 40 guests then Chalet Les Rives d'Argentiere is perfect for your stag group. Les Rives d'Argentiere are a combination of four connecting luxury chalets nestled in the heart of Argentiere and is an ideal destination for your large group looking to be entertained throughout the weekend. With a fitness suite and a games suite you know that everyone will be happily occupied throughout the weekend. The games suite is a perfect place for everybody to come together, to either enjoy some snooker or watch a must see sports games on the projector screen while making the most of the bar. Just make sure you make time to also enjoy one of the four hot tubs, the outdoor swimming pool and a massage to soothe those aching muscles after a fast and fun filled day of mountain biking or after a rather heavy night.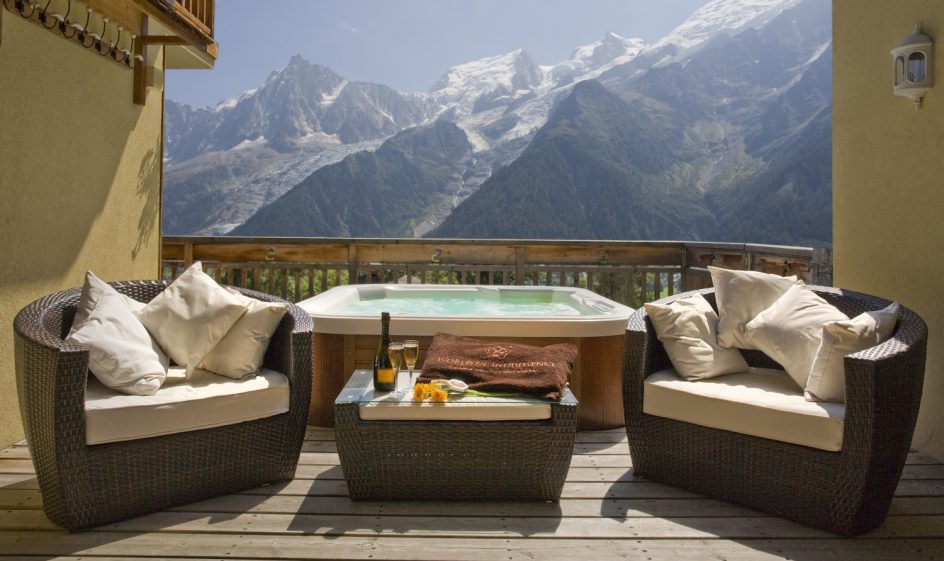 Looking for a party pad in an exclusive private enclave? Chalet Serena is in a perfect location and only a short drive from Chamonix centre, but most importantly with all the amenities one could wish for. Whether you want a separate hot tub and outdoor swimming pool with jet stream and Jacuzzi, spa area with steam room and sauna, cinema room with Wii, PlayStation and Sky TV or a games room with bar, table football and snooker table, this summer alpine luxury chalet offers it all. And if that isn't enough then you can always head to the well stocked wine cave.
There we have it! So, for a stag weekend unlike all the rest with numerous alpine activities to choose from and a selection of luxury chalets but still with some fabulous bars to keep you going well into the early hours of the morning, Chamonix is your perfect destination.
If you require any help in finding the perfect alpine summer chalet for your stag weekend in Chamonix then please do not hesitate to drop us an email or give us a call on +44 1202 203659.