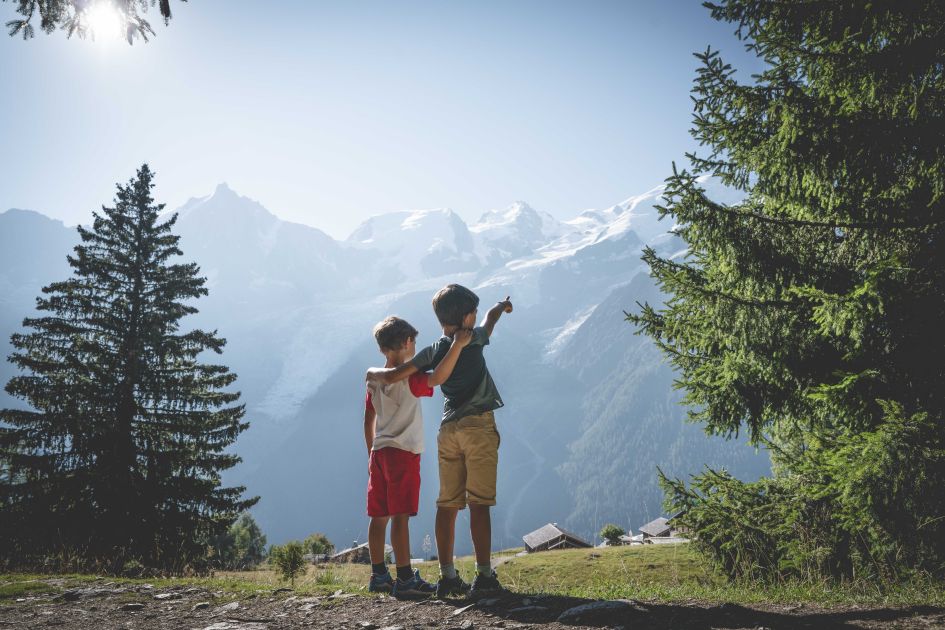 Chamonix is a traditional alpine town in the beautiful Savoie Mont Blanc region. It boasts unparalleled mountain scenery and a range of summer activities for families to explore on a luxury mountain holiday this summer. A family summer in Chamonix won't be forgotten; it's the perfect destination for families with older children, and teenagers who'll love the exhilarating mountain activities on offer. Equally, there's plenty of activities in Chamonix to keep younger children entertained too.
Far from being just a winter wonderland destination, Chamonix in the summer has activities for everyone, whatever your taste in adventures. Whether you want to try your hand at one of the more exhilarating alpine activities, or if you simply prefer to take a stroll and soak up the scenery, you'll be spoilt for choice with things to do...
Summer Hiking in Chamonix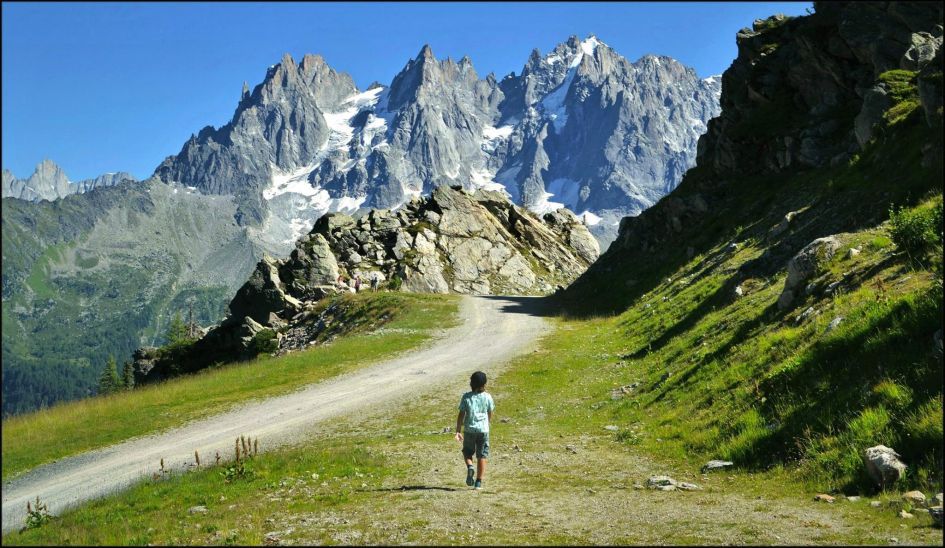 Don't rule out hiking with the family! There are plenty of hikes in Chamonix suitable for family outings. Seek out wooded trails and stick to walks along the valley floor if you have easily tired children or buggies to push. You can be sure that even gentle walking routes in Chamonix deliver stunning views, flora and fauna to spot, and idyllic photo opportunities.
For the more adventurous walking groups, there are over 40 miles of routes to be found in the Chamonix Valley. A particular favourite of ours, is the hike to Lac Blanc in Aiguilles Rouges – based above 2352m, it boasts one of Chamonix's most picturesque views of the valley. Start at La Flegere and either walk on the 4×4 rough track, or you can take the L'Index chairlift. The ascent takes 1hr 45 mins approximately.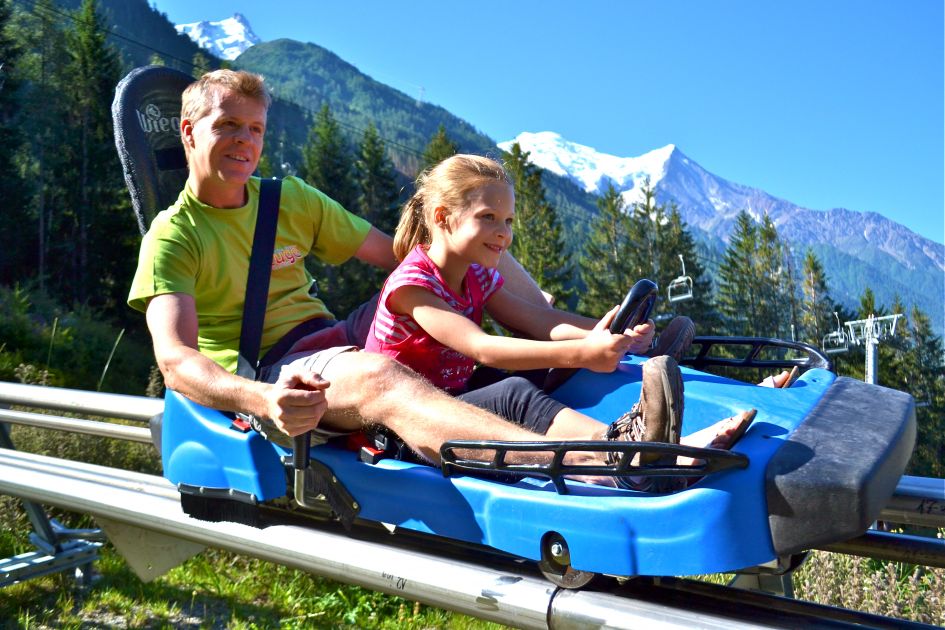 This is a brilliant adventure park in central Chamonix, ideal for kids of all ages. For younger children there's mechanical diggers to enjoy, trampolines, slides, and electric motorbikes. The Chamonix Luge Alpine Coaster is probably the most popular attraction in the park – it's a roller coaster in the mountains; whizzing downhill with views of snow-capped peaks beyond. Don't panic though, it's completely secure – each sled can seat 2 adults, and there are seat belts. Open all year round!
Swimming in Chamonix
The town swimming pool boasts a massive spiral water slide, which is incredibly popular with families in the summer. There are four pools in total (indoor and outdoor) with Jacuzzis, slides and water jets. If it's more natural swimming that you're after, then we recommend a trip to Lac Passy for wild swimming in Chamonix. It's surrounded by mountains, is the perfect spot for a picnic, and even plays host to mini-golf and go-karting, perfect for a family day out in the Alps.
Chamonix Cycling
There are various easy routes throughout Chamonix, suitable for beginners. The level parts of the valley bottom are clearly signposted and offer fantastic views. For convenience, there's a number of bike rental shops throughout Chamonix where you can rent all kinds of bikes, and trailers for babies.
For a more challenging Chamonix bike ride, there are a couple of relatively technical but fairly accessible mountain bike routes at Petit Balcon Sud or Petit Balcon North (or link both routes together for a longer cycle of 16kms). There's some great rocky sections to navigate, but if they're a bit too tough, you can simply hop off your bike and walk them because they're all pretty short in length.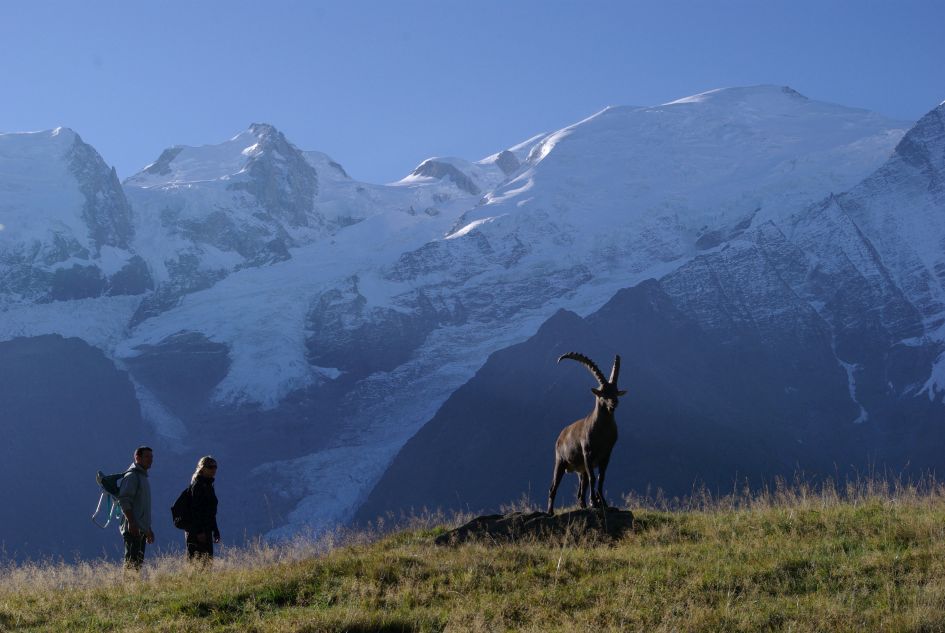 Here, you can discover over 80 mountain animals in their natural environment. See aline fauna like Marmots and Ibex, Chamois and Daims – and many more! The park stretches high over the valley, with fantastic views of the Bossons Glacier.
Family Restaurants in Chamonix
Most restaurants in Chamonix offer a children's menu with decent options, but a particular favourite of ours is Restaurant Josephine (formally named Le Carlina). Your children will be made a fuss of and special requests are taken. You can relax with a glass of wine watching the children play on the restaurant's unofficial climbing frame (the statue of Dr. Michel-Gabriel Paccard), whilst you're waiting for your dinner to arrive.
More About Chamonix in the Summer
Of course, there are plenty of other activities to keep all the family entertained on a summer holiday in Chamonix, these are just some initial ideas to get you started! The video above will inspire further planning for your trip too!
If you are heading to Chamonix this summer, we have a range of luxurious chalets available, suitable for a variety of groups and budgets.
Our first recommendation for a family summer holiday in Chamonix is Chalet Seren, located in the heart of Chamonix centre, under the watchful eye of Mont Blanc. Sleeping up to ten guests, this flagship chalet combines pure luxury and convenience. With stylish living areas, a cinema room, games room and sauna, the indoor facilities are enough to keep the whole family entertained after a day exploring outdoors. If you can't get enough of being outside, this chalet has the perfect alfresco set up. The outdoor hot tub, Pétanque court and alfresco dining area with an outdoor BBQ and views of Mont Blanc ensure you can make the most of the summer months and pleasant temperatures.
This outstanding chalet is located beneath towering peaks of the Chamonix Valley and conveniently positioned just a 20 minute walk from the centre (or a 5 minute drive!). The incredible views surrounding Chalet Couttet inspire that 'get-out-bed-and-explore' feeling like you've never experienced before. There are plenty of hiking and biking trails on the doorstep, as well as being a 7 minute walk from the Accro Parc, perfect for family fun day out!
After a day exploring Chamonix, your evening at Chalet Couttet is looking pretty good. Unwind in the outdoor pool with uninterrupted views of Mont Blanc, cook up a feast on the BBQ for the ultimate alfresco dining experience, or get competitive with your family members with a game of pool in the games room – the choice is all yours!
Feeling inspired? Make Chamonix your next family summer holiday in the mountains. Give us a call on +44 (0)1202 203659 or drop us an email to make an enquiry – we're guaranteed to have the perfect luxury summer chalet in Chamonix for you.