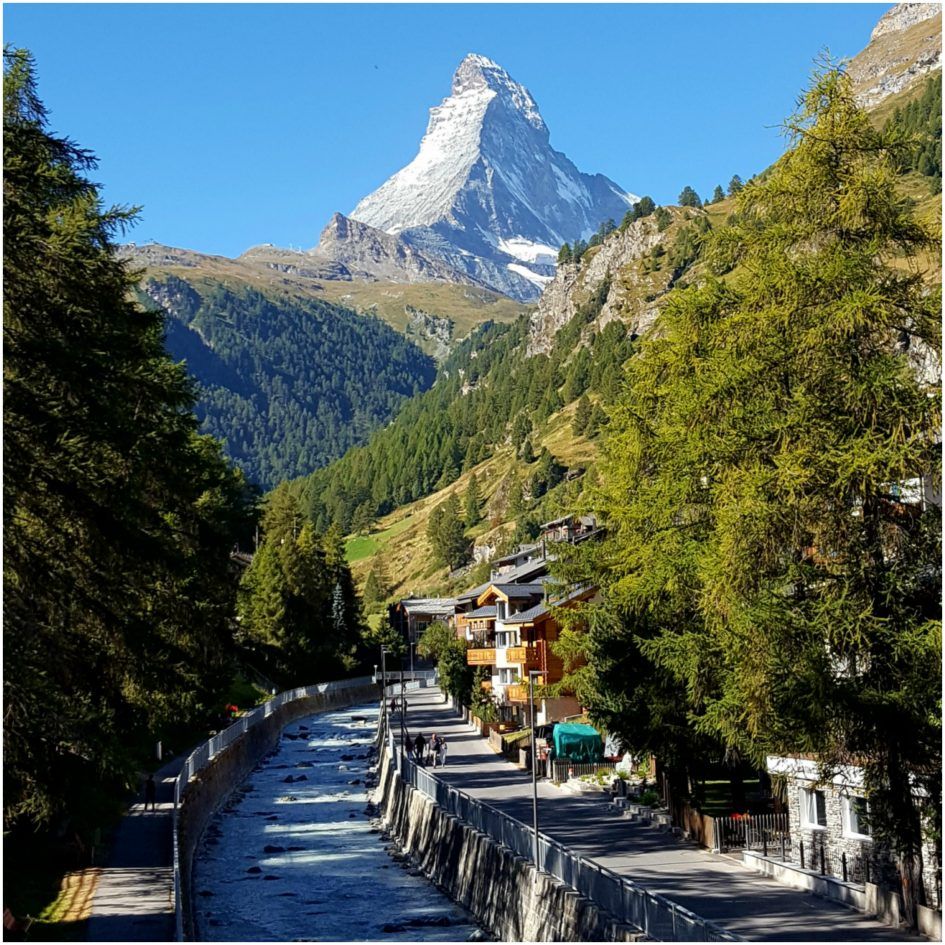 This week I am exploring the top 10 Zermatt restaurants in the summer. The luxury alpine resort of Zermatt is famously known for its world renowned skiing and of course the Matterhorn. However, not many people also know that this beautiful Swiss resort is also known, by locals and people who are lucky enough to be in the know, for its stunning cuisine. In my opinion, Zermatt is the best luxury summer resort in the Alps. I cannot think of anywhere else I would rather go, with hundreds of restaurants to choose from for some delicious gourmet food and some delectable white wine.
I had a fabulous summer holiday to Zermatt last year meeting with our operators in resort. In order to discover the top 10 summer restaurants in Zermatt, I asked the opinion of these friendly and knowledgeable operators, who are lucky enough to enjoy these fabulous venues day in day out.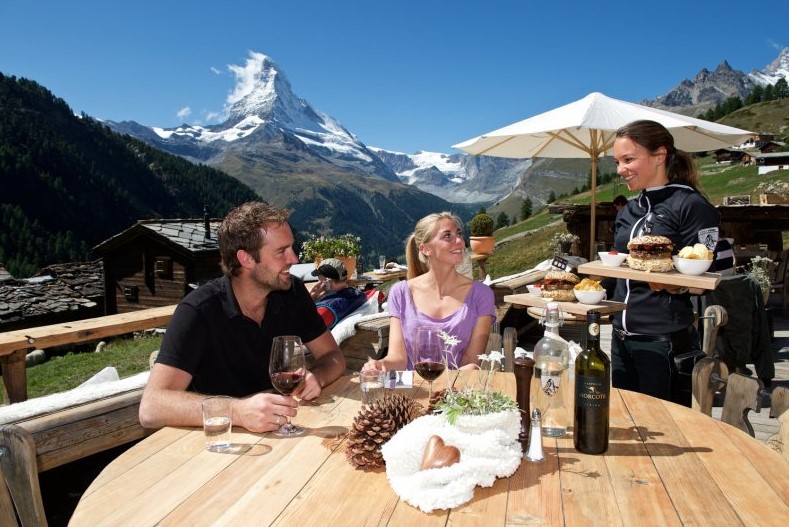 With many well priced self-catered luxury chalet in Zermatt for the summer months, it is the perfect time to head for a culinary journey. Spend the morning enjoying the many mountain activities on offer before sitting down to a long and lazy afternoon in the sunshine, where you can savour the exquisite mountain food and the breathtaking views. So, without further ado lets get some insider's tips on the top 10 restaurants that you must visit on your luxury summer holiday to Zermatt.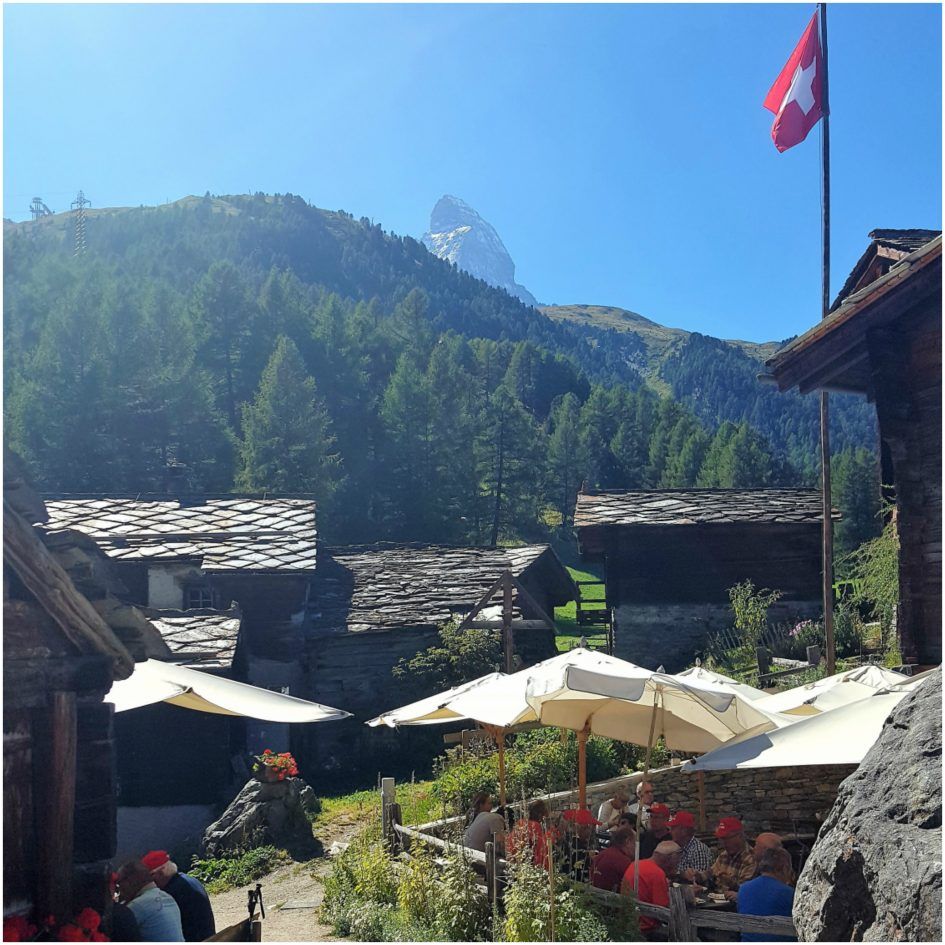 My personal favourite, which I enjoyed immensely after a spot of clay pigeon shooting up the mountain, is the very well known Zermatt restaurant Zum See. If you fancy kicking off your summer holiday in Zermatt with a long, lazy lunch in a beautiful setting then most definitely head to the courtyard garden of Zum See to enjoy some of the best wine you have ever had. Don't just take my word for it though! Angeline, a local to the beautiful mountain resort of Zermatt and most importantly a trained chef says the following…
'The best time of year for me at Zum See is early September when the hunting season has started, and chanterelles are in season….put that together and have their famous venison and chantarelles in a cream sauce and puff pastry, ooo, I'm hungry now!'. Angeline Davies, Managing Director, Chalet Les Anges in Zermatt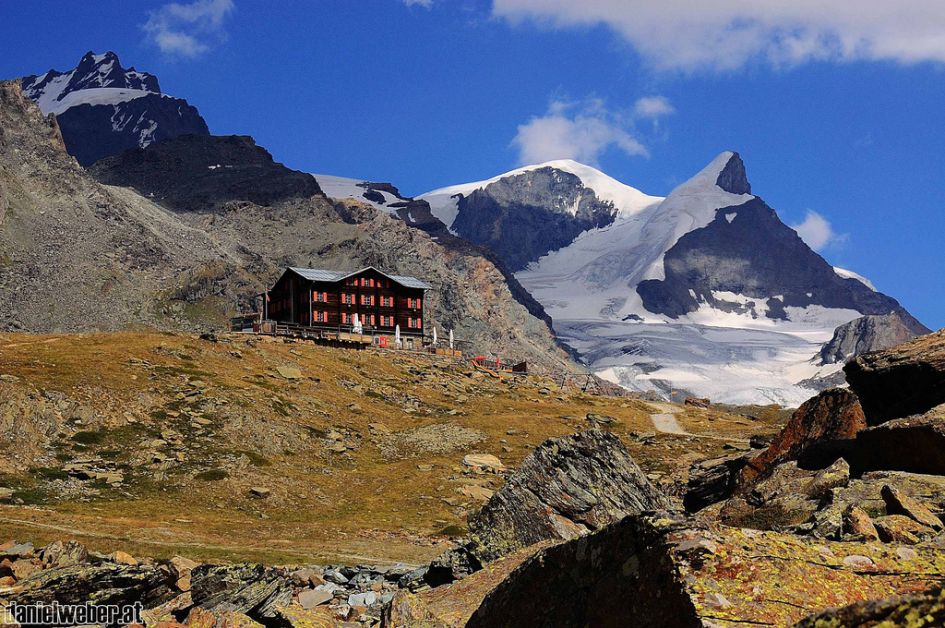 Do you love a spot of mountain fly fishing? If so then this is perfect restaurant in Zermatt for you. Either take a hike to the stunning Stellisee Lake or spend a fun filled day on the lake enjoying a spot of fishing before heading to Fluhalp, where your trout will be cooked perfectly for you. This summer restaurant is in another perfect location offering delicious food and if trout isn't your thing then not to worry…
'I love the lamb salad, as it is healthy option, or at least you feel like you are being good ordering salad, but there is enough delicious warm lamb fillet to content the most confirmed carnivores!' Angeline Davies, Managing Director, Chalet Grace in Zermatt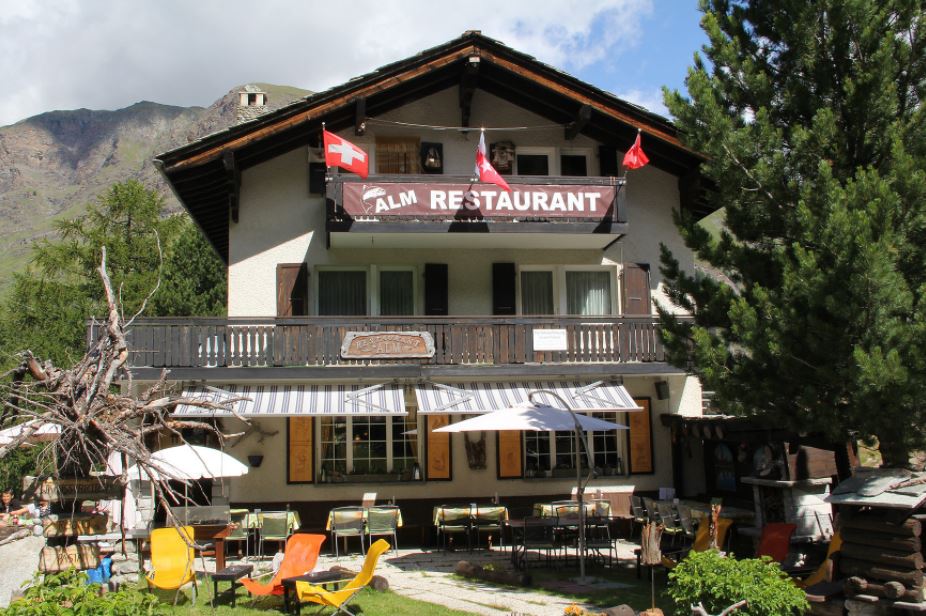 This ideal family friendly summer restaurant is a perfect spot for meeting up with everyone on the mountain. With a sheltered garden this is a lovely spot to catch some rays and even better if you have small children, as the exterior play area will keep them entertained while you sit back and enjoy some delicious Swiss wine.
'The Alm's speciality is fresh trout – there are two live fish ponds tucked in beside the restaurant – as well as a good selection of meat, fish and pasta dishes. The giant prawn salad is particularly good.' Ed Mannix, Director, Chalet Banja in Zermatt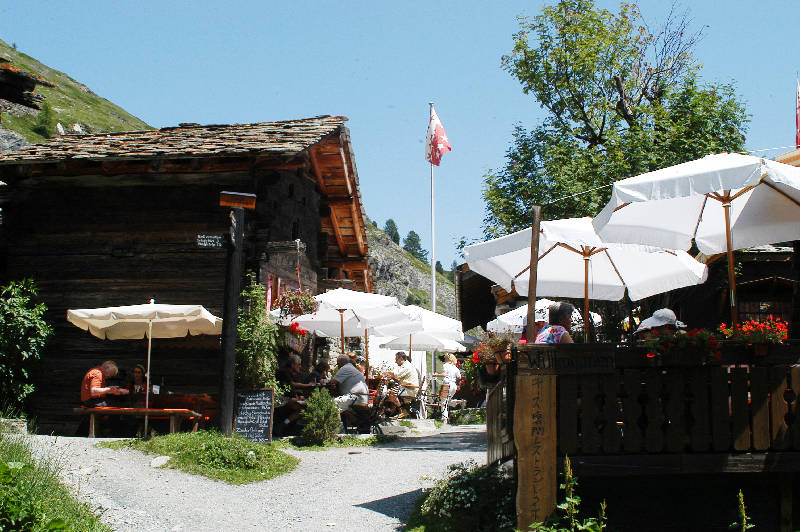 Summer in the Alps is all about outside dining and what better place to spend a lunchtime in the sunshine than at Restaurant Z'Mutt. This wonderful establishment is located in the deserted hamlet of Z'Mutt with wooden mazots and a small church. This restaurant is ideal for a group ranging in ages and hiking abilities as it is only a 45 minute to 1 hour climb through the sheep herds and summer hay meadows. With it closed in the winter you know that this fabulous place is unique in the summer months and a must for your luxury alpine break.
'The cuisine is superb.  It is a changing menu of gourmet food, mixed with a bit of the traditional.  My favourite is the perfectly cooked calves liver, with freshly homemade buttery crispy-on-the-outside rosti, that they add a little leek and speck to.' Angeline Davies, Managing Director, Chalet Grace in Zermatt.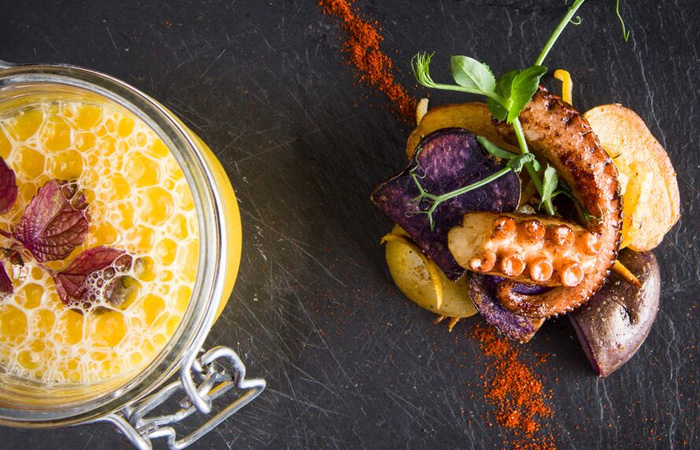 Back down in the beautiful village of Zermatt, after you have enjoyed a hike around the five lakes or challenged yourself on the many downhill mountain bike trails, make sure you head to Snowboat. What better place to take a break from all the fabulous summer activities where…
'On the top 'deck' are sun loungers where you can unwind with a cocktail and some hummus and guacamole, the super-food salad is refreshing and crisp washed down with the Spiers Sauvignon Blanc block 2.' Asher Cairns, Director, Chalet White Pearl in Zermatt.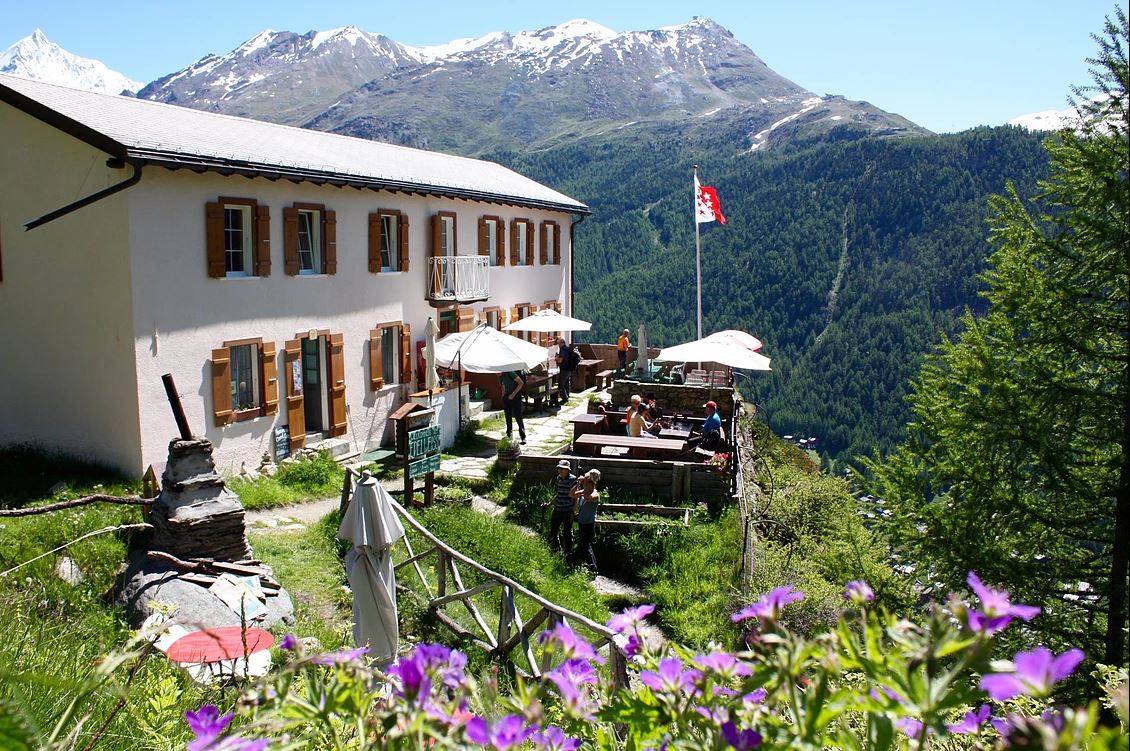 Situated in an enviable position on the top of a rock on the valley wall overlooking the village, Refuge Edelweiss is a stunning restaurant in Zermatt to visit on your alpine summer retreat. A short but steep climb up to the restaurant is most definitely worth it with fabulous views of Breithorn, Castor and Pollux and Liskam, as well as Rothorn and Riffelberg. This beautiful restaurant offers traditional decor and quirky features such as an old sewing machine, books, antique clock and lovely comfortable vintage furniture, but perhaps most importantly, the food is delicious.
'Dine inside in the evening, and Rico does an amazing lamb fillet with cheesy gratin potatoes and his own (very garlicky) garlic sauce and roasted tomatoes. Their plum schnapps is delicious, um, actually too delicious! For lunch, I recommend the quiche of the day. Rico trained as a baker, and makes the most amazing broccoli quiche (or leek and bacon, or anything, but the broccoli sticks in my mind). Oh no, actually, I'm not sure now, since he also makes the best Kaseschnitte I have tasted in Zermatt – and I make it my business to research thoroughly! Kaseschnitte is not just cheese on toast. The bread is soaked quickly in local white wine, sautéed in butter, placed in a terracotta dish and covered in cheese and baked. There are other secrets involved, and I could tell you, but I would have to kill you'…… Angeline Davies, Managing Director, Chalet Les Anges in Zermat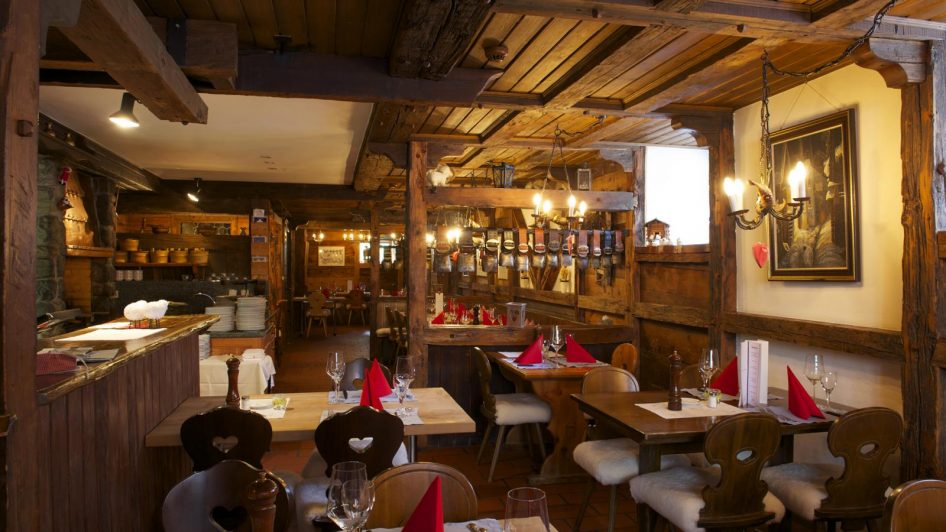 If you love your lamb like Angeline, then look no further than the traditional Swiss grill of Schäferstube, located in the heart of Zermatt village!
'Paul Julen has his own herd of sheep at Furi so the lamb is their specialty but the Chateaubriand is my go to dish. It is seared on the open fire giving the authentic smoky flavour; you get two servings as standard. A full bodied Amarone is the perfect accompaniment.' Asher Cairns, Director, Chalet High 7 Jewel in Zermatt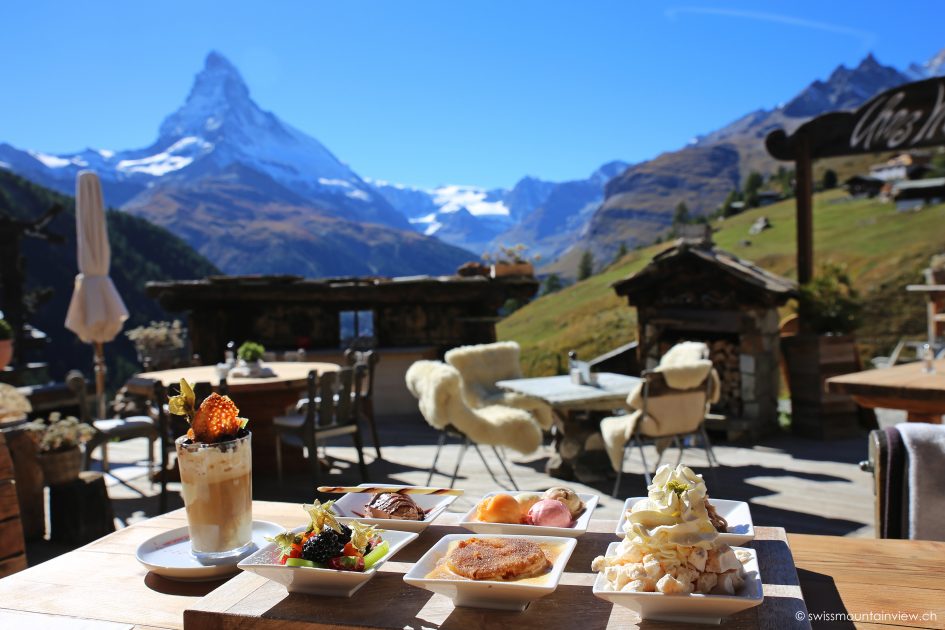 This very well known eatery is in an idyllic setting only a 45 minute walk from Zermatt village, in the hamlet of Findeln. For delicious gourmet food, a wonderful and stylish sun terrace, some chilled out tunes and a welcome like no other head to Chez Vrony.
'You can sit and enjoy a fish soup or chicken salad with the amazing backdrop of the Swiss Alpine vista. Max and Vrony greet every guest as an old friend and you definitely are made to feel part of the family. The trio of desserts is a guilty pleasure!' Asher Cairns, Director, Chalet D'Amore in Zermatt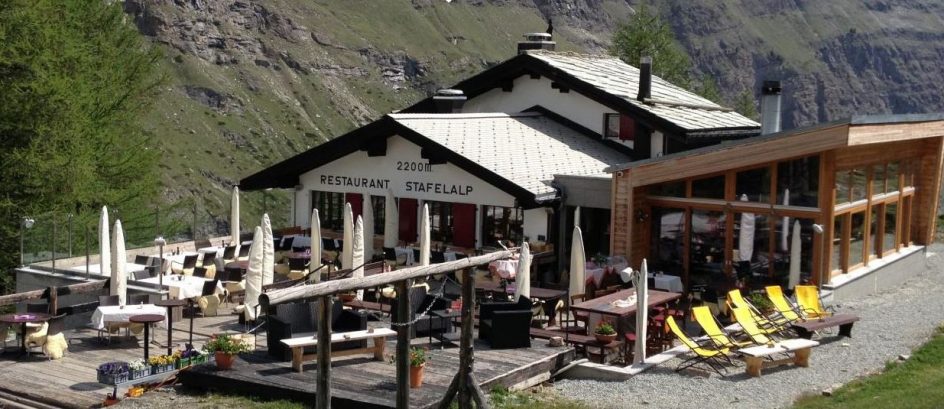 For a lazy afternoon in the sunshine, which of course are what summer days are all about, head to Stafelalp. Take the Klein Matterhorn Express to Schwarzsee, where you can admire the small chapel and stunning lake the mountain is named after, along with enjoying the best view of the famous Hörnligrat ridge on the Matterhorn.
'You can take a monster scooter ride down to Stafelalp where the bison on a hot stone is a rewarding lunch or enjoy the Hay soup and local Walliser Teller (cold meats and cheese).' Asher Cairns, Director, Chalet Petit in Zermatt
After taking the stunningly scenic Gornergrat train to Riffelalp, make you sure you head to this little jewel for some delicious cuisine. With daily live music on the terrace (weather permitting) and stunning views across to the Matterhorn, Alphitta is a must visit during your summer holiday in Zermatt.
'You can take a short stroll to meet Dave and Tanja at Alphitta where the monkfish or pork belly are both delicious and Spencer is usually there playing some relaxed tunes.' Asher Cairns, Director, Chalet Aria Penthouse in Zermatt.
There we have it! Zermatt is a fantastic foodie holiday destination. I am sure you are now wishing you were going to any of the above best restaurants in Zermatt for a delicious lunch in the sunshine.
If you require any help in finding the perfect alpine summer chalet for your family holiday to Zermatt then please do not hesitate to drop us an email or give us a call on +44 1202 203659.