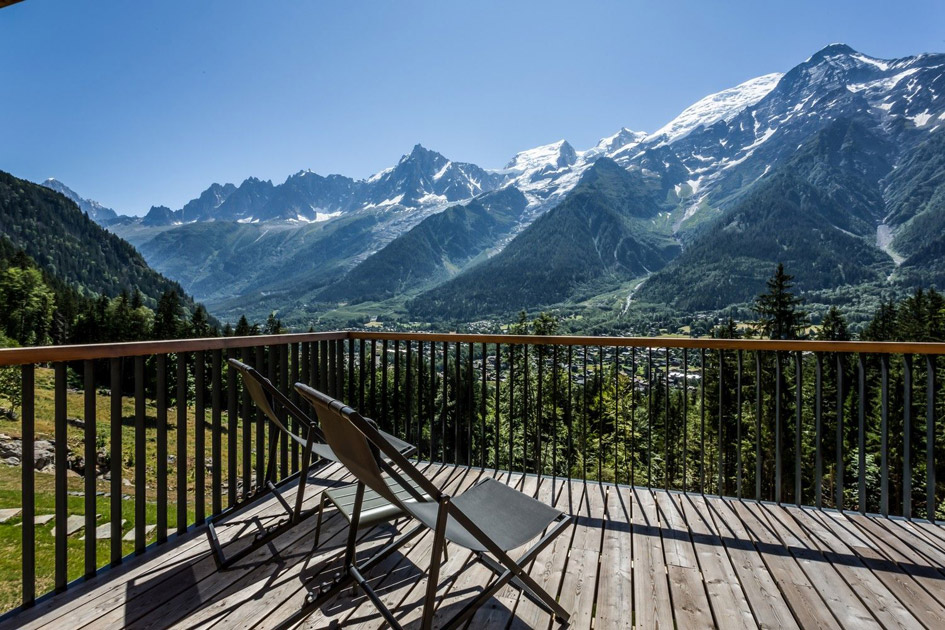 Summer holidays in the Alps have really taken off over the past few years and this is becoming more evident every year with increased competition in the luxury summer chalet market. There is a lot to consider when drawing up a list of the best summer chalets in the Alps, but we believe the following chalets have that something special, taking them to the summit of the summer chalet portfolio…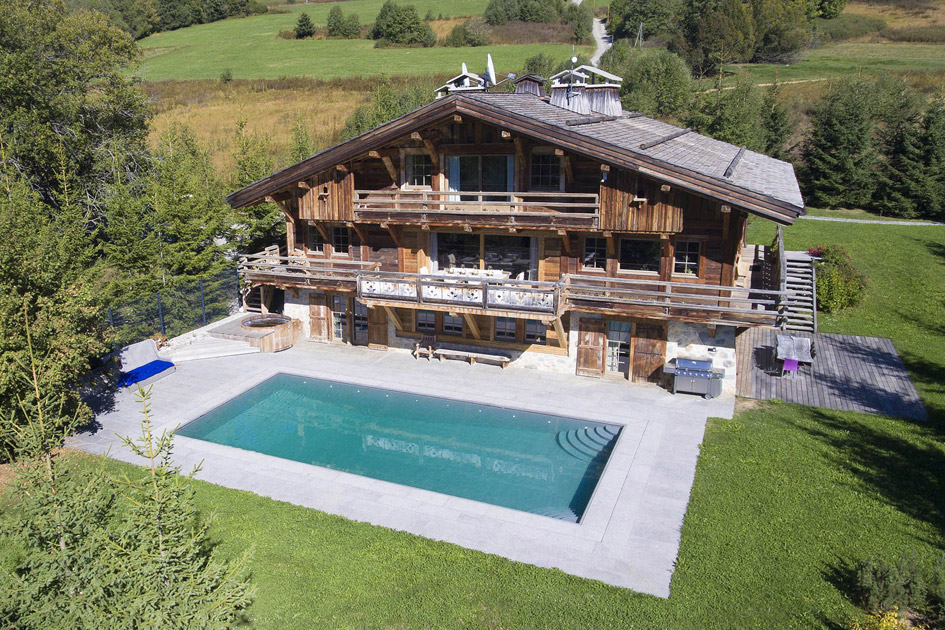 For many, a summer holiday should consist of sunshine, and lots of it. If that is the case for you, Chalet Izoard could be the perfect luxury summer chalet. The chalet basks in the sunshine all day long which means you can too! Whether it be enjoying some alfresco dining, sun lounging, hot tubbing or splashing around the in pool, you can rest assured you will be absorbing that all important Vitamin D.
Boasting privacy and panoramic views, Chalet Izoard is located in the sought after location of Mont d'Arbois. With an outdoor and an indoor swimming pool with an adjoining revitalising spa area, perfect to relax after a day of exploring the mountains. Conclusively, Chalet Izoard is evidently a strong contender for being one of the best summer chalets in the Alps.
Summer rentals are on a self-catered basis and include daily housekeeping. Weekly prices are from € 27,500 Euros.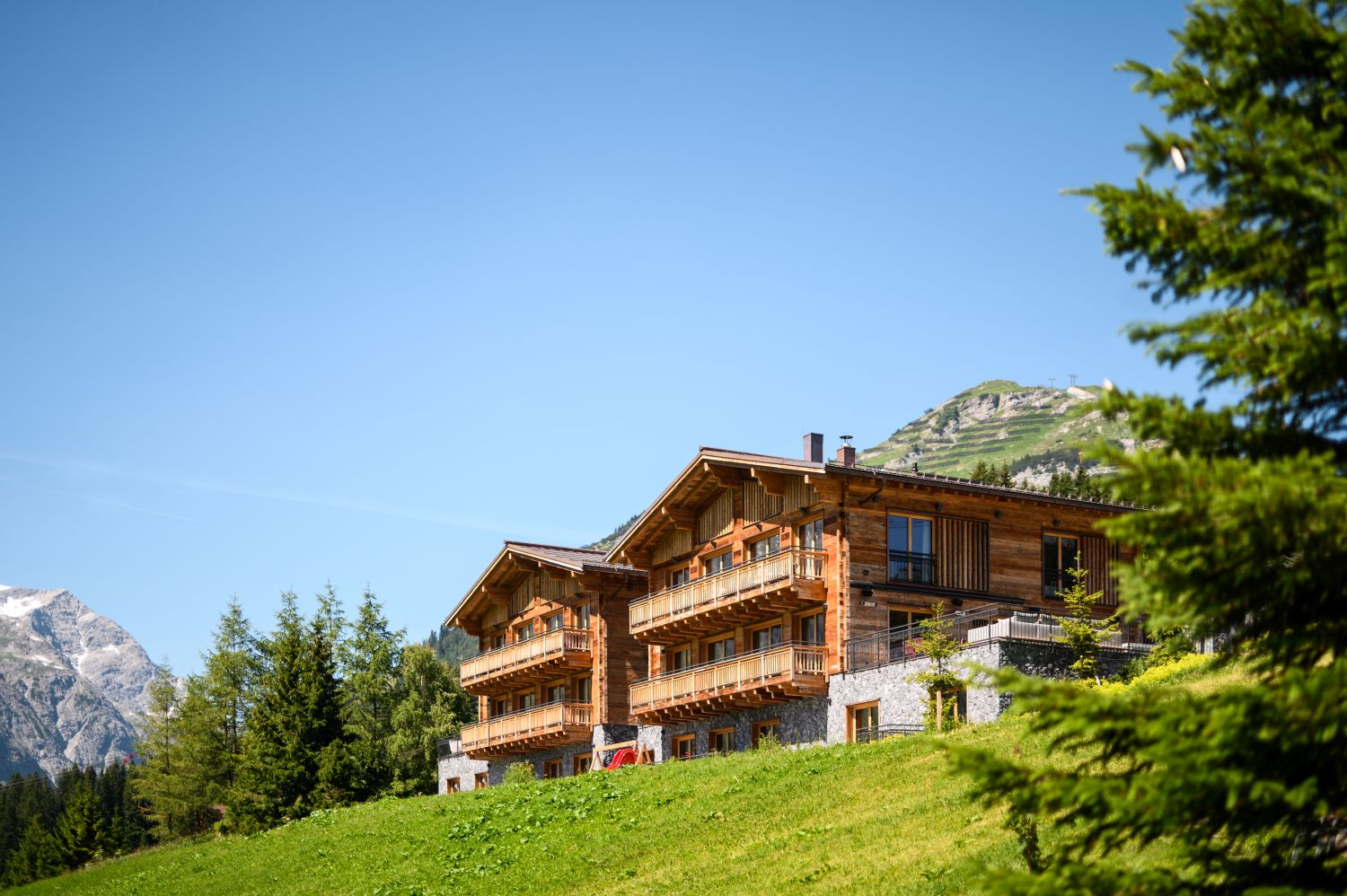 On the mountainside with incredible views of the summer Arlberg mountain range, the Arula Chalets are truly sensational mountain homes. If rented exclusively, the Arulas can accommodate a total 29 guests in 13 luxurious and uniquely designed bedrooms. From party rooms and poker tables to bar areas and a self-playing piano, it is safe to say that the Arula Chalets raise the bar in the luxury summer chalet market.
With direct access from the doorstep to all that the summer mountains have to offer including walking, hiking and mountain biking routes, you can take your day's adventures as far as your heart desires. Upon return, with weary legs and a face flushed from the fresh mountain air, there is nothing better than having your very own chalet spa to rejuvenate and relax. Combined, the chalets offer 2 separate spa areas, each with an indoor swimming pool, outdoor Jacuzzi, sauna, steam bath, treatment room, infrared cabin, gym and a relaxation area.
Summer rentals are based on half-board catering, daily housekeeping and a 24/7 butler service. Weekly prices start from € 140,000 Euros.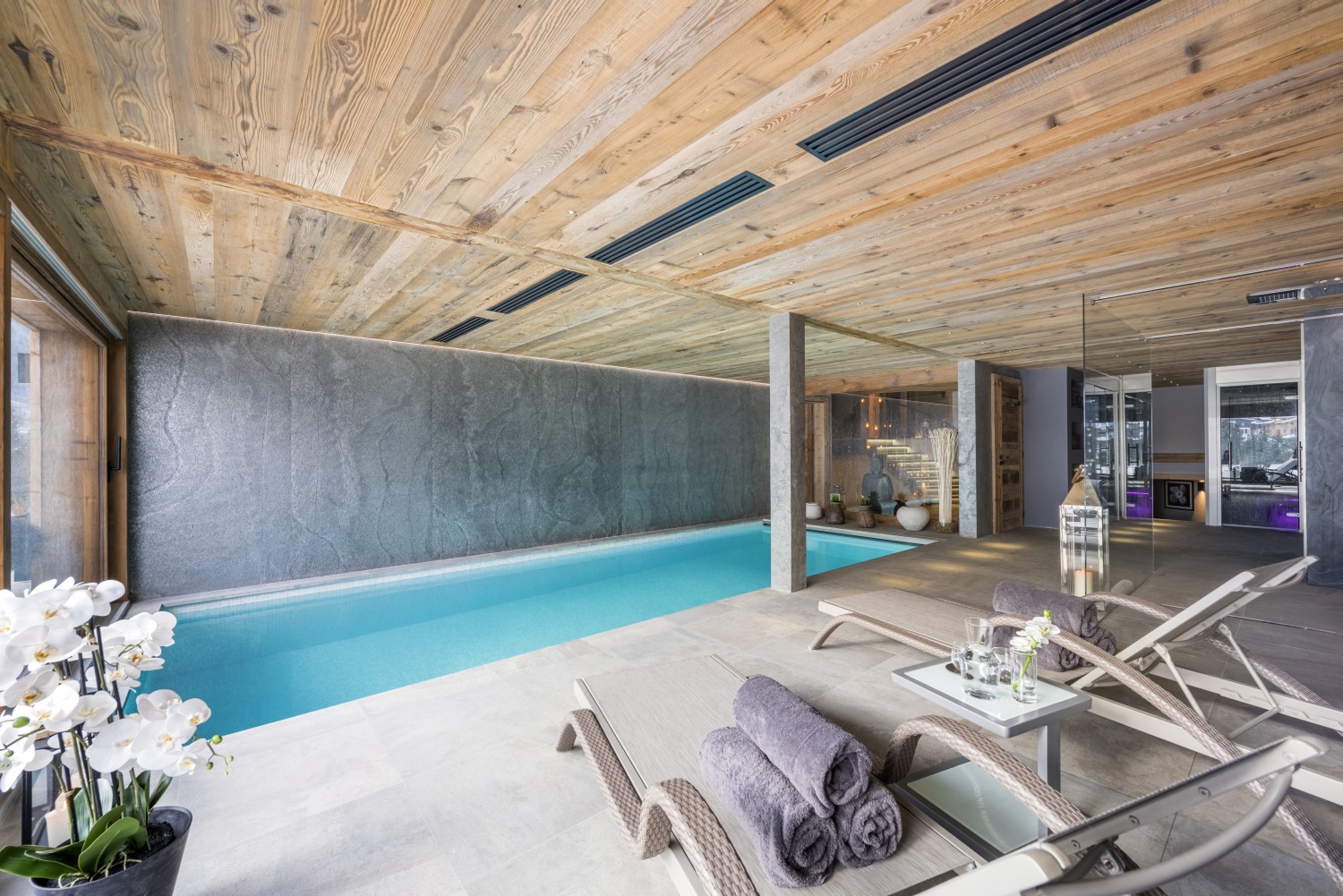 Chalet Sapphire was built with one thing in mind: to be the best luxury summer chalet in Morzine. The chalet sleeps a total of 12 guests in 6 en-suite, super-king bedrooms, all designed with a unique style, but without the risk of drawing the short straw.
It has to be said, the facilities help Chalet Sapphire to qualify as part of our list of the best summer chalets in the Alps. From the amazing outdoor hot tub exposing incredible views of the valley, to the indoor swimming pool with massage and swimjets, you really would think it stops there…The list continues to include a barrel sauna with panoramic views, a hammam with aromatherapy and hydroshower, a spa ice chamber, hydrotherapy 'Four Seasons' shower and a gym. It cannot be argued that this chalet is the the pinnacle of a luxury summer chalet; it represents a new concept in luxury property development.
A summer rental includes 5 nights of gourmet catering, an open bar and daily housekeeping. Weekly prices from € 21,900 Euros.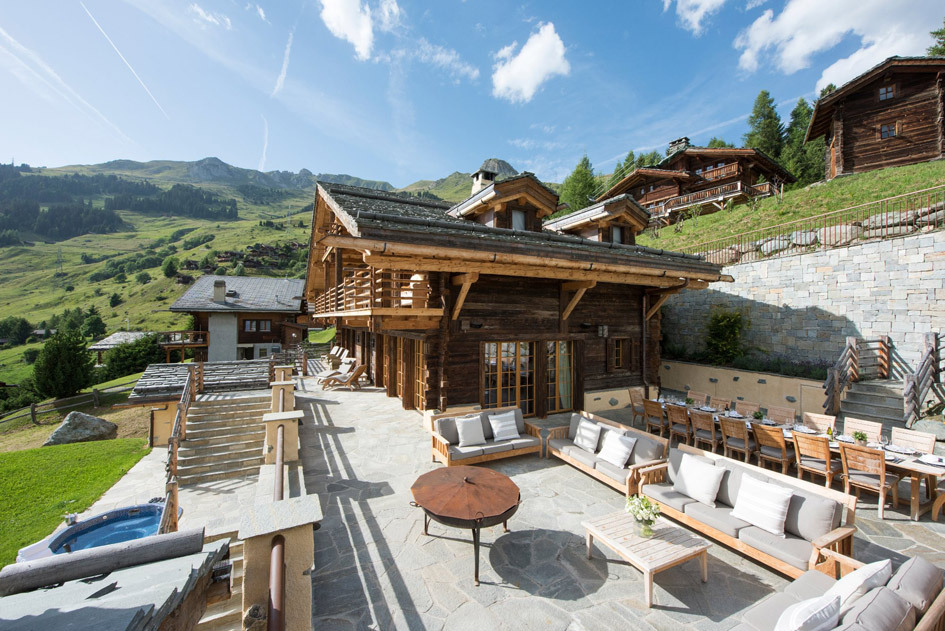 Featuring one of the largest private swimming pools in Verbier at 15m in length, Chalet Chouqui makes the list of one of the best summer chalets in the Alps. Covering over 900m², this summer chalet is true alpine luxury with the right balances of tradition and modern. The furnishings and interiors have been outfitted by Nuttall Home and through raw materials and top craftsmanship they add detail and quality throughout. Each of the 9 en-suite-bedrooms have a terrace or balcony of their own to enjoy a quiet moment of reflection with a backdrop of the Mont Blanc Massif.
Heading outside, the sunny terrace is perfect for alfresco dining into the late evenings before retiring to the sofas surrounding the open fire pit or even to a glass of fizz in the outdoor hot tub under a clear starry sky. For those chillier evenings, head inside to use the other spa facilities or maybe for some lighthearted family competition of table tennis and foosball!
Summer rentals include daily breakfast with a choice of lunch or evening meal on 6 days a week with daily housekeeping. Weekly prices from CHF 49,000 Swiss Francs.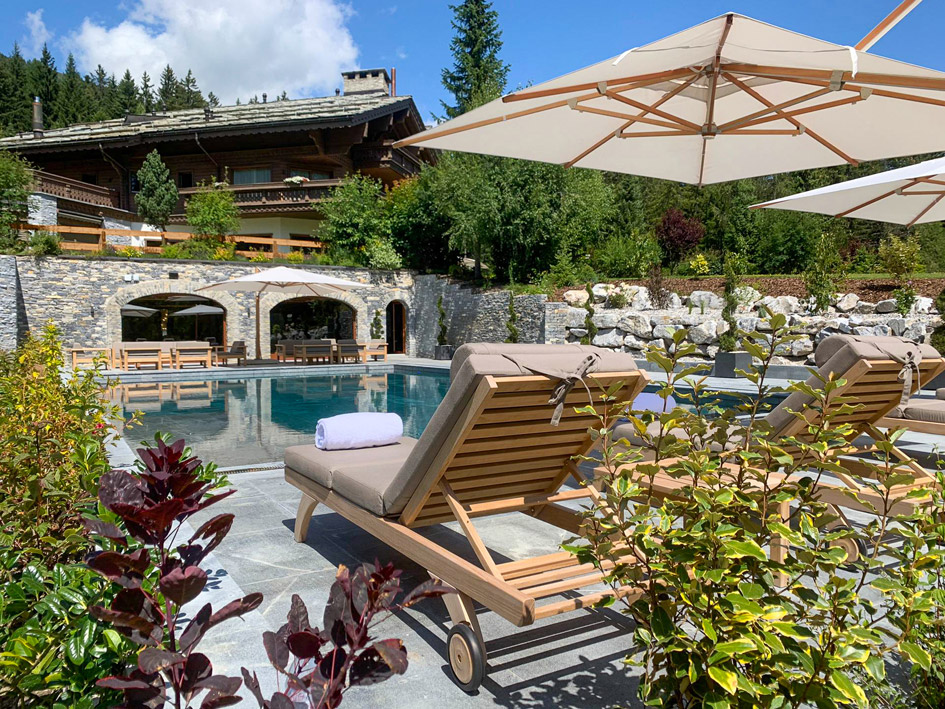 Covering a total of 4,500m², this super luxury chalet complex cannot be missed as part of our best summer chalets in the Alps selection. Situated in a peaceful location perched on the hillside, Ultima Crans accommodates up to 38 guests in 14 double en-suite bedrooms and 2 dormitory rooms – most suitable for children. This is not to mention the range of social spaces including a choice of living rooms, (including cigar lounges), 2 dining rooms, high-tech cinema rooms, a billiards room, office spaces, bar areas, a library, outdoor terrace…and all of that only scratches the surface!
A 1,000m² spa and clinic is the fondant on top of this already delicious cake. You will enter the reception and lounge area and immediately feel relaxed. Take this feeling further by rejuvenating and re-energising in the large outdoor swimming pool, Jacuzzi, sauna, yoga studio and fitness room. All of this combined with 5* superior service…there is no need to say anymore. Ultima Crans Chalets are quite clearly some of the most luxurious summer chalets in Switzerland, and the rest of the Alps!
Summer rentals are based on a fully staffed basis with food and drink charged extra at local cost. Weekly prices start from CHF 110,000 Swiss Francs – can be rented separately.
Unrivalled and uninterrupted south-facing views, indoor heated swimming pool with Jacuzzi jets, a private heli-pad, a home cinema and entertainment systems with the latest sound technologies are just a few reasons why this luxury super-structure makes it to our list of the best summer chalets in the Alps.
Le Chalet Mont Blanc can accommodate 26 guests in 2 master suites and 10 executive bedrooms, all with balconies or terraces facing Mont Blanc. Amongst vast living spaces (1000m² in total), this chalet also has 3 meeting rooms which is perfect for those looking for their next luxury corporate trip to the Alps. Winner of the World's Best New Ski Chalet in 2019, Le Chalet Mont Blanc has a strong position in the list of the best summer chalets in the Alps.
Summer rentals are offered on a self-catered basis with daily housekeeping and the option to add a private chef and extra services. Weekly prices are from € 12,000 Euros.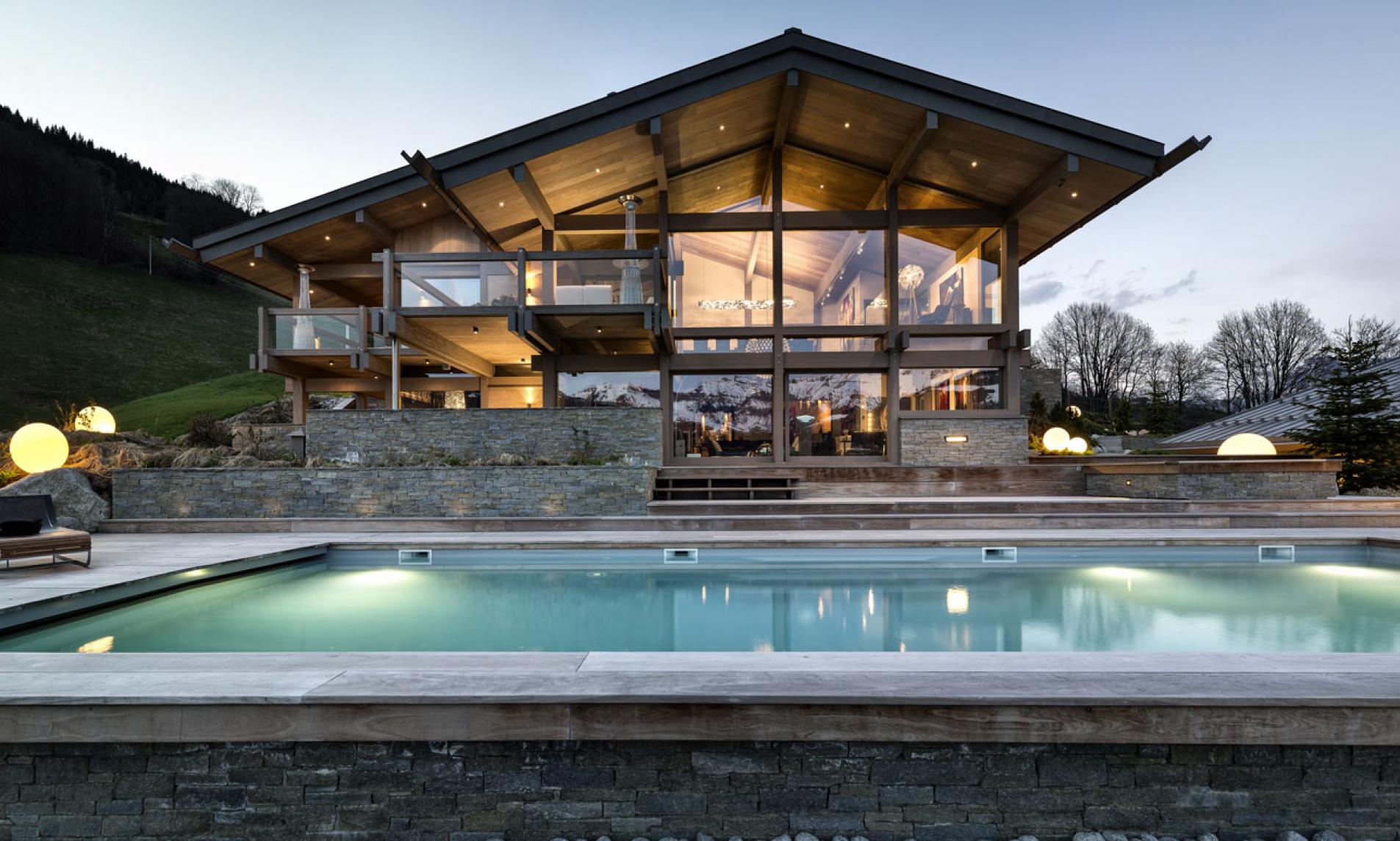 In the words of Ed Sheeran, Chalet Mont Blanc could be Megeve's own 'Castle on the Hill'. It may not fit the look of a typical castle, but high up on the hill, with views of the valley and alpine village below, you do get that same sense of sovereignty over everything the eye can see. Not only one of the best summer chalets in the Alps, Chalet Mont Blanc is also one of the most expensive chalets in the entire region.
Chalet Mont Blanc has not one but two swimming pools. Enjoy beautiful views from the outdoor heated infinity pool or alternatively, head indoors to the spa area where you can swim with (or without) swim-jets and enjoy the sauna, hammam and maybe even a treatment. For alternative ways to relax after a day exploring Megeve's peaks, watch your favourite movie in the home cinema or take a glass of your favourite tipple outside onto the heated terrace and watch life slow down below.
Summer rentals include the services of a private chef, dedicated butler, driver and housekeeper. Food and drink is charged locally. Weekly prices are € 125,000 Euros.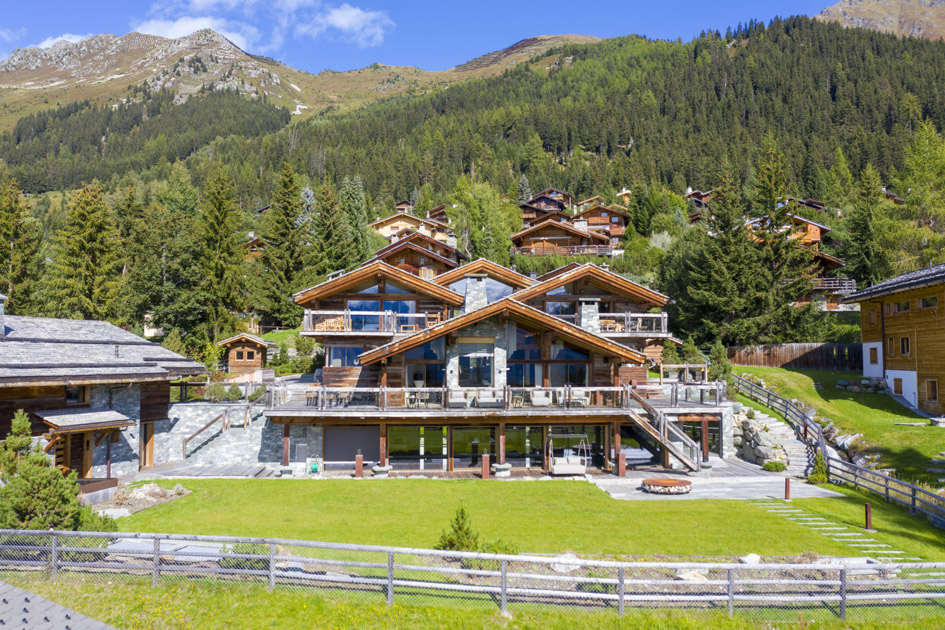 Chalet Marmottiere leaves nothing to be desired and is truly one of the best summer chalets in the Alps. Covering 1,500m², this villa in the Alps is the epitome of luxury. Between two beautiful alpine homes, Chalet Marmottiere accommodates up to 18 guests in 3 master suites and 6 double bedrooms, proving to be the perfect place for a big family get together or celebration. With biking and hiking trails on the doorstep, the golf-course around the corner and the centre of town just a short drive away, the positioning could not be much better.
Inside the chalet, there is a whole other playground of fun. A plethora of wellness and spa facilities occupy the ground floor of the chalet including a 17m indoor swimming pool, sauna, hammam and an outdoor hot tub. Also on this floor you will find a bowling alley, gaming room, poker room, bar and billiards area and wine cellar. The facilities continue over into the second house with a 3D cinema, massage treatment room and conference room. This beautiful luxury chalet in Verbier offers so much that you will never want to leave.
Summer rentals include chalet manager, chef for breakfast on 7 days and dinner on 6 evenings, maid service and a driver service. Food and alcohol is an additional charge and is calculated upon cost. Weekly prices are CHF 120,000 Swiss Francs.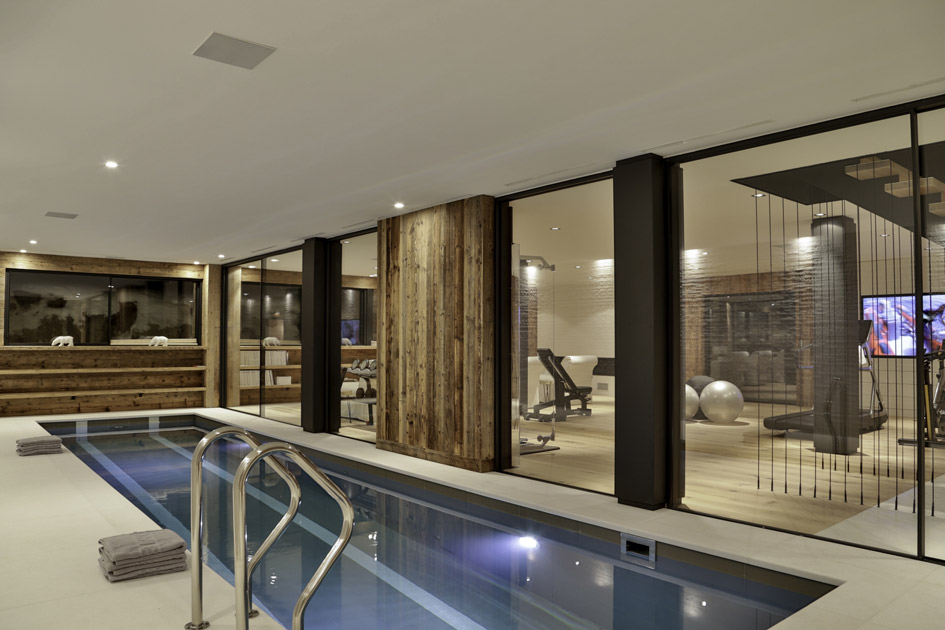 Set in large private grounds upon the hills just outside of Megeve, Fermes a la Leonthine overlooks the traditional alpine village of Praz sur Arly and boasts amazing panoramic views of the wider Haute-Savoie region. You will feel a real sense of escapism from being in such a quiet and exclusive setting.
Fermes a la Leonthine is the perfect combination of traditional alpine and modern luxury. In keeping with the roots of once being a farmhouse, the interiors retain the original timbers and beams with floor to ceiling windows exposing beautiful views from the inside; whilst the high quality furnishings provide you with the luxury you need to relax on your summer holiday to Megeve. Of course, we cannot forget to mention the outstanding spa area on the lower floor, which is made up of an indoor swimming pool with counter current, hammam, sauna and a large gym.
Summer rentals include a private chef and butler for breakfast, afternoon tea and dinner, a chalet manager, housekeeping and a driver service. Food and drinks are charged locally. Weekly prices start at € 34,625 Euros.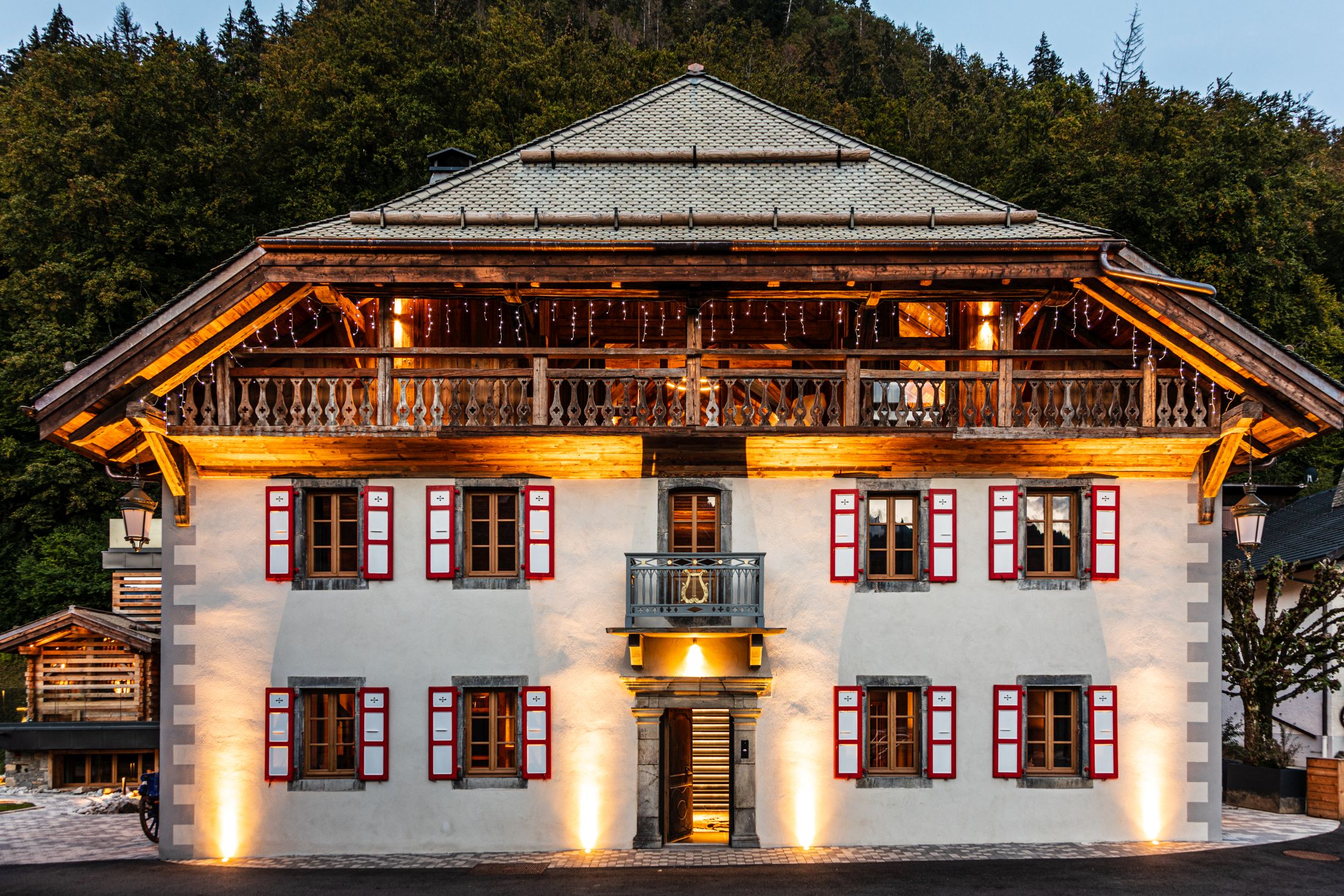 Step inside this traditional farmhouse to discover one of the best luxury summer chalets in Morzine. The exposed alpine beams maintain the renovated farmhouse style but the contrasting soft furnishings and grand, feature staircases give it a contemporary boost.
The facilities are set to WOW. While away the hours in the superior spa area inclusive of an L-shaped pool with massage jets, counter currents and a waterfall, an indoor and two outdoor hot tubs, Hammam, barrel sauna and a massage treatment room, ideal for easing our aches and pains. With such a calm and tranquil setting, you will feel rejuvenated and recharged, ready for another day on the exploring the Portes du Soleil. It doesn't stop there. Whether it's watching a movie on the big screen, potting some balls on the pool table, tinkering on the baby grand piano or getting lost in a novel in the library, there is plenty to entertain the whole group. It will be a question of whether you have time to explore the Portes du Soleil…!
Summer rentals are based on 16 adults and 4 children and includes full gourmet catering, open bar and an in-resort driver service. Weekly prices from 33,000€.
These luxury chalets are truly some of the best summer chalets in the Alps. Each with a uniqueness and style sure to fit your criteria and requirements for your luxury summer holiday the to Alps. If you would like any more information on the above chalets or would like to explore our growing summer portfolio, please do give us a call on +44 1202 203659 or send us an email and the sales team will be more than happy to assist in finding you the perfect summer chalet.