Warm sunny afternoons, lounging on a perfectly angled deck chair, soaking up the sunshine. You can't beat it. Well perhaps add a beautiful mountain view and a glass of Champagne to the picture, and you're truly living the dream. The mountains in the summer reveal nature in all its glory; rich in shades of green, with flashes of bright colour from alpine flowers, and murmurs of wildlife whispering though the valleys. To be surrounded by these wonders of nature when you're out exploring the mountain is one thing, but to be relaxing in the comfort of your summer chalet and enjoying the extraordinary scenery is the essence of a luxury summer holiday to the Alps. So without further ado, let us introduce you to our top 10 luxury summer chalets to satisfy your holiday with a view desires…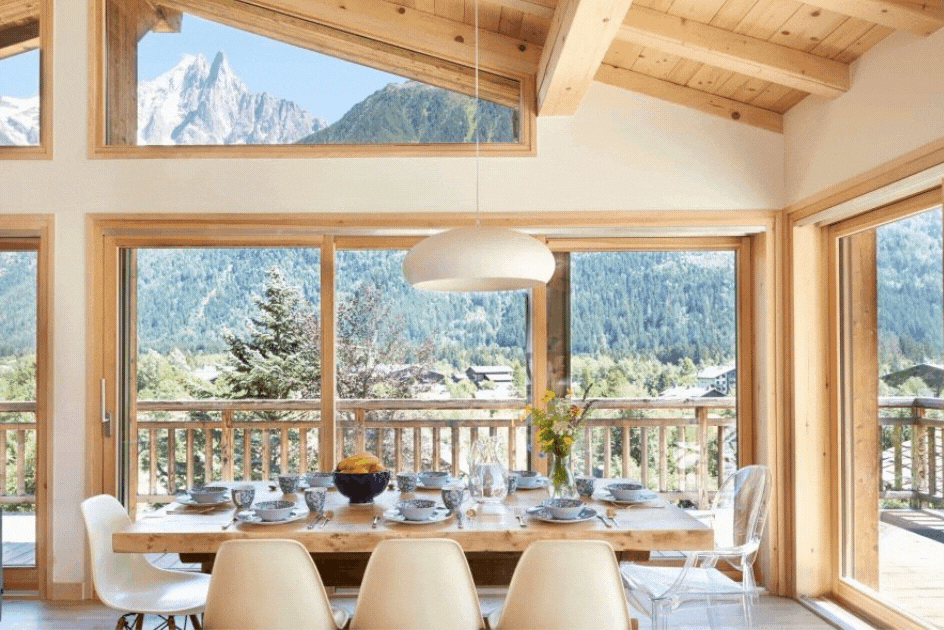 In harmony with its surroundings, this luxury summer chalet in Chamonix has been built with green technology and is completely self-sufficient. Whilst they've focused on leading the way in reducing the chalet's environmental impact, maximising the beautiful surrounding mountain views of the Chamonix Valley certainly hasn't been overlooked. From the floor-to-ceiling windows framing the view in the living room, to views of the valley from the outdoor hot tub, Eco Lodge is a truly unique luxurious chalet offering some of the best scenery for your Chamonix mountain holiday with a view.
Eco Lodge sleeps 8 – 10 guests in light and airy Scandinavian style. The sauna, hot tub and large terrace are perfect for relaxing and ensure your summer holiday in the mountains leaves you feeling fully refreshed and revived.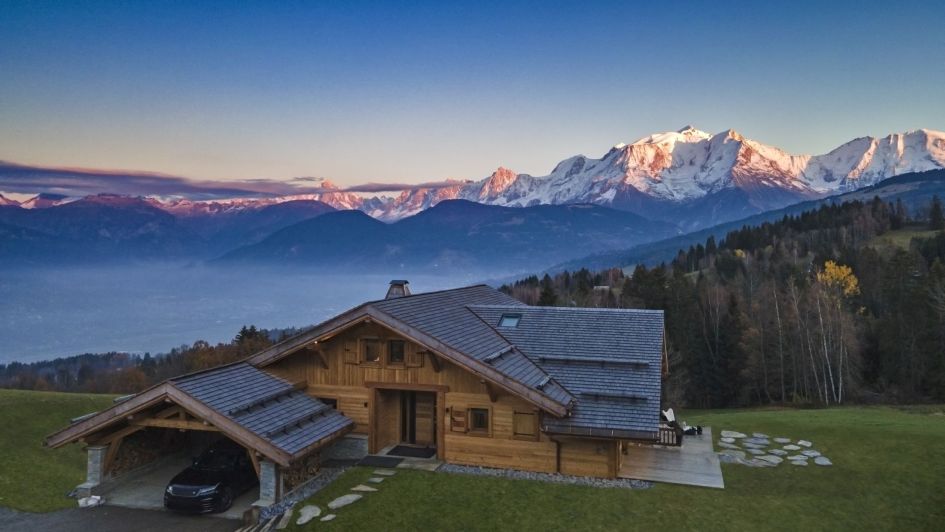 There's a clue in the name here. Perched above Combloux, this luxury Megeve chalet and it's grounds offer what we think are some of the best views in the world; the incredible Mont Blanc Massif. Whether you are sitting outside enjoying an alfresco BBQ, or taking a dip in the indoor swimming pool, the mountain views from this luxury summer chalet are nothing short of magnificent.
With tall ceilings and large open plan living area, a luxury summer self-catered chalet holiday can be enjoyed at Chalet My View for 8-14 guests in space and luxury.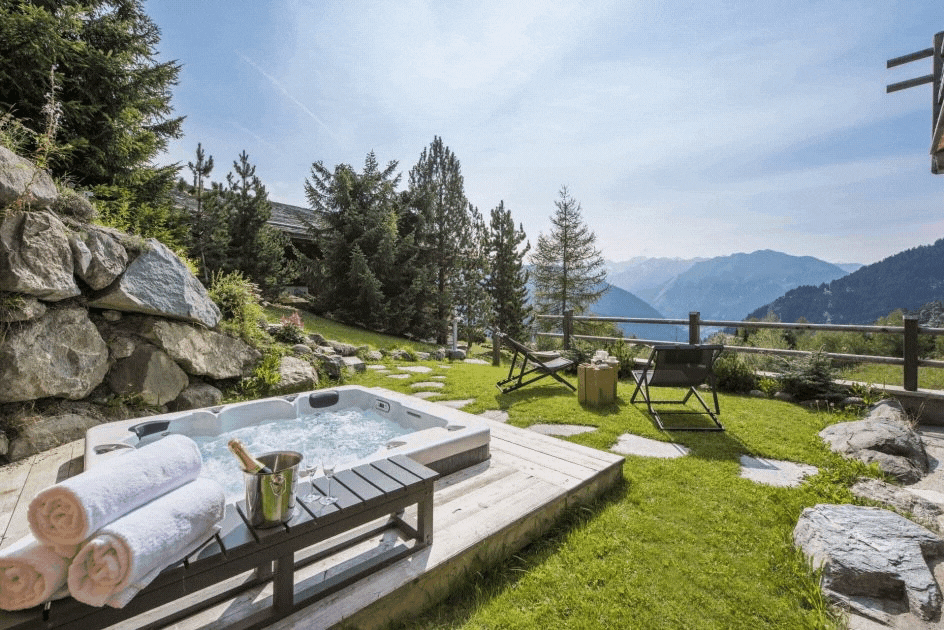 Tucked away in a secluded corner, with an open meadow to the front, Chalet Rock boasts uninterrupted views of Verbier and beyond. The chalet is carefully positioned so that enjoyment of the hazy mountain peaks in the distance is maximised both inside and out. There is no compromise when it comes to choosing where to dine and enjoy the view. The outdoor south-facing terrace offers the perfect set up for dining alfresco with a beautiful backdrop; but should the evening temperature drop below your comfort, then these stunning mountain views can still be enjoyed through the floor-to-ceiling windows in the dining room.
South-facing terraces, an outdoor hot tub, cinema room and pool table make this self-catered Verbier summer chalet the perfect base for a group of up 10 guests.
If you're looking for a holiday with a view then Chalet Elevation offers some of the best holiday views in the Alps. Boasting a stunning panorama of the Chamonix Valley, the vista from here is hard to beat! This contemporary, stylish and luxurious chalet, located in Le Bois, offers large private grounds complete with an outdoor hot tub and large sun terrace, perfect for a BBQ. The Dru and Aiguille Vert surround the chalet enhancing the privacy and peacefulness of your stay.
The variety of wellness facilities in this Chamonix summer chalet offer the ideal space for 10-12 guests to relax after a day exploring the valley.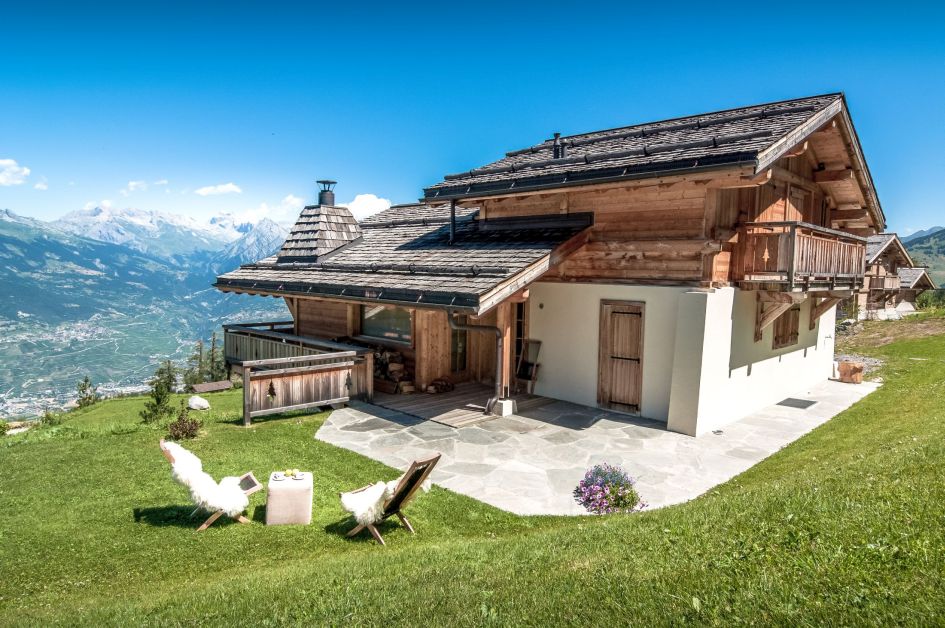 Commanding views across miles of alpine peaks and valleys, Chalet Dahu is perched above the beautiful Swiss resort of Nendaz. A breathtaking landscape of the wide Rhone Valley and the mountains beyond can be enjoyed from the balconies and living spaces of this traditionally alpine chalet. Imagine yourself, relaxing in a deckchair after a day exploring the mountains, sipping a glass of Champagne and enjoying one of the best holiday views you will ever experience.
With 4 double/twin bedrooms and a children's bunkroom, Chalet Dahu comfortably sleeps up to 12 guests in traditional alpine luxury, on a self-catered basis.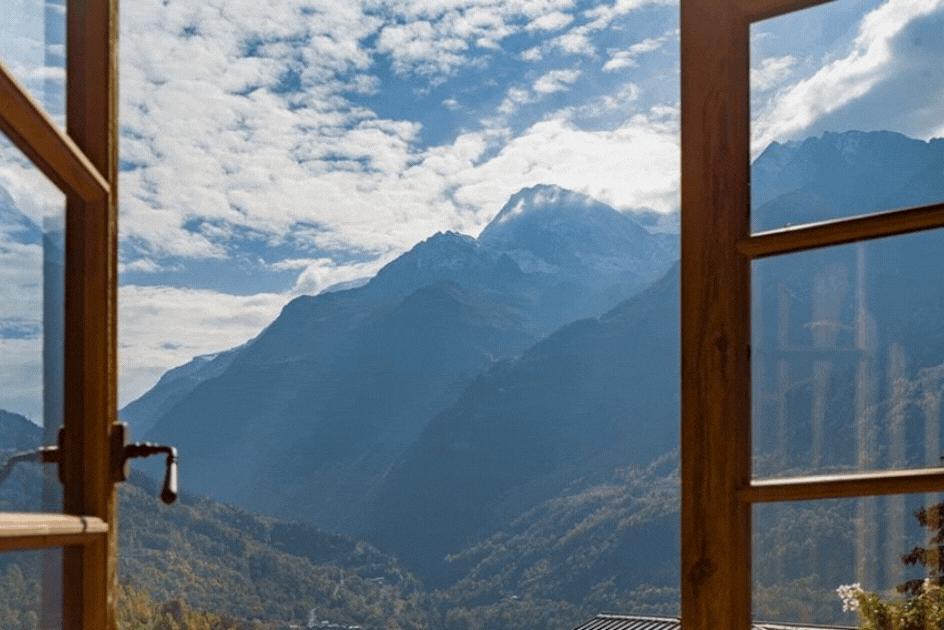 At Chalet Hibou, you can start the day with a morning coffee on the master bedroom's balcony, enjoying the mountain views of the Tarentaise Valley. And you can end the day with a soak in the hot tub and a well-deserved alfresco feast, also with breathtaking views of the Tarentaise Valley. What you explore in between is entirely up to you, but what is important is that this luxury summer chalet offers some of the best views in the Alps.
Chalet Hibou is a truly luxurious summer chalet where you and up to 15 guests can simply sit back, relax and let everything be taken care of by the chalet team. This Sainte Foy summer chalet is offered with your own private chef for daily breakfast and dinner, as well as having all drinks included, a mountain activity guide and transportation for activities.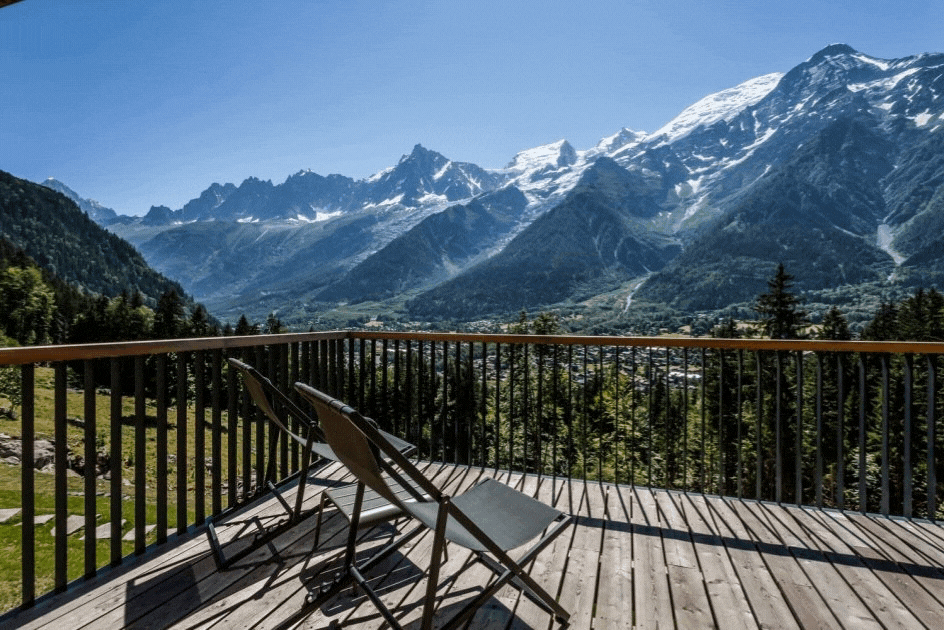 Le Chalet Mont Blanc has arguably some of the best views in the world. The beautifully unique, rugged valley of the alpine resort Chamonix, and it's famous resident Mont Blanc, can be viewed not only from the living spaces, wellness area and terraces, but from each of the 12 bedrooms too. Le Chalet Mont Blanc has been cleverly designed to offer panoramic vistas as well as capturing the longest sun hours of the day. So whether you're waking up, relaxing in the pool, or sunbathing on the terrace, you will be sure to have your breath taken away at this stunning chalet with a view.
As the largest chalet in Chamonix, you won't be short of space here. Sleeping up to 26 guests, you can enjoy the various living and wellness spaces in this impressive 1,000sqm luxury summer chalet. What's more, with it's own Heli-pad, you can admire the impressive mountain views right to the front door!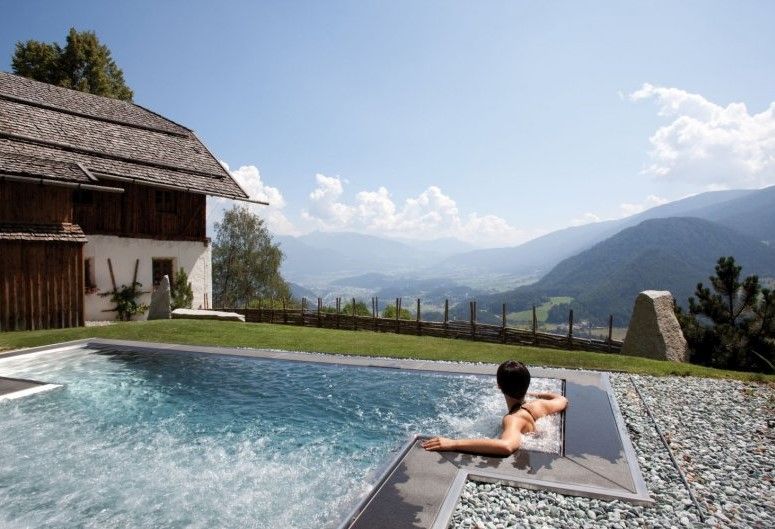 If you are looking for an Italian holiday with a view, look no further than San Lorenzo Lodge. This summer mountain retreat will not only impress with it's enchanting, traditional and rustic style, but will leave you in awe of the valley views before it. You will find tranquillity in gazing at the beautiful mountain views, as well the true sense of escapism – simply setting the tone for your luxury summer holiday in the Italian Alps.
For a small group of 6-10 guests, San Lorenzo Lodge offers the perfect alpine retreat in the Dolomites. It's the ideal setting to return back to after exploring the mountains where you'll be welcomed by a Finnish sauna, Turkish bath, outdoor panoramic whirlpool, wine cellar and your evening meal taken care of by host and chef Stefano and Giorgia.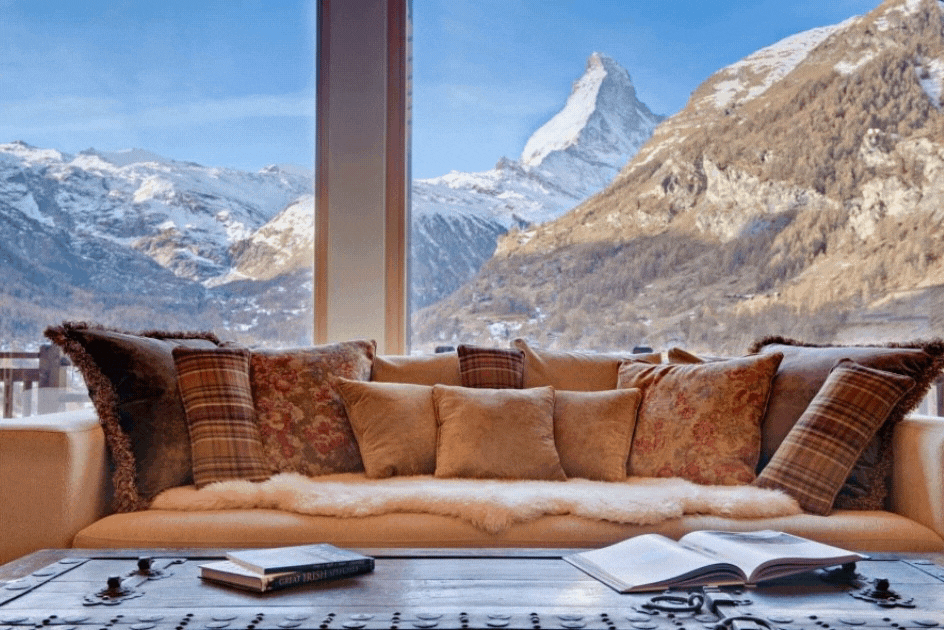 As far as mountain holiday views go, Chalet Grace will be one to stick in your mind for years to come. This luxury summer chalet with Matterhorn views captures the stunning mountain scenery from the south-facing balconies, hot tub, living space and even the bath tub!
Start your day right with a gourmet breakfast and Matterhorn views at Chalet Grace – the perfect way to set you up for exploring Zermatt. Then on your return, as well as an outdoor hot tub, your group of up to 12 guests can enjoy further wellness and entertainment facilities such as the sauna, massage room, relaxation area, games room with pool table and home cinema.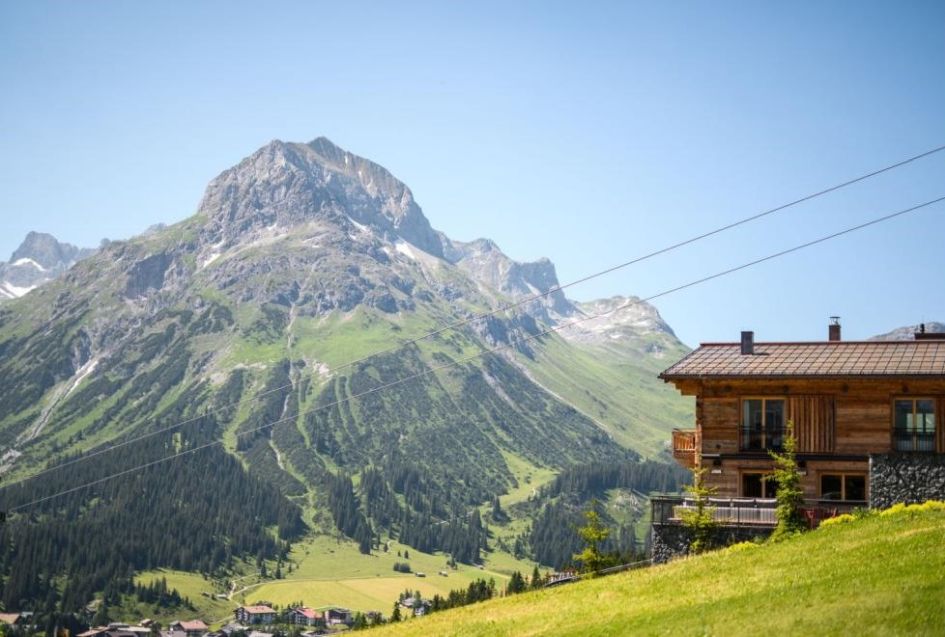 To close our list of the top summer chalets for your mountain holiday with a view, is no less than the amazing Arula Chalets. This chalet combination sets the bar for everything you could wish for on a luxury summer holiday and the same can be said for the mountain views. The Arula Chalets are enviably positioned on the hillside with uninterrupted panoramic views of the stunning Arlberg region. Enjoy the views from the hot tub, the terrace or the living spaces, and you will feel your summer alpine holiday is complete.
These chalets come with all the bells and whistles. For up to 29 guests you can enjoy a restful alpine break with 24/7 butler and concierge service, half-board, private chef, in-house massage therapist, spa facilities, a yoga instructor and a chauffeur at your disposal. You'll never want to leave!
A luxury summer chalet holiday is simply not the same without beautiful mountain views, and where else is better to admire some of the best views in the world? So whether you wish to experience the best mountain holiday with a view from the chalet hot tub or bath tub, terrace or bedroom, we are confident there is a summer mountain chalet with view to suit your preferences.
If any of the above summer chalet views have caught your eye or you would like to further explore summer holidays to the Alps, you can browse our portfolio here, or contact our Mountain Chalet Specialists by sending an email or calling for a chat on +44 (0)1202 203659.