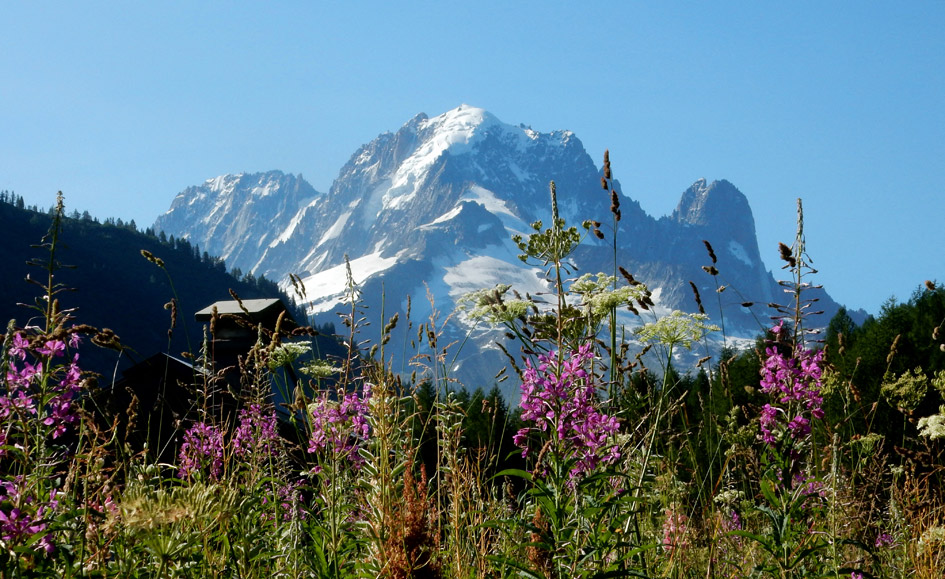 Summer mountain holidays in the Alps are well established now and offer a memorable holiday for all. Swapping white mountains for green ones, skis for hiking boots and cold temperatures for warm sunny days has grown in popularity significantly, and keeps growing every year. Across France, Switzerland, Austria and Italy, there are endless alpine summer resorts to explore. Wherever you head to, you will be sure to find hiking and biking trails, lake activities and stunning mountains views, however, they all have their own unique offerings. With France being one of the most popular summer mountain holiday destinations, we have put together a guide featuring our top resorts for French Alps summer holidays…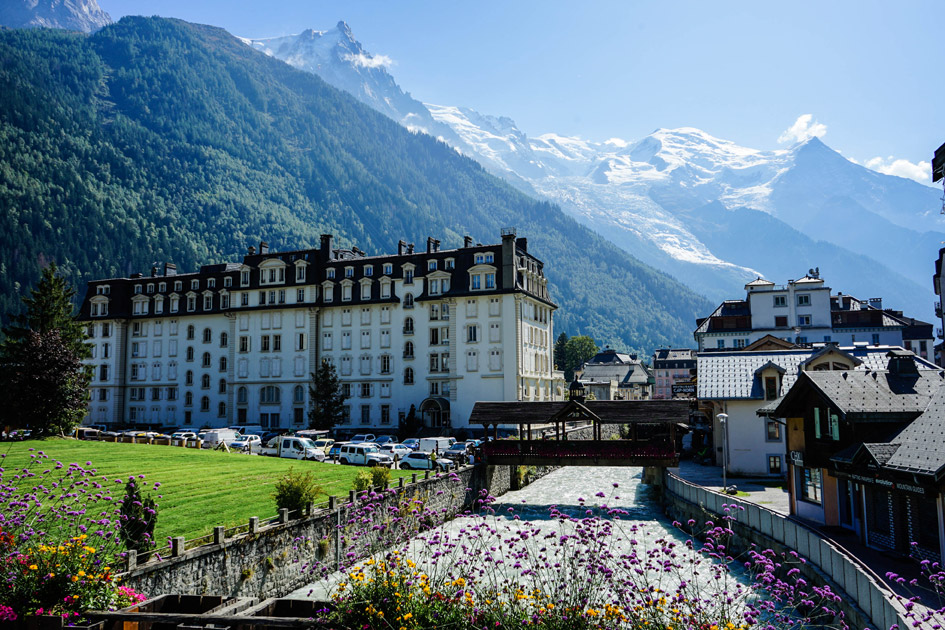 Chamonix is arguably the most renowned summer resort in the French Alps for its close proximity to the highest peak in the Alps (Mont Blanc 4,810m), as well as for its abundance of alpine activities, aristocratic charm and unique geography. Arguably more popular in the summer than winter, Chamonix Mont-Blanc is the ultimate summer playground for the adventurers and mountain lovers amongst you. But its appeal stretches to non-adventurers too with beautiful parks, sight-seeing, alpine lakes, heritage and culture, traditional restaurants and unique wellness experiences. What's more, Chamonix is just an hour from Geneva Airport, making it an ideal weekend destination to satisfy your alpine wanderlust.
SUMMER ACTIVITIES IN CHAMONIX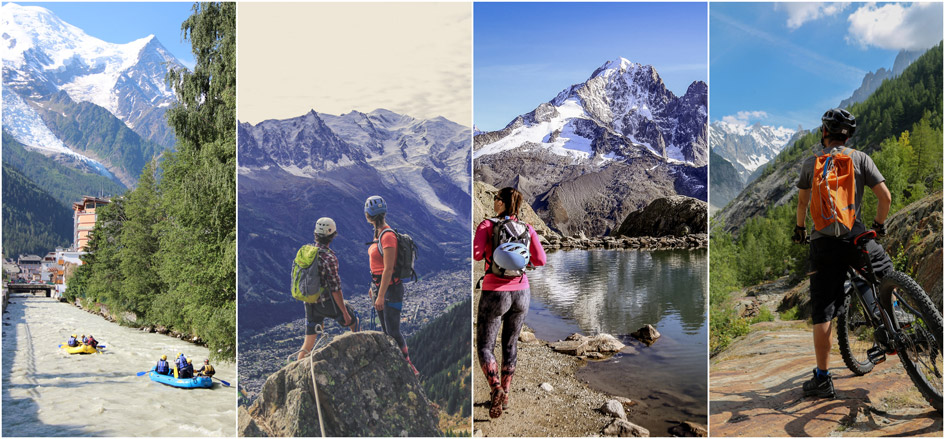 Where do we start? The list of summer activities in Chamonix sure is a long one. Of course, you can find numerous hiking trails in Chamonix with a couple of 'must do's': the Grand Balcon Nord for stunning views, Lac Blanc for families and the Vertical KM for a challenge. These routes, along with many others, can also be used for trail running which is very popular in Chamonix, and celebrated in events such as the Ultra Trail Mont Blanc. For anyone looking for exhilaration, there are some fantastic mountain bike routes in Chamonix, which are all marked according to difficulty level. Access the downhill mountain bike routes via the extensive lift system and enjoy thrills on the way down.
Renowned for its challenging rock faces and incredible mountain backdrops, climbing in Chamonix is world famous. Attracting climbers from across the globe and boasting a variety of routes for all skill levels, both experienced hands and newbies will find a warm welcome. Another great way of exploring the rock faces and challenging yourself is by enjoying some of the best via ferrata routes in the French Alps. These iron walkways played an important role throughout the history of alpine towns, but now offer an exciting way for visitors to take in the incredible peaks around Chamonix.
Video Credit: Chamonix-Mont-Blanc Tourist Office
If you don't fancy climbing to the heights of the Chamonix Valley for spectacular views, fear not as there are many alternative ways to see them from a new angle; take a helicopter tour, give yourself some wings and paraglide above the mountain peaks, or simply hitch a lift in a gondola. There are plenty of view points in Chamonix that can be reached by a cable car. The Aguille du Midi (3,842m) is one of the most obvious recommendations with impressive views across the French, Italian and Swiss Alps. Don't miss Le Brevent too for great views of the town and neighbouring summits. For the complete experience, you can take the Montervers railway for views of the Mer de Glace, Les Drus and Les Grandes Jorasses.
For the water sport lovers, Chamonix will be sure to deliver. Not only is it one of the best summer resorts for canyoning in the French Alps, Chamonix maximises fun on the water with white-water-rafting, kayaking and hydro-speeding too.
LUXURY SUMMER CHALETS CHAMONIX
Summer holidays to Chamonix can be filled with all sorts of fun and adventure, and to complete the trip, let us introduce you to some of the best summer chalets in Chamonix.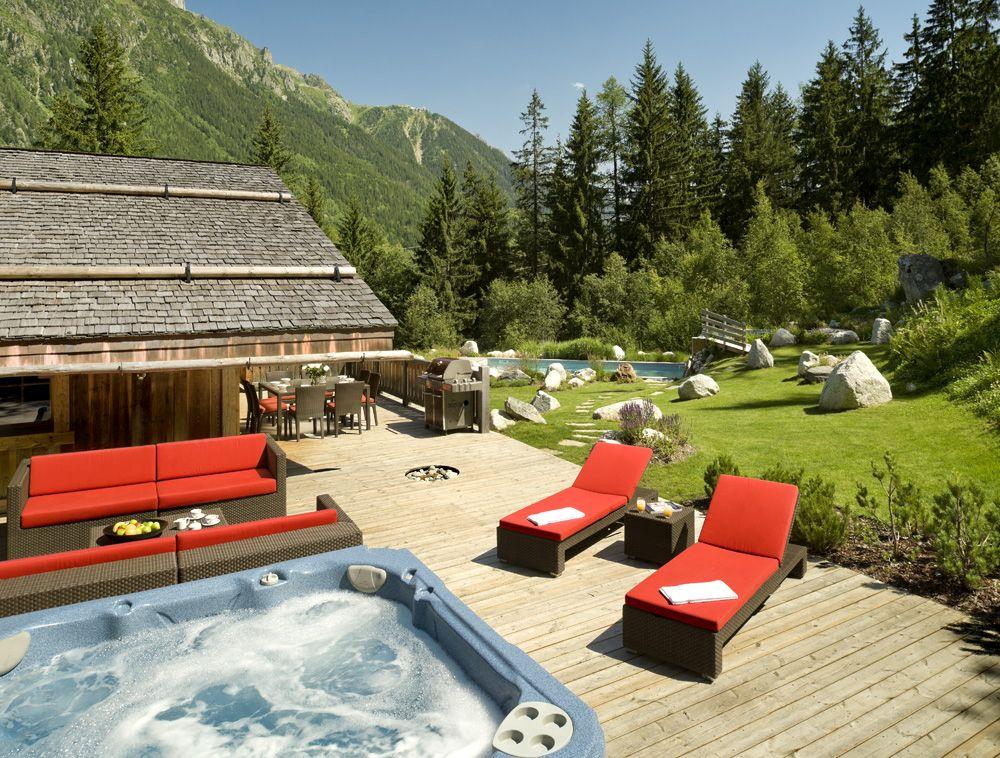 Summer chalets in Chamonix don't come much better equipped than Amazon Creek. Sleeping 10 guests, the split-level pool and outdoor hot tub ensure the garden is a haven for easygoing summer days. Cosy alpine decor then welcomes guests back indoors for evenings around the open fireplace.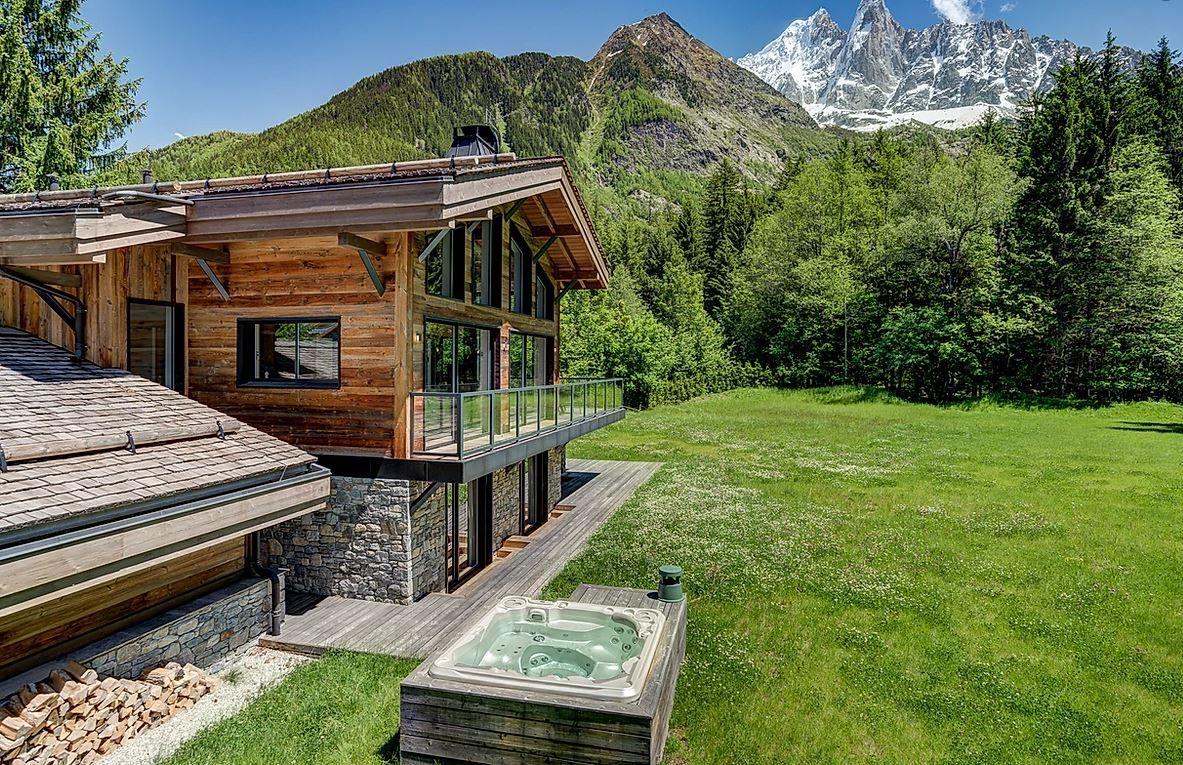 Chalet Elevation really excels during the summer months. The huge garden and terraces offer plenty of space for family fun, and are perfect for meals in the great outdoors. Contemporary design, a swimming pool and cinema room might tempt you back inside before long however, where you'll also find a log burner set before panoramic windows, making this the perfect spot to relax and unwind.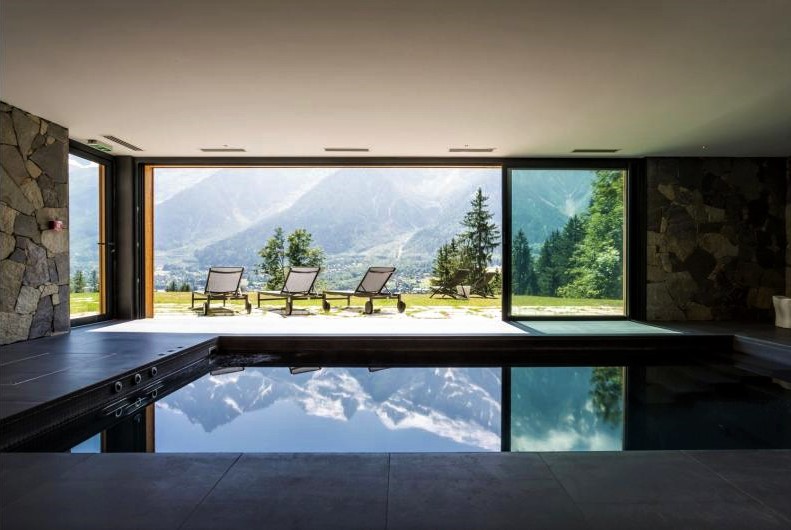 A truly unique property in the Chamonix Valley, this chalet can sleep up to 26 guests in total luxury. With so many facilities it might be difficult to drag yourself away and enjoy everything else the area has to offer! Choose between the indoor swimming pool, sauna, gym, home cinema and terraces where you'll be confronted with stunning views and firepits to take you through into the evening.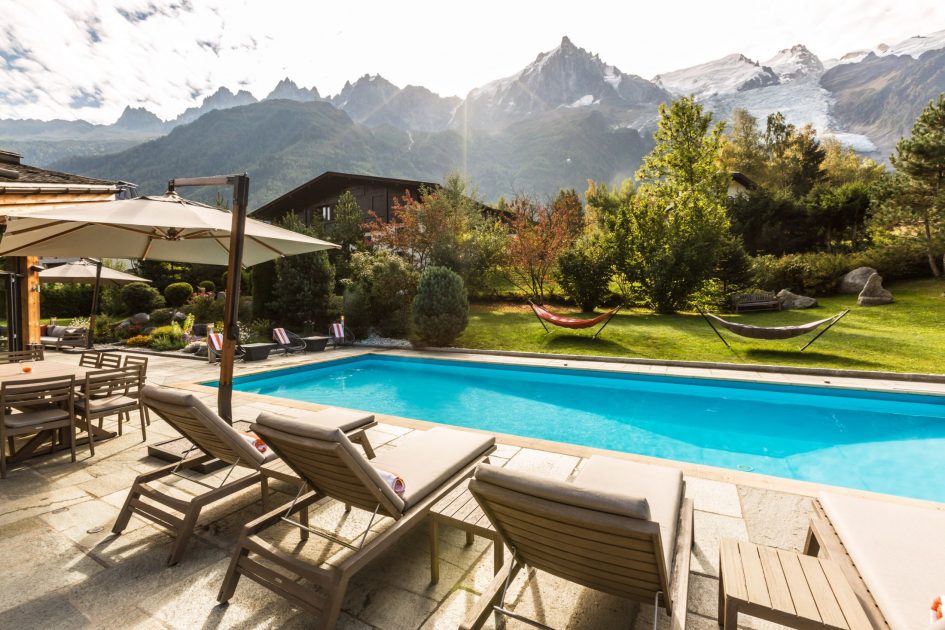 One of Chamonix's most luxurious chalets, Chalet Couttet boasts all of the facilities to make for a memorable summer holiday in Chamonix, and beautiful interior design to match. The views of the surrounding mountains are second to none, and can be enjoyed from every room, whilst the large garden allows you to get even closer to nature or to simply relax by the chalet swimming pool. Enjoy alfresco dining on the terrace, followed by some chill out time in the outdoor hot tub, or some friendly competition at the pool table.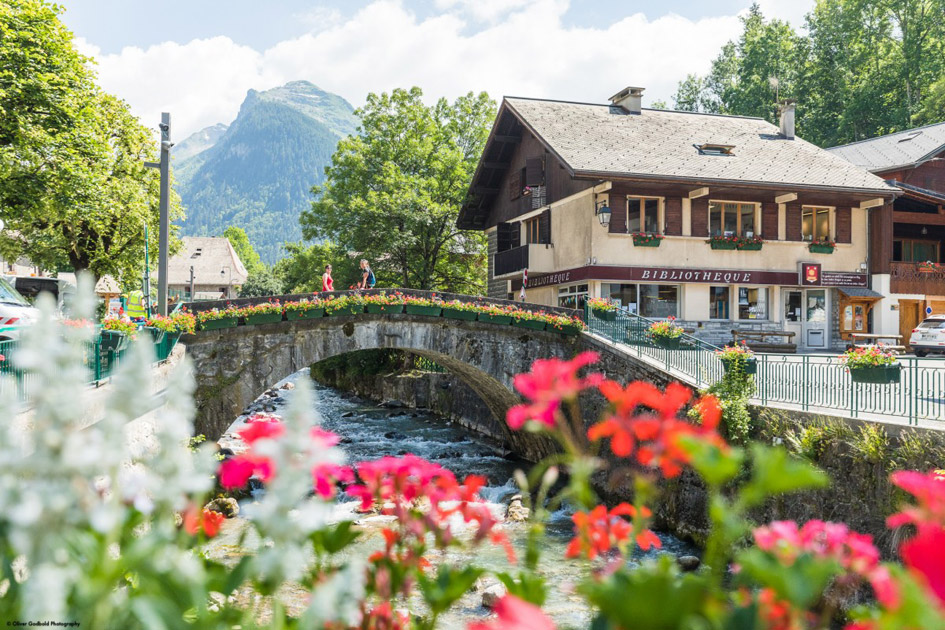 In the heart of the Portes du Soleil, Morzine is considered one of the best destinations for French Alps summer holidays. If sunshine, space and adventure is what you are looking for on your summer holiday, Morzine is the place for you and your family. Located amongst green pastures, with miles and miles to explore, you really do get a sense of escapism on a summer holiday in Morzine. The town itself is a traditional, picturesque French village that comes to life in the summer. The streets have a subtle buzz from the passers by, restaurants and bars create the perfect alfresco ambience, and the beautiful mountainous backdrop completes the holiday setting. Add to this an abundance of activities suited to the whole family, and a short transfer from Geneva Airport…there is not much more you could wish for from a French Alps summer family holiday.
SUMMER ACTIVITIES IN MORZINE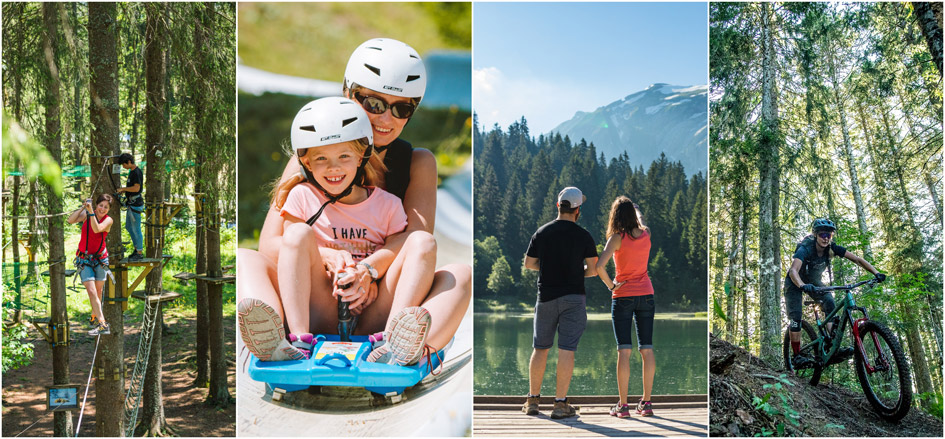 Like many other French Alps summer activity holidays, you can enjoy classic mountain activities including hiking and biking. In fact, Morzine is arguably the best summer resort in the French Alps for mountain biking and has a wealth of history in the sport. With lift developments connecting a vast array of trails across the Portes du Soleil, Morzine is the hub of one of the world's largest bike parks. Across this region, there are more than 600km of slopes, 12 connected resorts, 50 downhill slopes and 21 lifts. With such an immense playground for your two wheels, there also comes variety of terrain, and trails suitable for all abilities. If you are starting out, stick to the greens to build up confidence, or even consider hiring an instructor. For the more adventurous and experienced, there are plenty of steep, technical trails to put your skills to the test.
If mountain biking doesn't appeal to the whole family, there is no need to worry. Morzine family summer holidays are some of the best in the Alps. There is so much choice for families in Morzine, and all at great value, some even for free! First of all, the Parc des Dereches is a great attraction and with over 10 leisure sports in one complex, including indoor and outdoor swimming pools, water slides, a spa area, tree-top adventure park, beach volley-ball and horse-riding, there is sure to be something for everyone to enjoy.
Video Credit: Morzine Tourist Office
Heading out to nature's playground, there are some gorgeous family friendly walks with grassy picnic areas and play parks, as well as some beautiful lakes if you fancy a dip. You may even spot some of the furry local marmots between the trees or on the mountainside if you are lucky! For those seeking to enjoy the natural water features with more excitement, you can check out Frogs Rafting for white-water rafting and canyoning adventures.
In Morzine you can purchase the Multi Pass for as little as €2 per person per day if you stay in a luxury chalet that has signed up for the Multi Pass concession. Otherwise, the day pass at €10 per person still provides excellent value.
LUXURY SUMMER CHALETS MORZINE
Exploring one of the best summer resort in the French Alps, you will sure to need some luxury and comfort to unwind and recharge. Below are some of our top summer chalets in Morzine.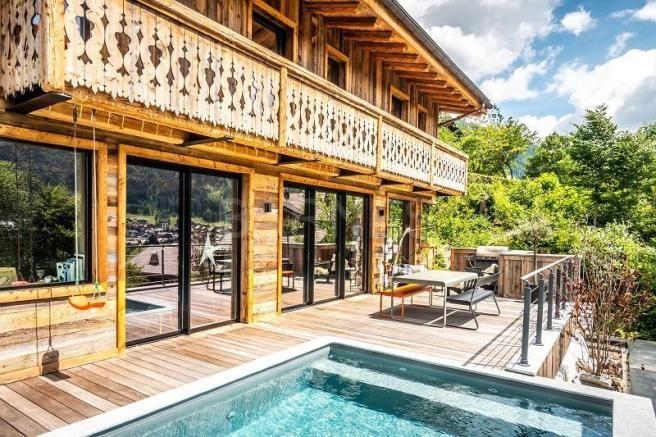 Sleeping 10-12 guests across 5 ensuite rooms, this chalet is perfect for French Alps summer holidays. An outdoor pool, Jacuzzi, large terrace and BBQ add to the summer vibes and mean there's plenty to enjoy alfresco.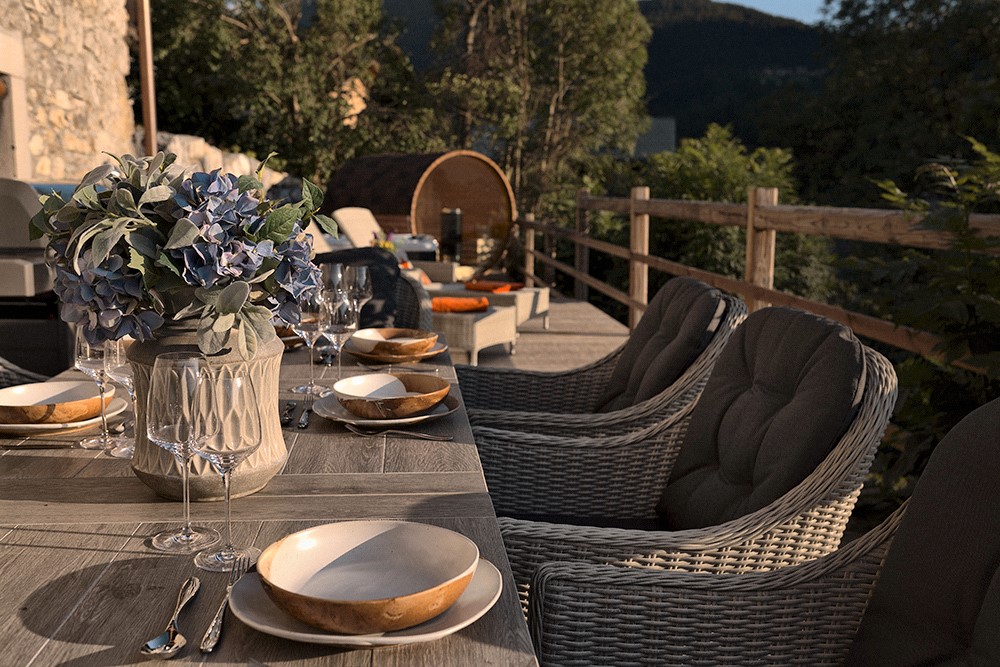 This traditional alpine farmhouse has everything you need for a spectacular summer holiday in the Alps. A fabulous barrel sauna and outdoor hot tub set the relaxed tone while the open plan living area and large dining room offer the perfect spaces to enjoy good company and make family memories.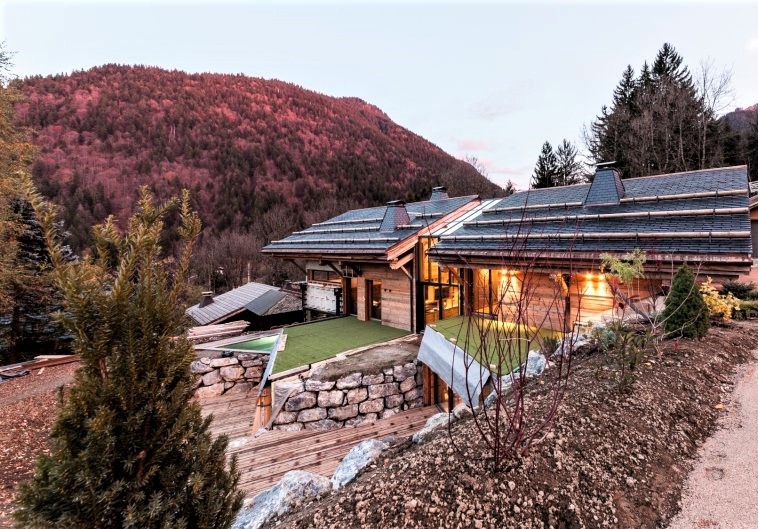 One of the best chalets in Morzine, Chalet Joux Plane caters for up to 14 guests in ultimate comfort. Make the most of the idyllic location from the indoor/outdoor swimming pool or perhaps the hot tub, before retiring to the enormous lounge set around a feature fireplace. Offered on a catered basis, enjoy gourmet dining and excellent service from the team of experienced professionals for the epitome of French Alps summer holidays.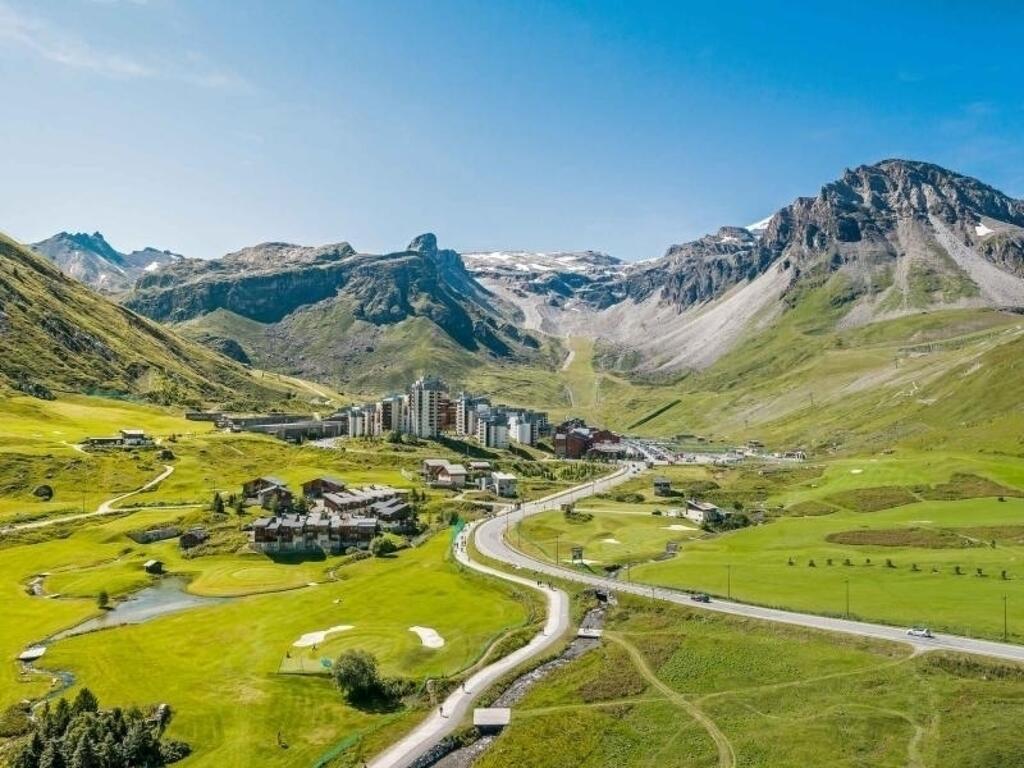 Summer holidays in Tignes are definitely a unique experience. When the snow melts this summer resort in the French Alps is almost unrecognisable. Despite being a purpose-built resort, Tignes does not lack character in the summer with it's large offering of summer alpine activities, fantastic gourmet restaurants and beautiful luxury summer chalets. Up in the Tarentaise Valley, there is so much to explore, and stunning mountain views you don't want to miss out on.
SUMMER ACTIVITIES IN TIGNES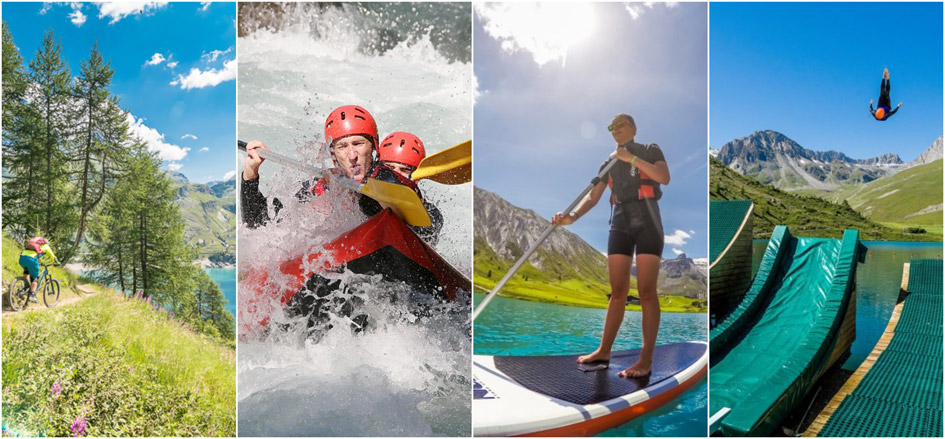 There really isn't much you can't do on a Tignes summer holiday. With lakes, mountains and glaciers, you will be sure to find summer alpine activities for the whole family. The lakes in Tignes provide the perfect base for water sports lovers, boat cruisers and adrenaline seekers. Cruise on a paddle board, kayak, water-ball (zorbing) or sailing boat and admire the towering mountain scenery surrounding you. Take it up a notch and head over to one of the best water parks in the Alps, Acroland. Here you will find a series of slides providing endless fun on the lake. Choose your slide with caution as it is likely you will be catapulted into the air before plunging into the lake! The higher the jump, the more opportunity to show off your freestyle tricks in the air.
In keeping with the exhilarating water sports in Tignes, follow the route of flowing glacier melt water and feel the rush of white-water on a raft or large float. White-water rafting and hydro-speeding are some of the best ways to get down the river. Alternatively, if you are comfortable with some heights, canyoning in Tignes is popular and a fun kick of adrenaline for the family. Plunge into the alpine waters, splash around in the pools and abseil down rock faces, using nature's best kind of water-park.
Video Credit: Tignes Tourist Office
Up on the mountains you will discover 160km of mountain bike trails of varying difficulty and terrain. There is enough for complete beginners to try their hand at downhill mountain biking and plenty for intermediates and experienced bikers to challenge themselves. If you fancy a more leisurely ride, you could also consider hiring a scooter and take in the stunning alpine scenery. Looking for even more adventure? Scale the mountainside via the many rock-climbing routes and enjoy a very rewarding view at the top. Whether you are learning the ropes or an avid mountaineer, rock-climbing in Tignes caters for everyone.
Being a high altitude resort with a glacier, means there are some snow and ice based activities to experience during your French Alps summer holidays in Tignes. Summer skiing in Tignes can be enjoyed with warmer temperatures and 20km of skiing between 2,000 and 3,456 metres. The lift operates in the morning so you can enjoy the best of the summer skiing conditions. From the glacier you can take in the truly breath-taking views of the Tarentaise Valley and even consider a glacier hike with your crampons on!
LUXURY SUMMER CHALETS TIGNES
Whether you've been splashing around in the lakes, tearing up the mountain bike trails or racing down the glacier on skis, you will be thankful for somewhere to rest your tired self during your summer holiday in Tignes. There is a great choice of luxury summer chalets in Tignes and they are unique in their own special way.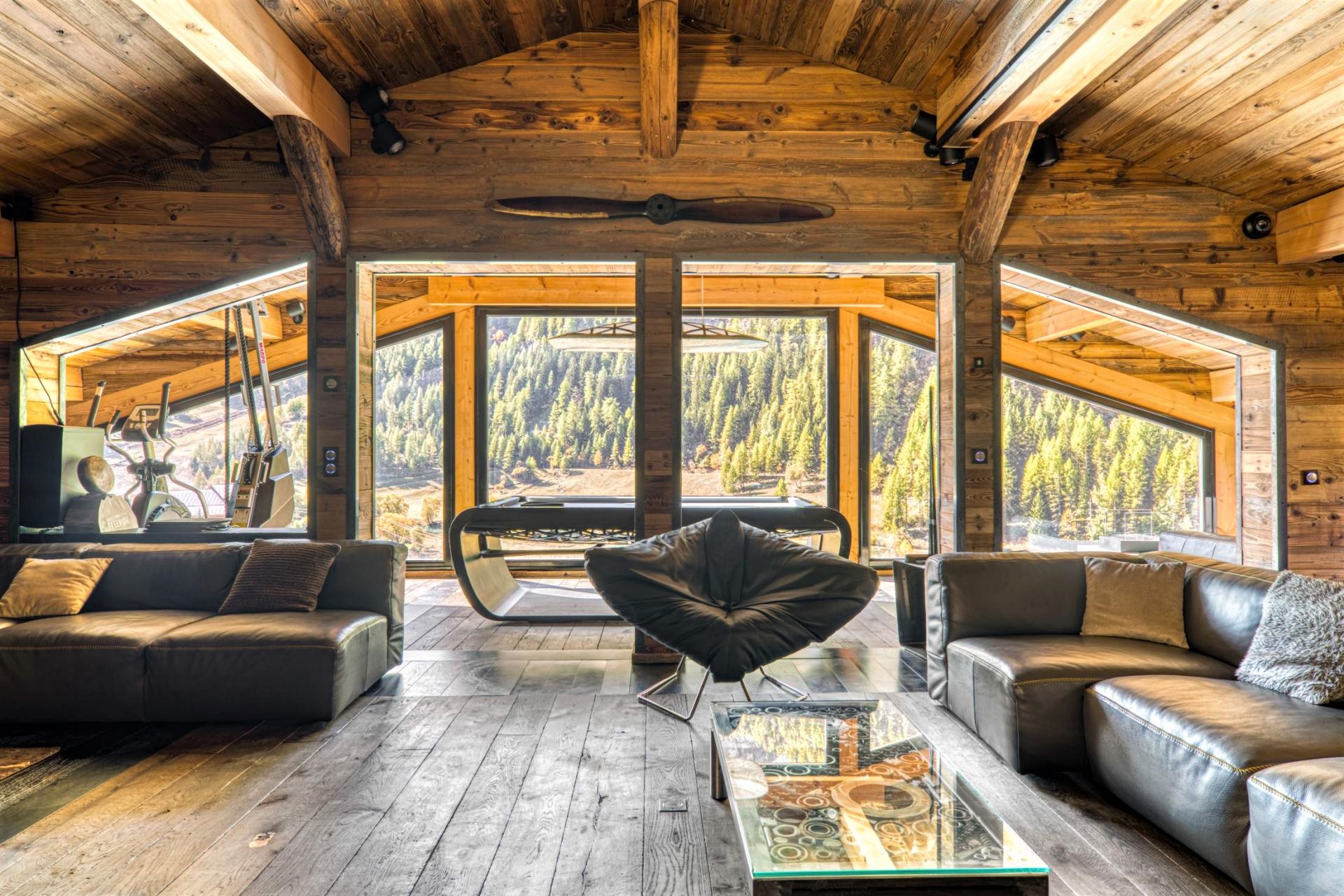 Perfect for families, Chalet Quezac features all the facilities you could ask for in a luxury chalet. With a swimming pool, oversized Jacuzzi, games room, children's playroom, BBQ, pizza oven and wine cellar, there's plenty to keep both big and small kids entertained after a day of adventures in Tignes.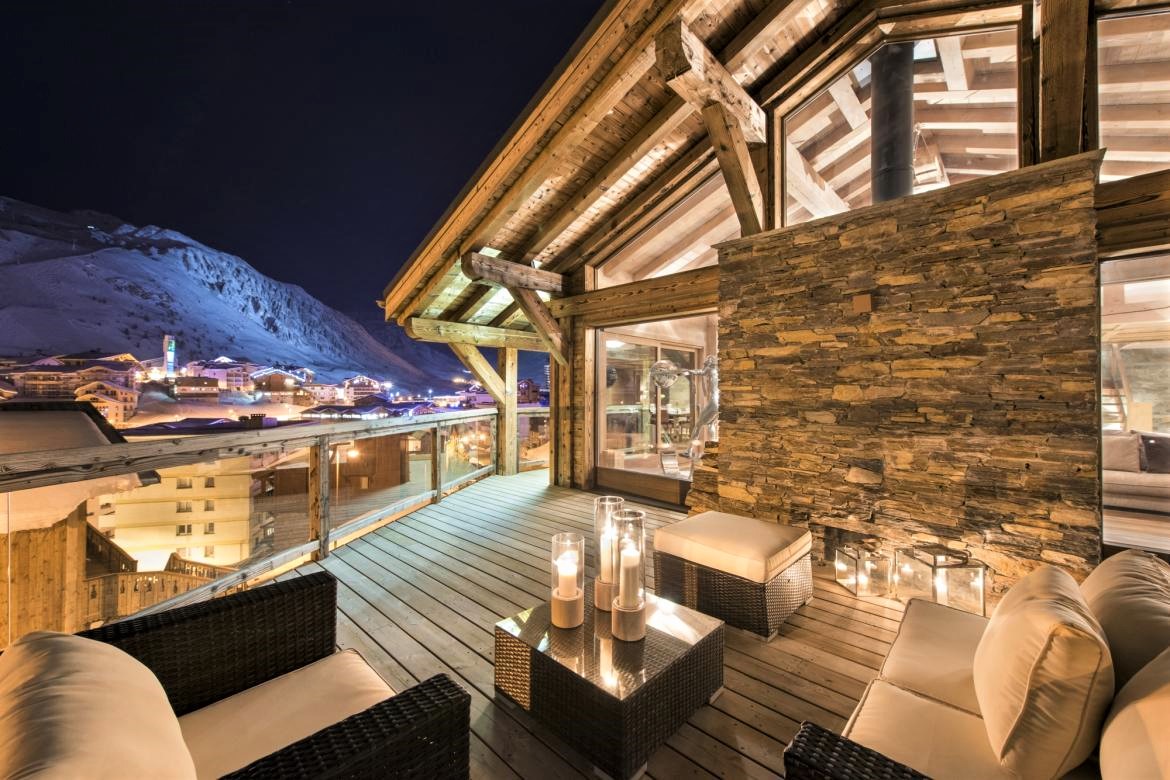 Chic and classy, Chalet Opale combines contemporary design and alpine heritage in one sophisticated chalet. Enjoy a glass or two of wine on the large terrace, encompassing stunning views across Tignes and the surrounding peaks…or perhaps you'd prefer to enjoy the views from the outdoor hot tub instead. Sleeping 10 guests in 5 en-suite bedrooms, relax and escape from the real world in this alpine haven.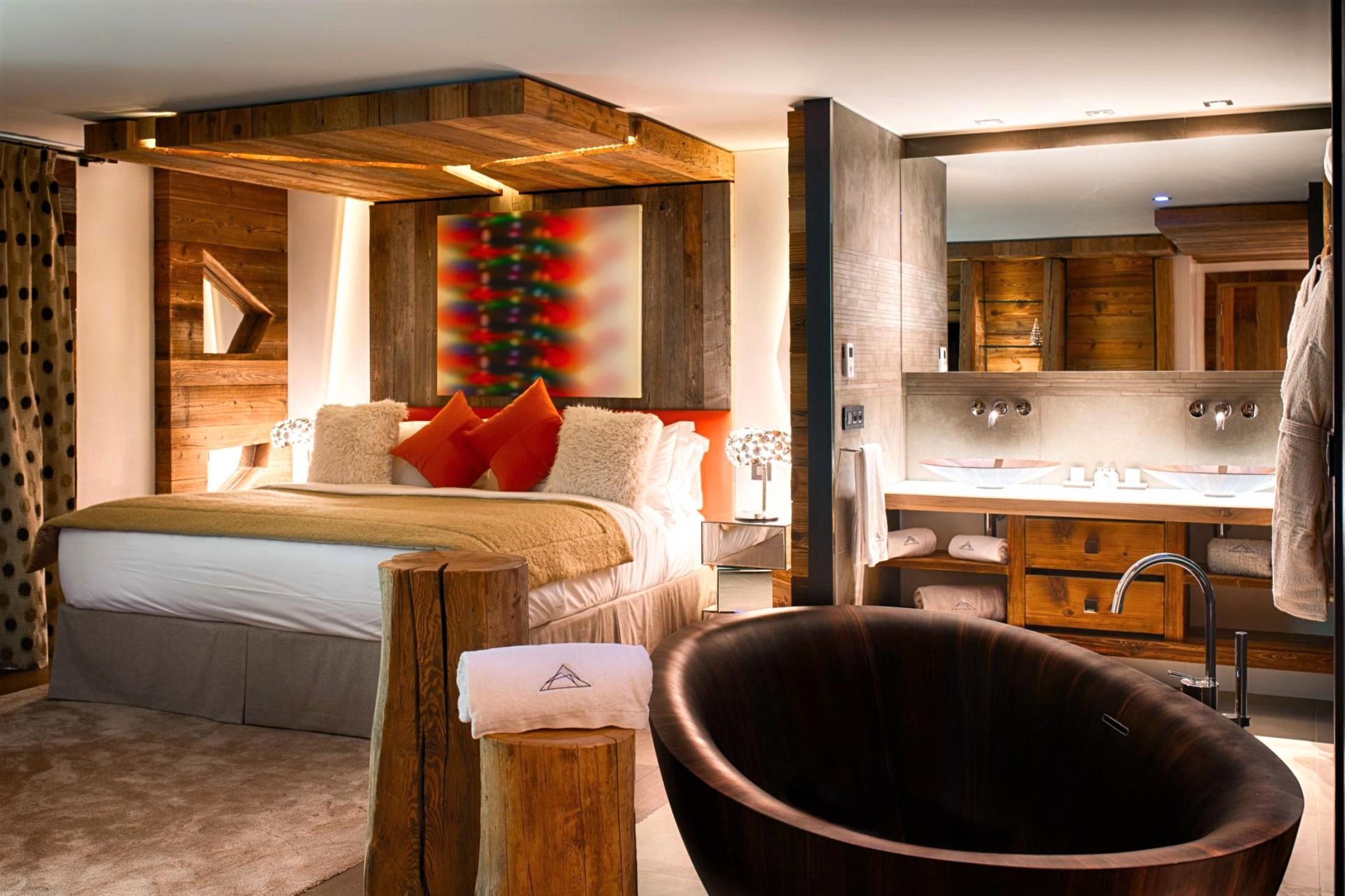 Located in Tignes Les Brevieres, this penthouse, duplex apartment is a fun and stylish retreat for the 6-9 guests lucky enough to stay there. The rooftop terrace enjoys a hot tub with panoramic views, whilst the open plan living and dining area is the perfect space for families to come together after a day of fun on the mountains.
French Alps summer holidays are one of the best vacations you can imagine. With a huge range of activities for everyone to enjoy, truly breathtaking scenery, and a relaxed pace to life that'll see the real world dropping away as soon as you arrive. Throw a luxury chalet into the mix and you've got a holiday the entire family will remember forever. Please don't hesitate to send us an email or call on +44 (0)1202 203659 if you want to talk to our experienced team of mountain lovers about a summer holiday to the French Alps.