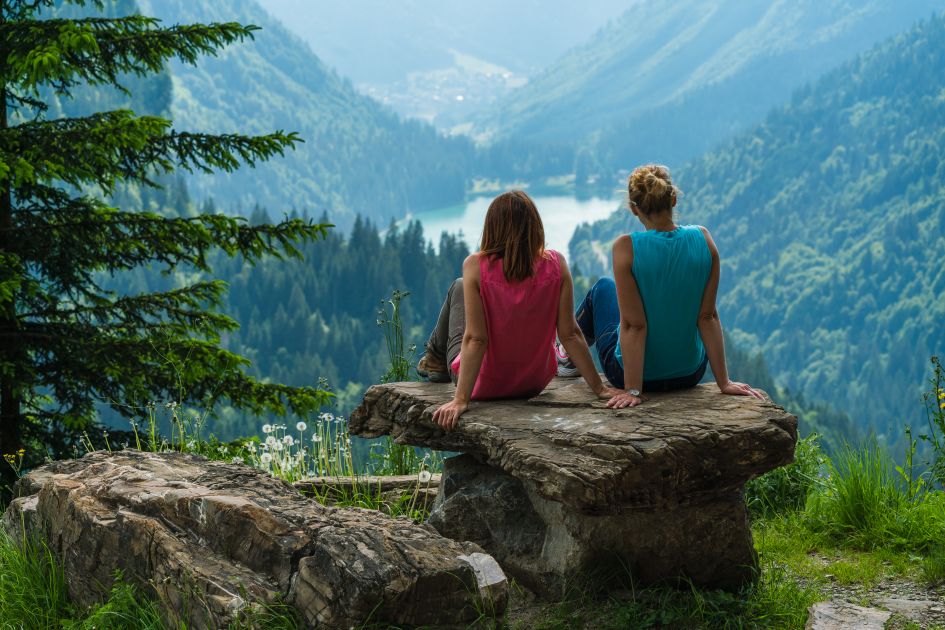 A luxury summer holiday in Morzine is becoming an ever more popular choice and it's easy to see why! It's one of our favourite Alpine summer resorts; gorgeous scenery, endless activities, perfect blue skies and still with a spot of snow clinging to the higher mountain peaks. Quite simply a Morzine summer holiday is fantastic for everyone. It caters to families, adrenaline addicts, groups of friends and couples.
The winter infrastructure is put to good use as Morzine in the summer benefits from the high-speed lifts ready to whisk hikers and bikers alike up the mountain for a day's exploring. Similarly, the luxury summer chalets in Morzine from our portfolio have everything guests need for a special summer break. Choose from hot-tubs and private pools, professional grade BBQs, outdoor kitchens and generous gardens with views across alpine meadows and rugged peaks.
Mountain Activities in Morzine
Morzine summer activity holidays offer something for everyone, and the area is a haven for adventurous spirits. Mountains are nature's ultimate playground and in the summer, visitors can truly make the most of these opportunities for exploration.

In the Portes du Soleil mountain biking trails are world class and range from gentle beginner terrain to serious downhill tracks that are not for the fainthearted. Whether cross-country, enduro, downhill or even road-biking is your favourite way to spend your luxury summer holiday in Morzine, you'll find plenty of spots to test your nerve across the wider Portes du Soleil.
For those of us who don't necessarily have the leg strength to make it to the summit,e-bikes are ever growing in popularity. They can be rented from numerous bike shops in town, opening up the terrain, and increasing the accessibility of biking in some of Europe's most spectacular scenery.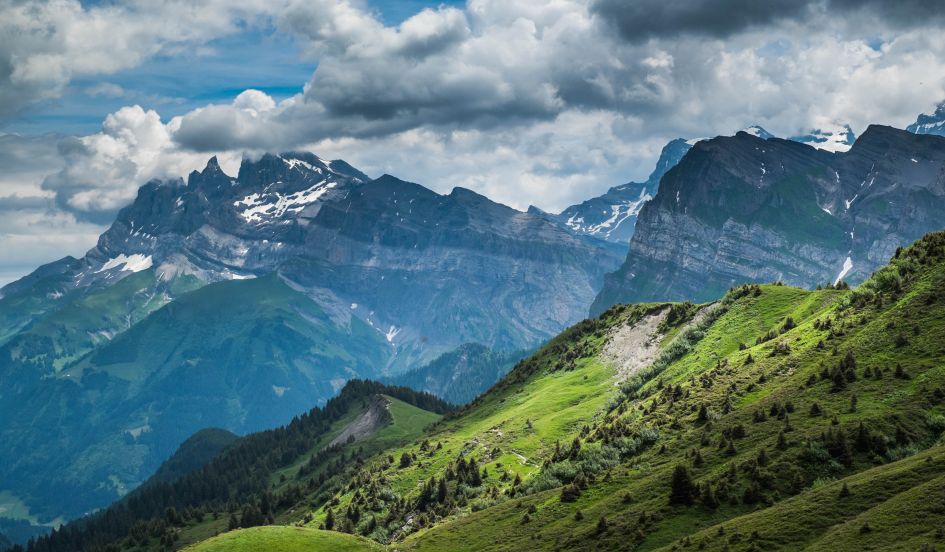 From relaxed strolls around Lac du Montriond to demanding ascents of Morzine's peaks, hiking is the perfect way to explore the Alps. Follow icy-clear streams, skirt mirror-glass lakes and pick your way through dappled forests, all the while keeping a sharp eye out for curious marmots and nimble chamois. This close to Mont Blanc the mountain has a gravitational pull that draws the eye, and with Chamonix just half an hour down the road it's within easy reach for an even closer look.
Whether you're an experienced rambler or a gentle stroller, hiking in Morzine offers a lot of bang for your buck, with beautiful flora and fauna and those famous mountain views.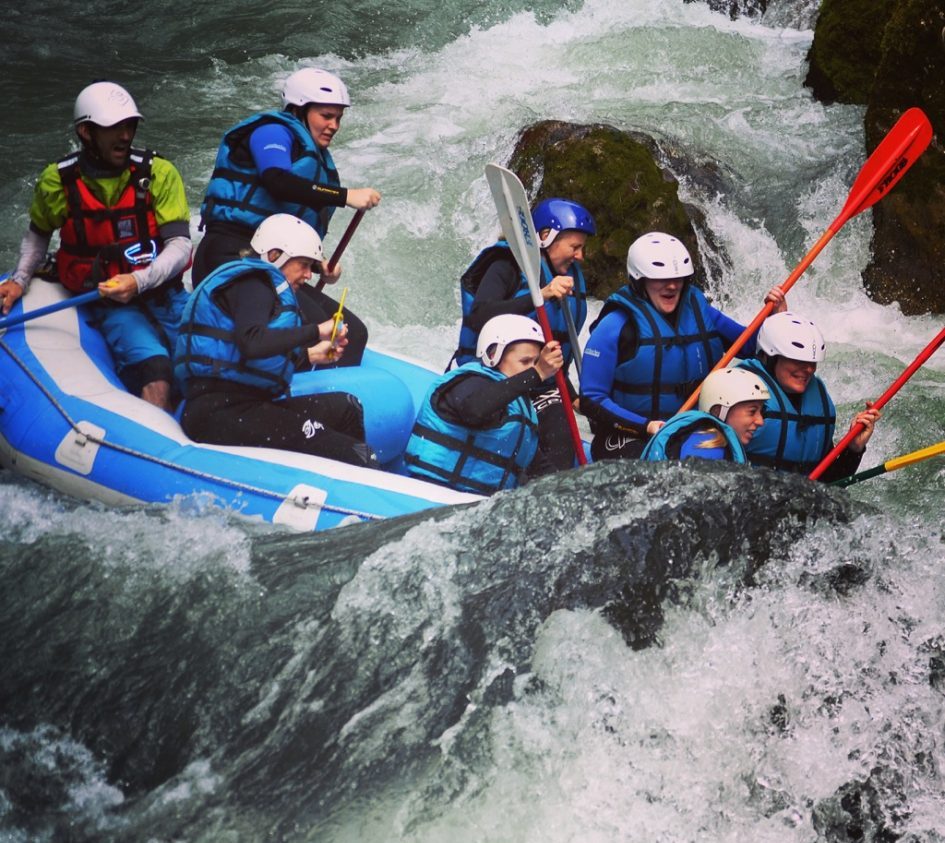 Watersports in Morzine are surprisingly popular. For a relaxed time on the water look no further than Lac du Montriond. Covered in ice through much of the winter, in summer the stand up paddle boards and kayaks make their way out of storage and onto its perfectly calm waters. Buoys around its edge mark a route for swimmers looking for a wild swim to clear the mind.
For those who prefer their water fast moving, white water rafting and hydro-speeding are must-do's when taking a luxury summer holiday in Morzine. The River Dranse cuts right through Morzine and just down stream visitors and their guides can set about piloting their boat through the white water. There's also occasional spots to stop off for a bit of cliff-jumping to cool off. Check out our blog on white water rafting in Morzine for a bit more insight into this adrenaline fuelled activity!
In the evenings
Morzine boasts an array of bars and restaurants serving everything from traditional Savoyarde fayre to easy pizzas, international menus to local produce. Plus, during the summer in Morzine, there's also plenty of opportunities for alfresco dining; perfect for enjoying a relaxed evening amongst the buzz of town life.
With a varied menu Le Clin d'Oeil is great for a special occasion, with Savoyard specialities, perfectly cooked steaks and simpler dishes for children. Combine this great food with a spot-on wine list and it's a restaurant which promises a great evening.
Offering plenty of locally sourced produce, La Grange in the centre of town, enjoys a relaxed and friendly atmosphere thanks to Alex and Fred, the husband and wife team who run the show. With Fred in the kitchen producing the home-cooked alpine specialities expect the classics (think raclette, French onion soup and fondue), as well as great steaks or fresh fish if it's not a night for cheese!
For a bit of spice, Hideout Restaurant is stylish offering with a street food inspired menu that includes asian influences and classic soul food. It's got a casual vibe, but the food is good and it's popular, so booking is probably a wise idea especially during high-season. It's also ideal for a quick bite before a few cocktails and some live music at Laury's, the bar situated just underneath it.
For those with a sweet tooth, Creperie Chez Seb is pancake perfection and the ideal pit-stop whilst meandering back to your luxury chalet.
Morzine Village Life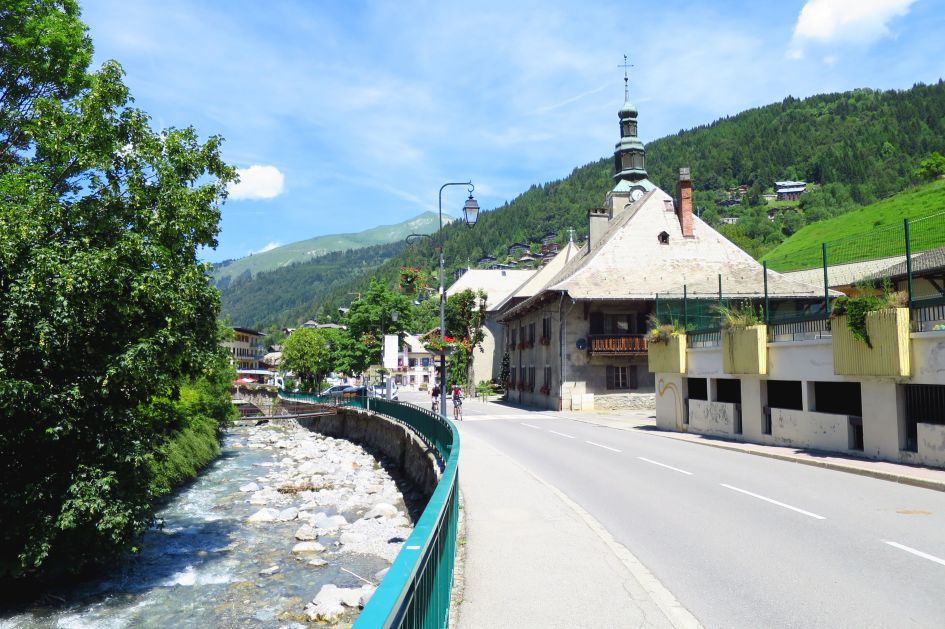 A luxury summer holiday in Morzine is a buzzy affair; with visitors and locals alike enjoying the great outdoors and everything the village has to offer. Walking around town it's normal to hear strains of live music from the bars and restaurants, whilst the local tourist office does great work in organising events for everyone. During the Harley Davidson festival there are big concerts hosting the likes of Simple Minds and Toto, whilst children's entertainment and games are a daily occurrence.
A Little Further Afield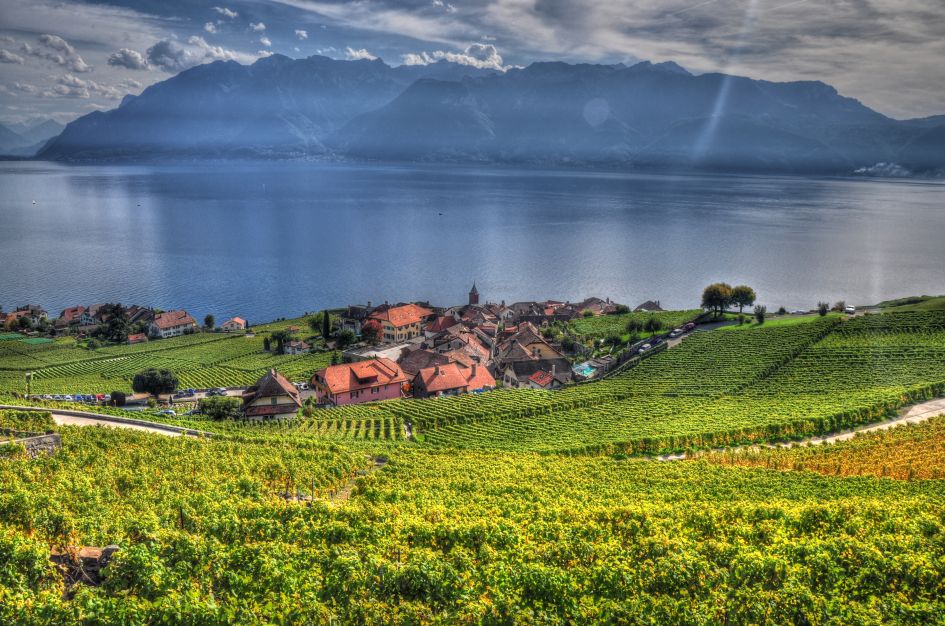 Morzine has a perfect location for adventures a little further afield. Within 45 minutes visitors can be relaxing alongside Lake Geneva with a glass of wine or biking the trails of Chamonix. Just over an hour away, the historic city of Annecy boasts its own lake and has been nicknamed the 'Venice of the Alps' due to the canals and river that snake through the city's old town. Full of beautiful old buildings and an actual castle, there's a lot competing for attention here; the surrounding mountains, the lake and the beautiful town itself. We've previously written about our favourite things to do in Annecy to make the most of time spent in this beautiful town!
For some truly stunning natural sights, Sixt-Fer-a-Cheval is also just down the road. It's natural amphitheatre, marked by occasional waterfalls and shaped like a horseshoe has been designated a Grand Site de France. If the biking and hiking trails of the Portes du Soleil aren't enough, then the alpine meadows and forests of the national park beckon.

If you're considering a luxury summer holiday in Morzine you could do worse than setting up camp at The Old Macaroni! Sympathetically restored, and with plenty of character, this 17th century farmhouse combines luxurious contemporary touches with the building's traditional charm.
Located just a few minutes from the centre of Morzine and under 10 minutes from the super Morzine gondola, it's a great spot from which to explore the local trails whilst remaining convenient for the bars, restaurants and shops of the village centre.
Once you spot the outdoor hot tub and barrel sauna, discretely located with superb views over towards Pleney, you may never want to leave however! A cinema room, baby grand piano, Harry Potter themed children's bedroom, a library's worth of books and a secret room might also derail your plans for the day; there's just so much to explore and entertain within the chalet.

With beautiful views and an array of facilities, Chalet X is one of the finest self-catered summer chalets in Morzine. Whether you fancy an activity filled vacation, or a chilled out alpine retreat, Chalet X is a great spot for a Morzine summer holiday. A generous sun terrace wraps around the property, with plenty of space to fire up the BBQ, enjoy alfresco dining, sunset drinks, and a soak in the hot tub. Alternatively, indulge in some early-morning mountain yoga to greet the start of a new day, take a dip in the chalet swimming pool, and workout in the fitness suite.
With seven bedrooms, including one bunk room perfect for children, Chalet X caters for a variety of groups who want to enjoy the mountains in summer.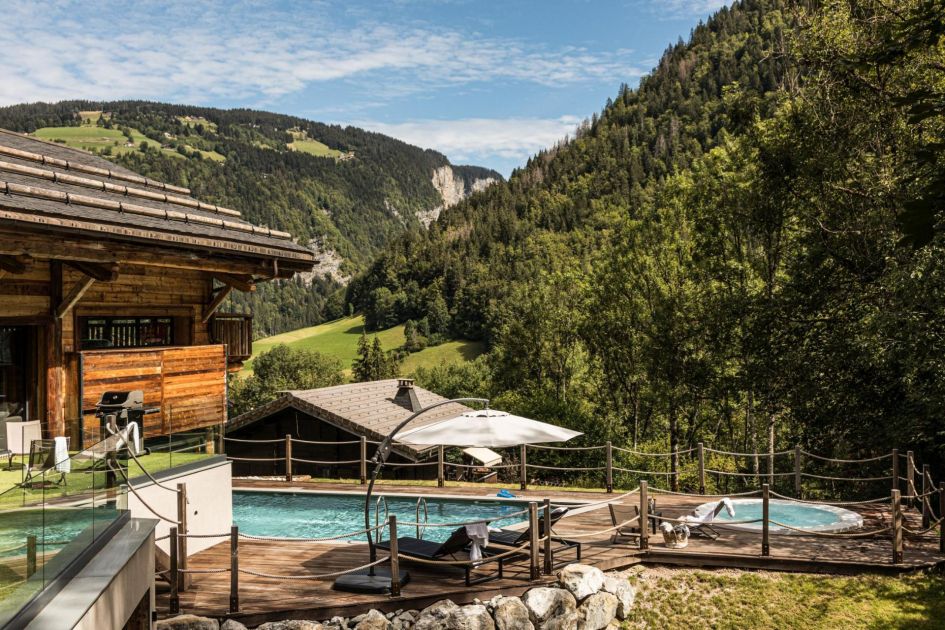 Summer holidays in the Alps are all about enjoying everything the mountains have to offer, and Chalet Joux Plane is the perfect luxury summer chalet in Morzine from which to explore. Offered on a fully catered basis throughout the summer season, guests can rest easy that they will be completely pampered when not off adventuring.
This Morzine luxury chalet features an extensive array of wellness facilities, including the stunning 23m indoor/outdoor swimming pool which spans the entire width of the chalet, a well-equipped gym, outdoor hot tub, sauna and hammam.
For biking fans, the chalet is located on the famous Tour de France Joux Plane climb; an iconic spot from which to begin a day on the bike, but just an easy freewheel into the centre of resort. Summer in Morzine 2022 sees a whole array of events visit town, from trail running races, to mountain and road biking competitions, after which Chalet Joux Plane will be waiting to welcome you for an easy evening of relaxation.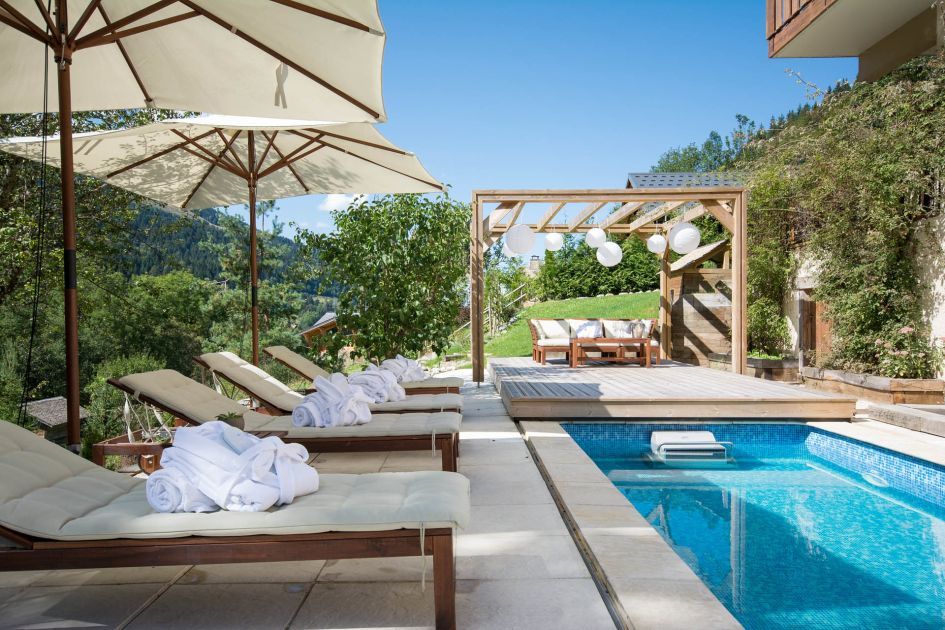 One of the best luxury chalets in Morzine, Twenty26 offers contemporary opulence in one of the Alps' best summer resorts. The fantastic gardens and terrace are perfectly secluded whilst also boasting panoramic views along the valley to the Dents Blanche and across to Pleney.
With a wood fired barrel sauna, 6m heated swimming pool and hot tub, the terrace is an ideal spot from which to relax with friends, enjoy a spot of alfresco dining, and watch the sun set across the neighbouring peaks. With six generously sized en-suite bedrooms, five of which can be converted into twins, it also has the flexibility to cater for families and groups of friends.
If a luxury summer holiday in Morzine sounds tempting, please give us a call to speak to one of our summer Alps specialists and they will be very happy to help. Alternatively, if you want more reasons to head to the Alps for your summer holiday 2020, take a read of our blog for inspiration. Either way if you would like help planning your next luxury holiday to the Alps, send us an email or call us on +44 1202 203659.