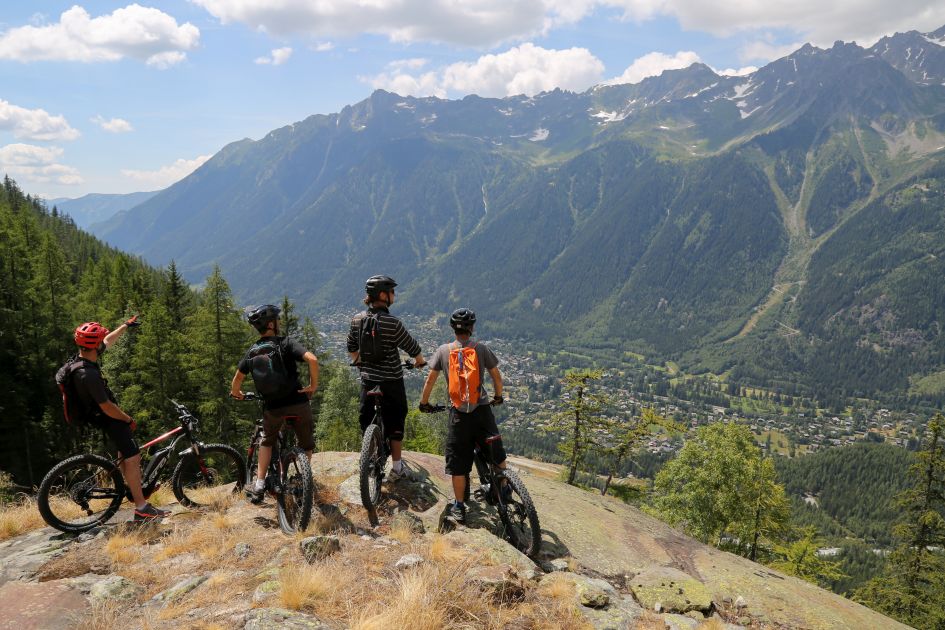 A family summer mountain holiday is the perfect opportunity to spend valuable time with your loved ones, making new memories and experiencing the stunning scenery the Alps has to offer. Here at Alps In Luxury, we understand that choosing the right chalet is an important aspect of your summer holiday, and so we want to work with you to ensure you make the right choice and find the perfect family friendly summer chalet. With a wide selection of luxury chalets across our portfolio, you may often wonder 'so which are the best suited for families?'… well look no further. We have put together a comprehensive list of family friendly summer chalets, making the task of organising your family summer holiday that little bit easier!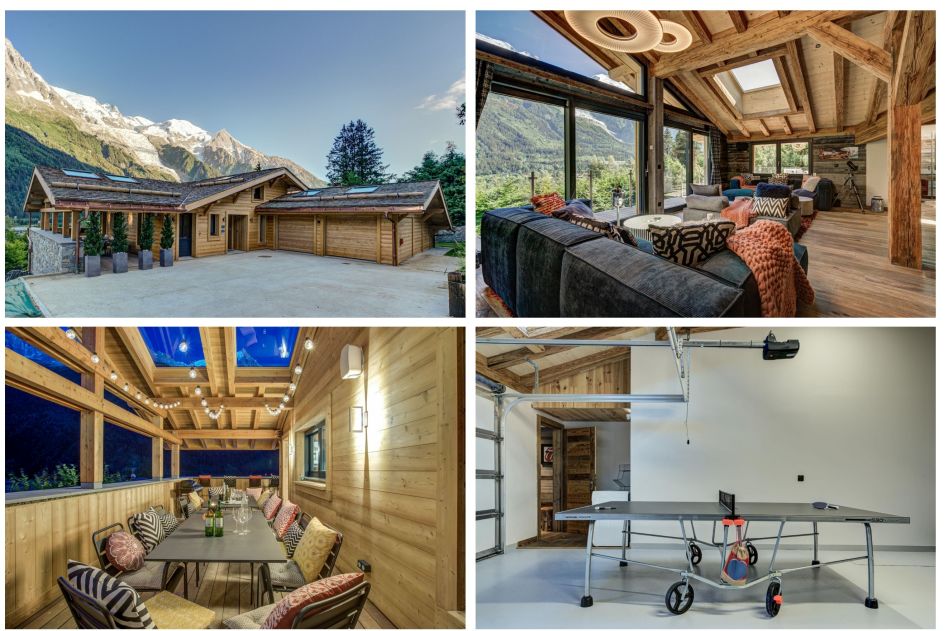 Summer holidays in the mountains don't come much more spectacular than Chalet Rock and Roll. This is a fantastic summer chalet in Chamonix with a wide range of facilities to keep both adults, and children entertained. Adults may like to indulge themselves in the TWO outdoor hot tubs, large sauna, or for ultimate relaxation, a treatment in the massage room. Children can explore the bouldering room with space for climbing, play a spot of table tennis, or chill out in the TV room. Other facilities include a children's playroom, gym and multiple balconies and terraces for alfresco dining, bringing the family together after a busy day.
For those looking to explore the surrounding area, Rock and Roll is within walking distance of Chamonix centre where there are a wide selection of sporting and more relaxing opportunities available.
Chalet Rock and Roll is primarily offered on a self catered basis and prices range from €9,450 to €12,950 per week.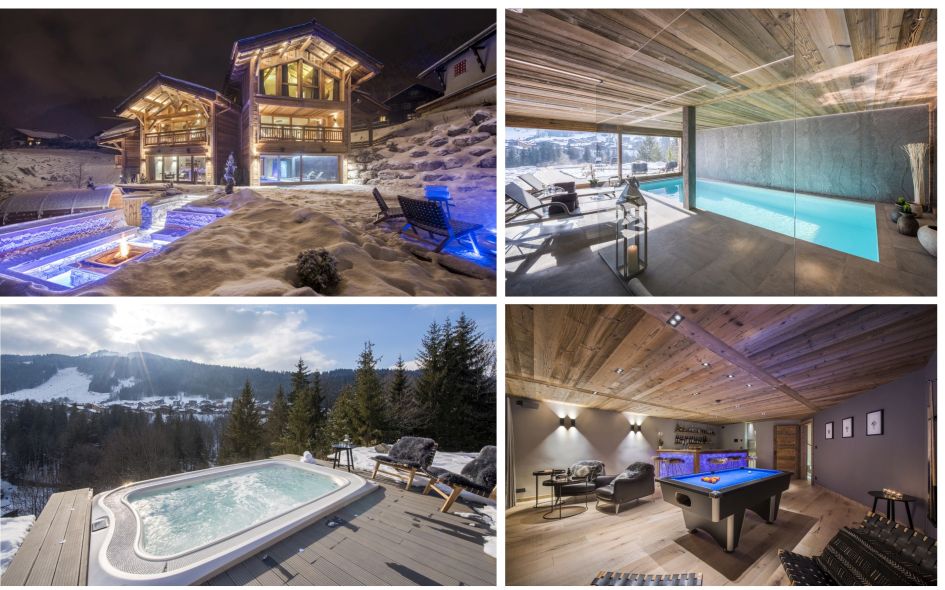 Chalet Sapphire is one of the most luxurious and exclusive chalets in Morzine, offering one of the best catered summer holidays in the French Alps. Featuring in our collection of summer chalets with a swimming pool, guests are spoilt for choice with the facilities available. With breathtaking views over the resort, Chalet Sapphire is conveniently located, just 5 minutes walking distance into the town centre where there are a great range of activities on offer.
Providing 835m² of living space, Chalet Sapphire has something to entertain everyone whilst on a family summer holiday. To please all generations, there is an indoor swimming pool with massage and swim-jets, a 10 person outdoor hot tub, and barrel sauna. Back inside the chalet, families may like to socialise round the bar area, have a drink and play a game of pool, or hide away in the cinema room for a movie evening. Let the team of professional staff look after you from the moment of arrival at this stunning catered mountain chalet in France.
Chalet Sapphire is one of our catered summer chalets and prices range from €22,500 to €24,900 per week.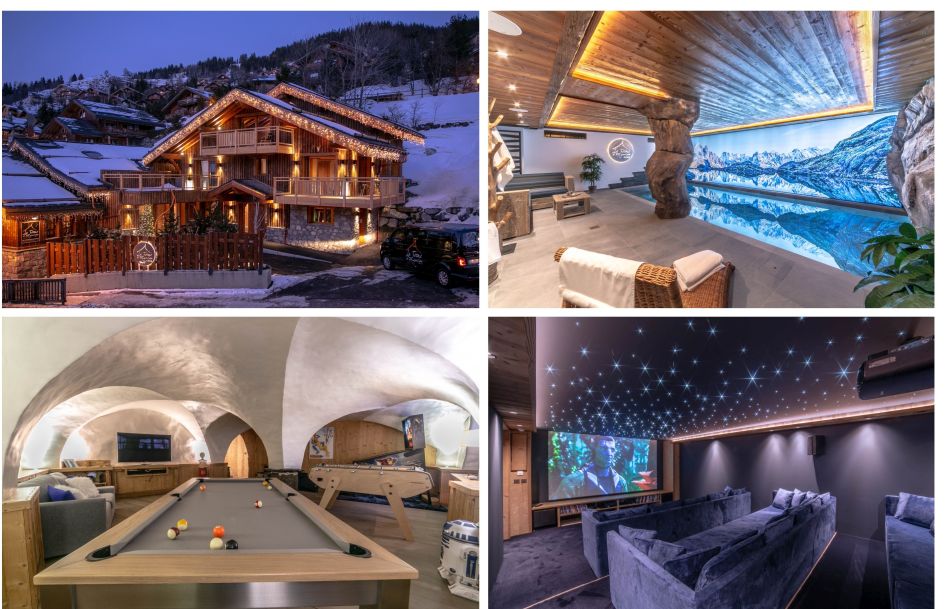 Ferme Mon Grand Pere is a great example of a family friendly summer chalet. Sleeping up to 18 people across 8 generous en-suite bedrooms, the chalet has ample space to accommodate large families. To compliment the size, there are a great range of facilities on offer, including an indoor swimming pool, a selection of wellness facilities, a gym, playroom and cinema room. Not to mention one of the most exciting areas of the chalet…the games room. Here there is a pool table, pinball machine, table football and darts.
Ferme Mon Grand Pere is available on a self catered basis and prices range from €5,000 to €6,500 a week.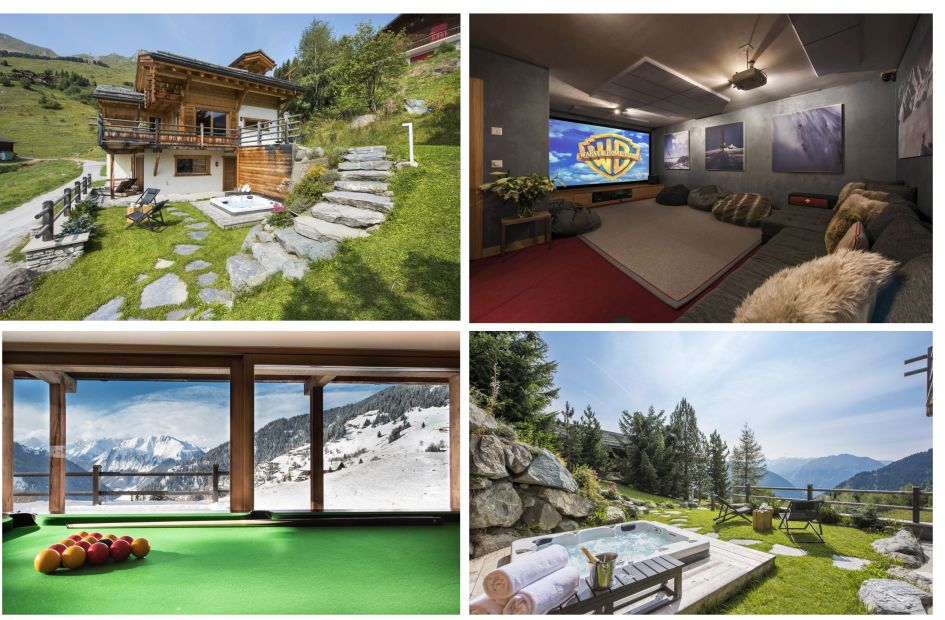 Perfectly suited for a small family, Chalet Rock is a wonderful chalet to stay in whilst enjoying the warmer months. Situated in a quiet area of Verbier surrounded by alpine meadows and panoramic views, Chalet Rock's main attraction for both adults and children is the outdoor space and large south-facing terraces. This area comprises of a selection of outdoor furniture, perfect for alfresco dining or sunbathing, and an outdoor sunken hot tub, featuring as one of our top luxury summer chalets with a hot tub.
For the more competitive family members who'd like a game of football, head to the open meadow just in front of the chalet, where there is plenty of space to get hearts racing. Continuing the fun inside, there is a cinema room, second TV lounge and pool table, ideal for when the temperature drops in the evenings. 
Chalet Rock is offered on a self catered basis during the summer and prices range from CHF 11,000 to CHF 11,500 per week.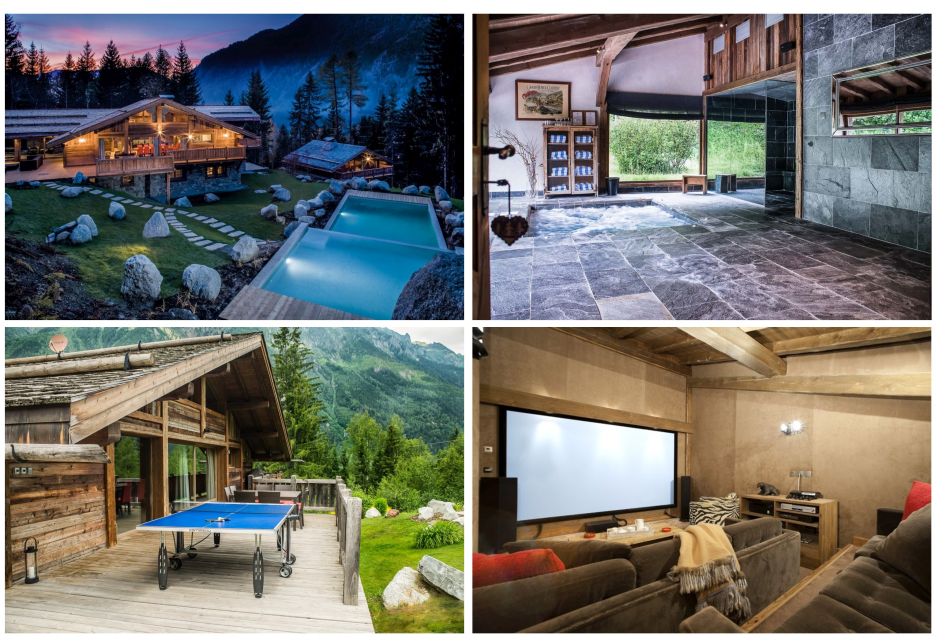 Situated in the private and scenic setting of Les Bossons in the Chamonix Valley, Amazon Creek attracts families looking for a traditional alpine chalet with facilities to keep them occupied. Inside the chalet there is a spacious wellness area, featuring a large indoor spa jacuzzi, steam room and sauna. There is also a separate massage room for those looking to experience a massage or beauty treatment whilst on their summer holiday in the mountains.
Outside on the terrace there is a large seating area with sofas, outdoor furniture and dining table, somewhere for the family to come together to eat after a busy day out and about. To add to the family fun, there is an outdoor split level swimming pool, ping pong table, cinema room and a selection of electronic devices at your disposal. Offering great value for luxury, Chalet Amazon Creek could be a excellent option for active families looking to head away to the Alps this summer.
Chalet Amazon Creek is offered on a self catered basis with prices starting at €7,500 per week, and reaching €9,500 during peak season.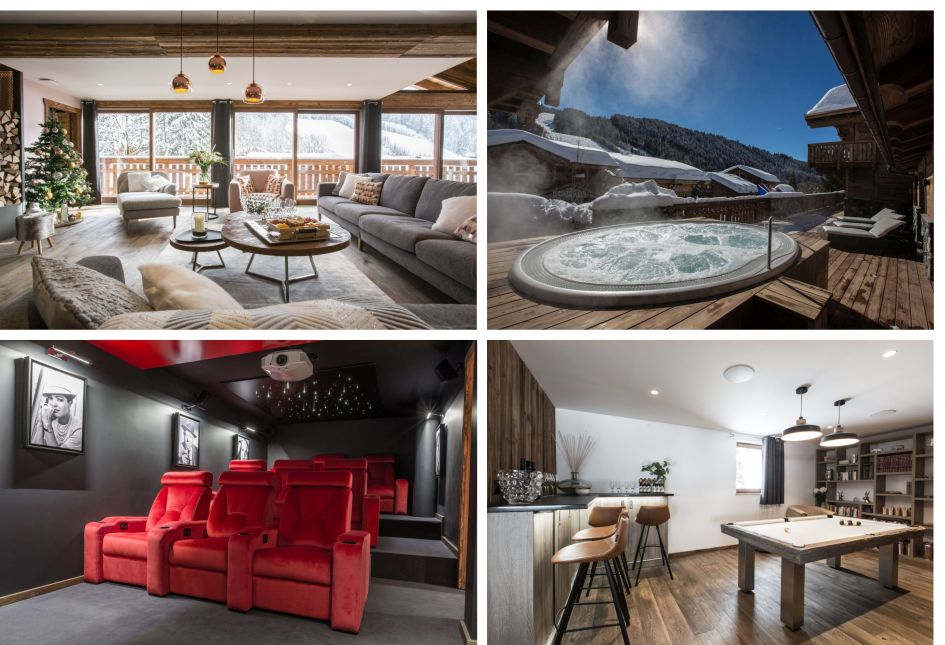 Perfect for family summer mountain holidays, Clos Saint Jean is a spacious, alpine chic luxury summer chalet in Les Gets. With a vast amount of space for up to 16 guests, there really is something to keep everyone entertained. A 13 minute walk from the chalet will take you to Les Gets centre, where there are a wide range of summer activities to participate in as a family, including mountain biking, hiking, swimming, paragliding and so on!
Clos Saint Jean itself boasts a great selection of facilities, including a large terrace with outdoor seating and a hot tub bubbling away. Inside there is a fitness room, sauna, hammam and massage room. Clos Saint Jean also features as a luxury chalet with a cinema room, offering the perfect place to snuggle up and watch a family favourite. The games room is the perfect place to bring the family together. Take a seat at the bar and discuss your day or continue the competition off the hill in a game of darts.
Clos Saint Jean is a self catered chalet with prices range from €5,200 to €5,890 per week.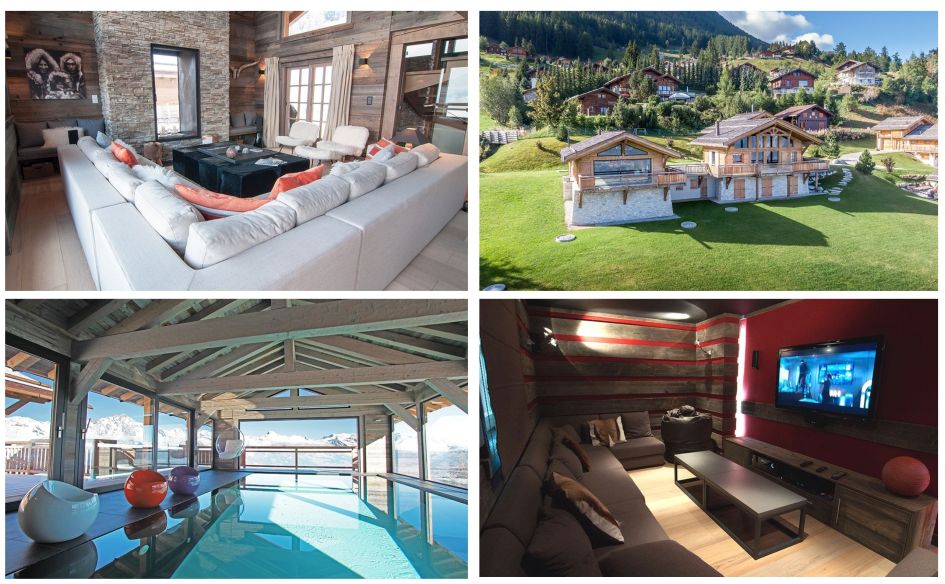 Set amongst open fields and beautiful mountainside views, Chalet Kalibu has many attributes that provide a family friendly summer holiday. With such a private setting, guests have access to a large open garden which is brilliant for activities such as football, sunbathing or simply enjoying the stunning mountain views.
A main feature of Chalet Kalibu is the indoor swimming pool, which is certainly likely to excite any children in the group. The pool is surrounded by floor to ceiling windows, providing stunning views to admire. The chalet also has a separate TV lounge, ideal for cosy evenings after a day exploring. Guests staying at Kalibu can make use of the BBQ and outdoor furniture to enjoy an alfresco meal altogether where memories can be made and laughter can be shared.
Chalet Kalibu can be taken on a self catered basis during the summer months, with prices starting at CHF 12,500.
This traditionally styled, yet modern chalet, is situated in the stunning hamlet of Les Frasserands and offers elevated views of Mont Blanc. Located in the lovely alpine village Argentiere, just a 10 minute drive to Chamonix where there is a fantastic range of activities, bars, restaurants and shops. When taking a trip to the centre, you know there will be something to entertain each and every person in the family.
Chalet Infinity has a well established garden where kids can run off some energy, multiple balconies for relaxing, and a sound proof cinema room- an ideal setting for watching a family friendly film. A highlight of Chalet Infinity is the indoor swimming pool, which has a jet stream and massage jets. With so much to offer, Chalet Infinity in Argentiere is an excellent destination for a family summer holiday in the mountains.
Chalet Infinity is offered on a fully staffed basis, with prices ranging from €14,140 to €20,390 per week.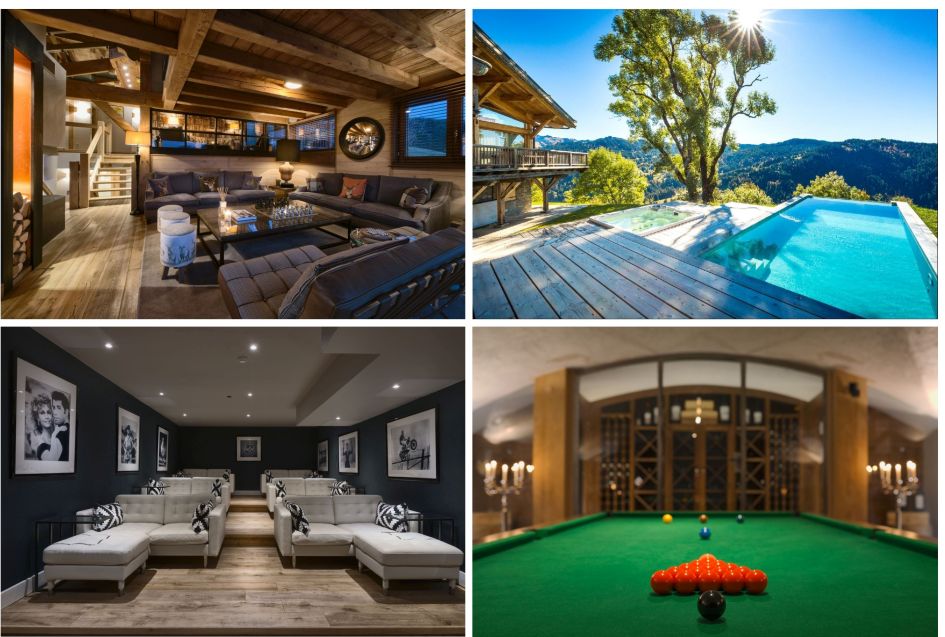 Set high on the mountainside with unrivalled views across the Les Gets valley, it's not hard to understand why Grande Corniche is one of the top 10 secluded chalets in the Alps. With over 650m² of living space and sleeping up to 19 guests, Grande Corniche can accommodate both small and large families alike. Starting off outside, there is a heated swimming pool, large enough for a game of water volleyball. Surrounding the pool is a spacious garden, which provides the perfect setting for summer parties or barbecues and offers plenty of space for children to play and enjoy the alpine lifestyle.
Entertaining is at the heart of Grande Corniche. The bar is the perfect place for pre-dinner drinks with the family before exploring the restaurants in Les Gets which boast everything from fine dining to casual family dinners. Whilst Grande Corniche is a self catered summer chalet, the concierge team can arrange all types of catering from gourmet barbeques to hearty home-cooked meals. Back in the chalet's bar, there is also a darts board, a place for competition and passing on tips to the younger generation. From here there's also a truly unique feature to discover – a secret slide leading down to the snooker room on the ground level! If after a long day you want the real movie experience, Grande Corniche also has a two tiered cinema with surround sound and comfy seating where you can enjoy the latest movies or a family favourite whilst tucking into popcorn and drinks.
Grande Corniche can be taken on a self catered basis, with prices varying from £9,950 to £13,950 per week.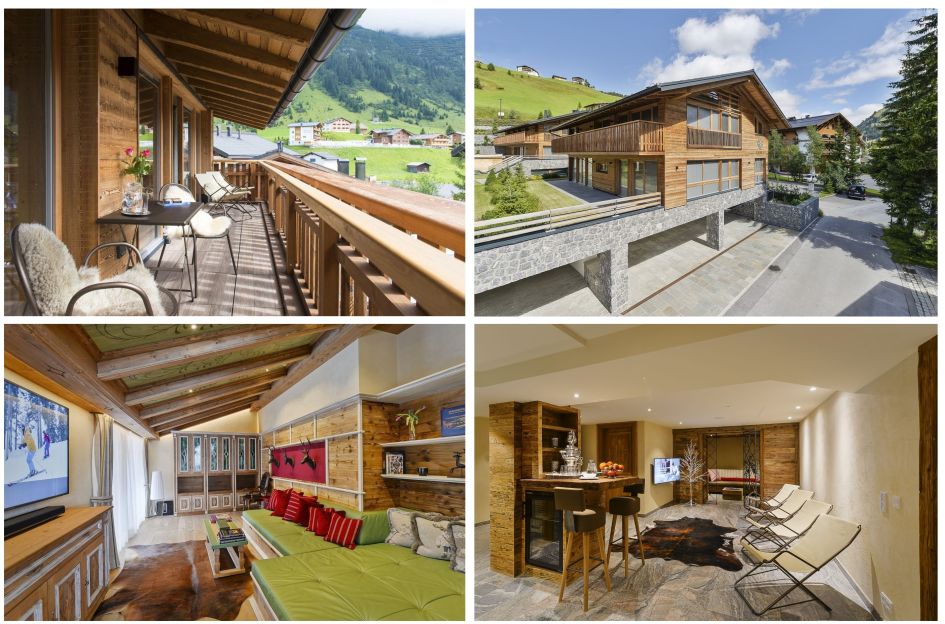 One of the finest family mountain villas in Lech, Chalet Laurus is a gorgeous luxury summer chalet in keeping with Austrian tradition; boasting space, relaxation and a homely feel. Being located just 2 minutes away from the nearest chairlift, families staying in Chalet Laurus have easy access to a wide range of hiking and biking trails. For those looking to explore, Lech's charming boutique shops, bars and restaurants are all within walking distance from the chalet.
When staying in Laurus, guests have access to the nearby hotel swimming pool and sports centre within 50m of the chalet, where there are a range of activities to enjoy as one group. These activities include cycling, bowling, indoor climbing, and a multi-purpose ball sports court, giving flexibility on what you'd like to participate in. Chalet Laurus features a relaxation area, indoor jacuzzi, sauna, kids playroom and multiple balconies and terraces. This, along with being within close proximity to the local amenities, means there is something to interest all families, whether that be as one group, or enjoying activities separately and coming together in the evenings to relax.
Chalet Laurus is available on a self catered basis and prices start at €14,200 per week.
Family summer holidays in the Alps allow you to take time out of your busy lives to spend quality time with all generations, making the most of the warm weather, blue skies and alpine lifestyle. Experience the luxury of Europe's best family friendly chalets with Alps In Luxury and explore the range of summer activities on your door step!
If we have piqued your interest, then please don't hesitate to get in touch with our friendly mountain specialists who would be more than happy to assist with planning your family friendly summer chalet holidays. To speak with a member of the team, please send us an email or call +44 (0)1202 203659 to organise your next summer holiday in the mountains.