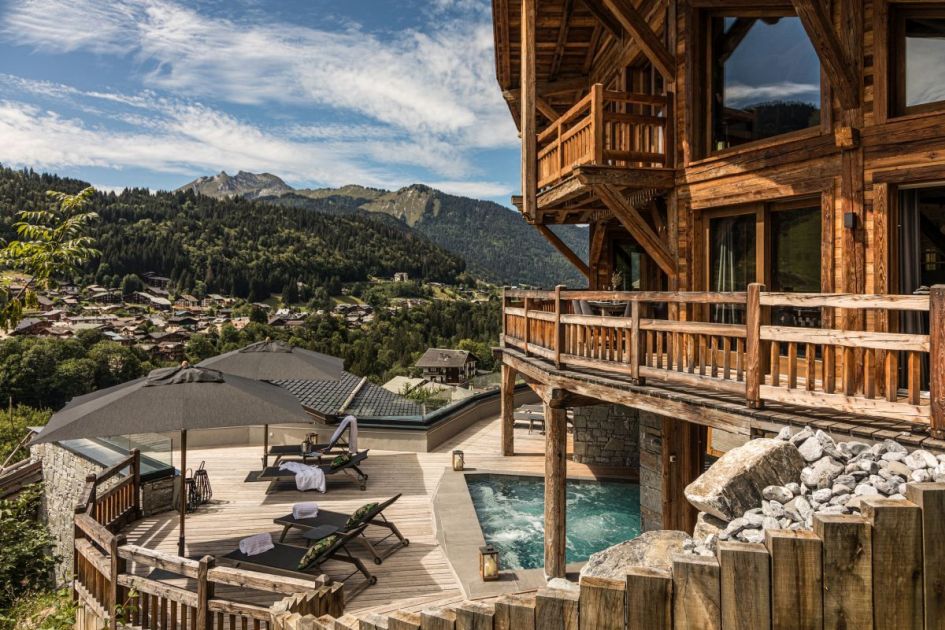 A summer holiday to the Alps is an excellent choice for the whole family; enjoy spending the days outdoors with an endless list of mountain activities, alfresco dining, warm temperatures and wholesome adventures. However, the mountains are most commonly recognised as attracting winter sports enthusiasts to a snowy playground of mountain activity and adventure. Whilst many mountain holiday destinations have diversified their offering to attract visitors during the summer months, summer holidays to the Alps are still considered off-peak. And with low season demand, comes more choice in luxury summer chalets, and amazing value for luxury. Experience fantastic wellness and entertainment facilities, as well as a high standard of service, for a fraction of the price! Let us introduce you to a few of the best luxury summer chalets offering a good value luxury summer holiday in the Alps…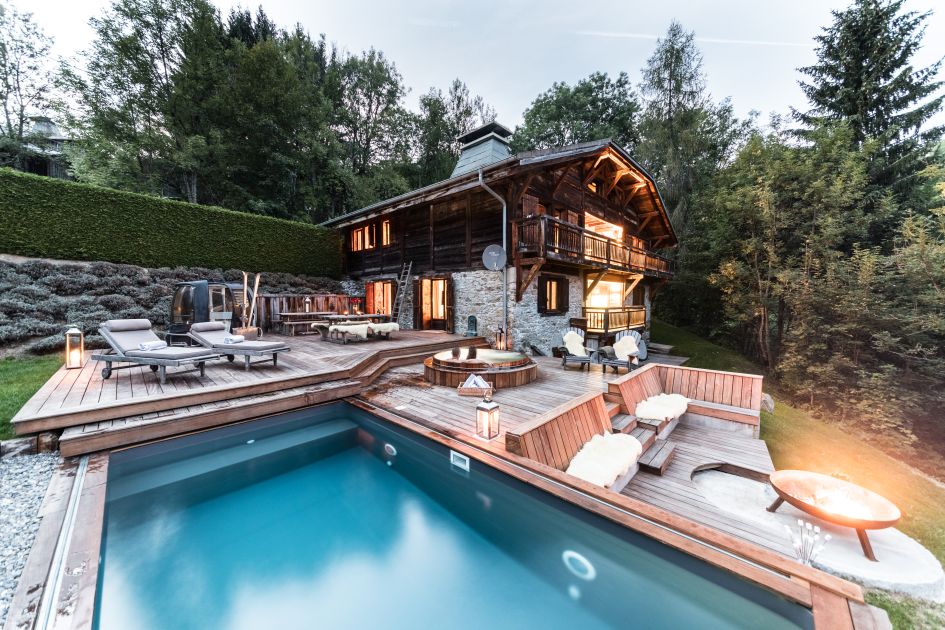 Ferme de Moudon is a luxury summer retreat on the edge of one of the best summer mountain resorts, Les Gets. The wellness facilities and outdoor space are a highlight at this beautiful 17th Century farmhouse. Whilst featuring as one of our top luxury summer chalets with a hot tub, you can also enjoy an infinity pool with south-facing views, sauna, massage room, outdoor dining and an open fire pit for evenings under the stars. Value for luxury doesn't stop there. Stepping inside, you can enjoy plenty of entertainment courtesy of the billiards room and TV snug or indulge in wines from the chalet's own wine cellar. With all these luxury facilities, Ferme de Moudon boasts fantastic value for luxury and has to be a part of our list of good value luxury summer holidays in the Alps.
Summer prices start from 14,900€ | Winter prices range between 21,500€ and 38,900€.
Once the snow has melted, Chalet Amazon Creek is the perfect base for a good value luxury summer holiday. Setting the idyllic alpine scene, this stunning summer mountain chalet with a pool is nestled in a serene and peaceful location with a small stream running past the garden and enchanting woodland surrounding the property. It's position is highly desirable; being a convenient distance from the town centre and lift systems, it's super easy to start your day of adventure. On your return from a day exploring the Chamonix Valley, you can benefit from relaxing in the outdoor hot tub, indoor Jacuzzi, steam room, sauna or of course the outdoor split-level pool with stunning valley views. Not forgetting the chalet is in the perfect setting for indulging in a delicious BBQ on the large terrace! Amazon Creek leaves you with little to be desired after exploring one of the most popular French summer mountain holiday destinations!
Summer prices start from 7,500€ | Winter prices range between 11,000€ and 26,000€.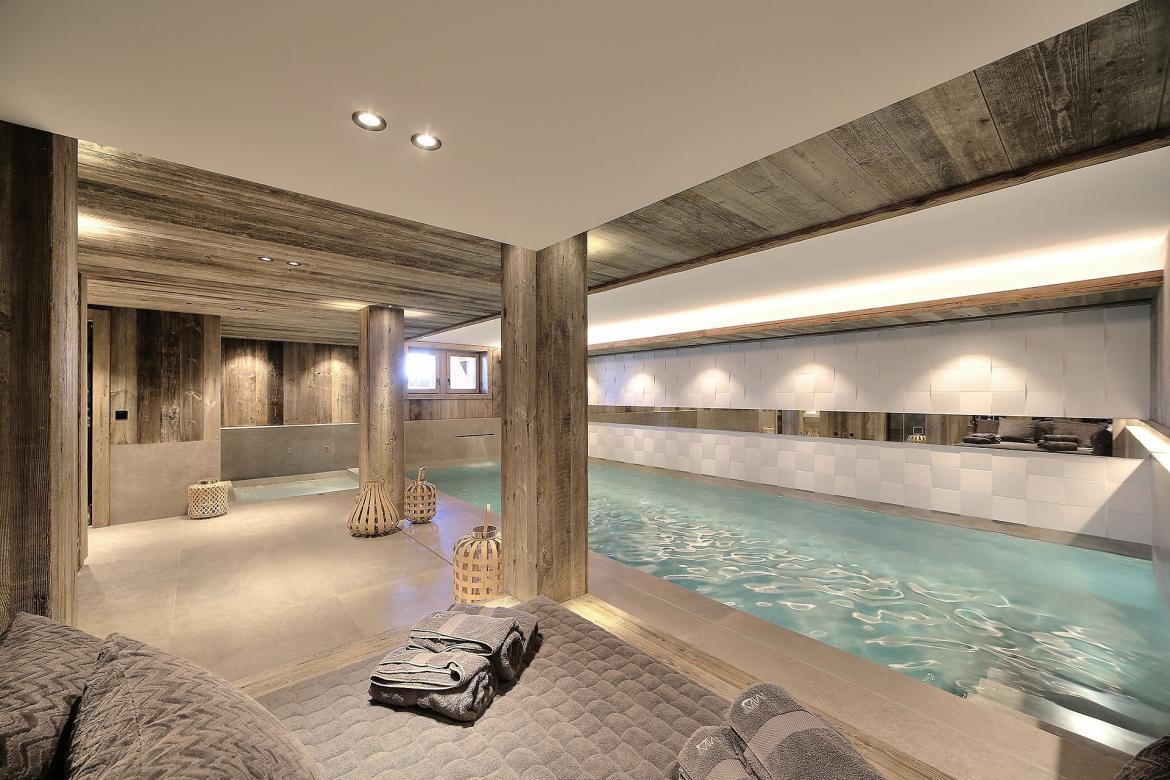 Chalet My World is a highly sought after ski chalet in the winter. Its proximity to Geneva International Airport and to the ski lifts make for the perfect ski holiday to Megeve. Once the mountains transform into the warmer season, Chalet My World offers an ideal base to get out and explore the local mountains as well as those neighbouring Mont Blanc villages such as Les Houches and Chamonix. Accommodating up to 15 guests, this beautiful chalet offers some great spaces to unwind and relax; including the open plan living space with large windows framing stunning vistas, the terrace with Mont Blanc views, entertainment rooms such as the TV lounge and games room and of course the magnificent wellness facilities.
Summer prices start from 29,400€ | Winter prices range between 41,200€ and 82,750€.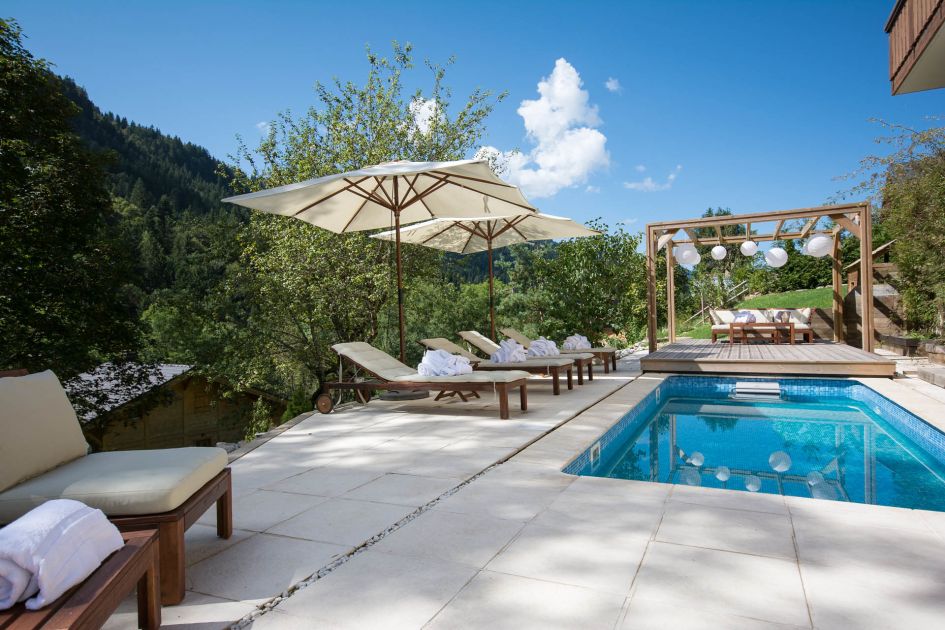 When looking for luxury but good value summer holidays in the Alps, the Portes du Soleil is a great place to start. Not only does Morzine offer an excellent choice of mountain activities (with great summer multi-pass prices), there are some unbeatable luxury Alps holiday deals too! Chalet Twenty26, is an impressive luxury chalet in Morzine with all the facilities to make your summer holiday in the Alps that extra bit special. It's not hard to see why this chalet features on our list of the top 10 chalets with an outdoor pool. You can enjoy the 6x3m heated pool with counter current for relaxing or exercise whilst admiring beautiful views in the comfort of its private surroundings. Chalet Twenty26 also hosts an outdoor hot tub, barrel sauna, steam room, games room, bar and wine cellar, cinema room and library for all the entertainment you could wish for!
Summer prices start from 14,900€ | Winter prices range between 22,500€ to 40,500€.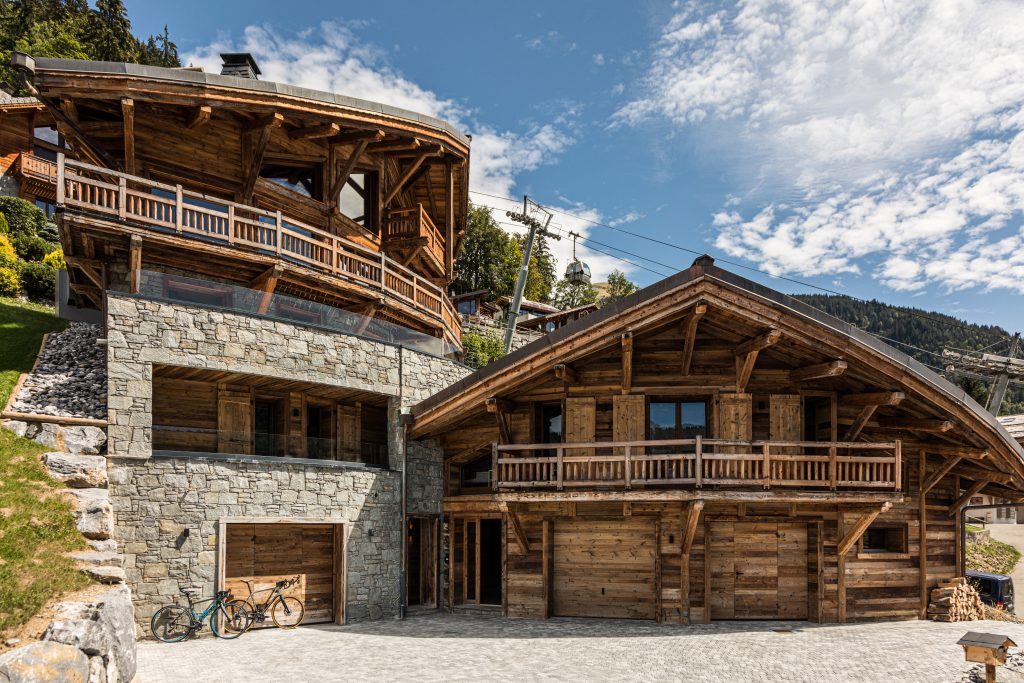 Also in one of the Alps' best value luxury holiday destinations, Zems Lodge (also pictured in the banner image) sits in a prime location just a 5 minute stroll to the Super Morzine and 10 minutes to the centre of town. Accommodating 8 adults and 6 children, this contemporary alpine chalet is perfectly set up for 2 families or a group of friends, with plenty of space and facilities across 5 floors to entertain everyone. The children will find hours of entertainment in the cinema room or playing pool, whilst the adults while away the hours in the swim spa Jacuzzi or at the private bar! There is also plenty of space for the group to enjoy time together, in the open plan living room or enjoying alfresco dining on the terrace, with a stunning view of the valley of course!
Summer prices start from 15,500€ | Winter prices range between 24,900€ and 44,900€.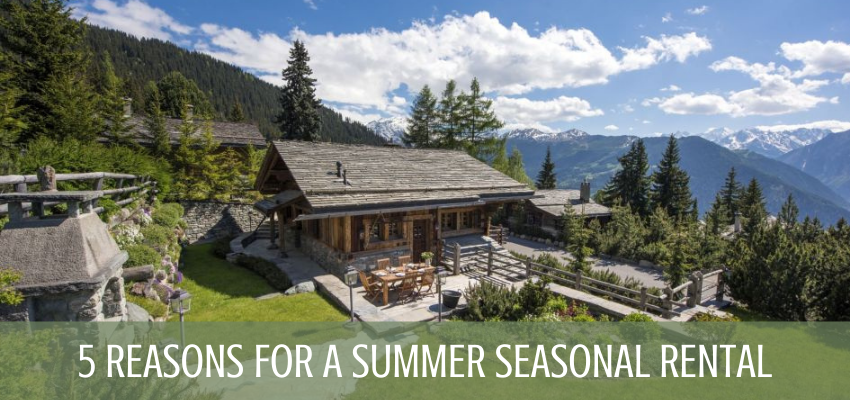 Lastly, summer seasonal rentals are the epitome of a good value for luxury summer holiday! You can enjoy all the comforts and facilities of a typical luxury ski chalet, but pay less for the summer season as well as less per week for a long-term stay. With seasonal chalet rentals in some of the best summer mountain resorts, make yourself an alpine home-from-home where you can escape for long stays or frequent weekends throughout the stunning summer season in the mountains.
Everyone loves a good deal and a luxury summer holiday in the Alps will definitely deliver on that front! It'll be hard to resist outstanding wellness facilities, impressive entertainment spaces and high-class services in a stunning mountain setting for a such a significant discount. However, if you need any more persuading or advice on good value luxury summer holidays in the Alps, then please do get in touch. You can reach our friendly Mountain Specialists by sending an email or giving us a call on +44 (0)1202 203659.