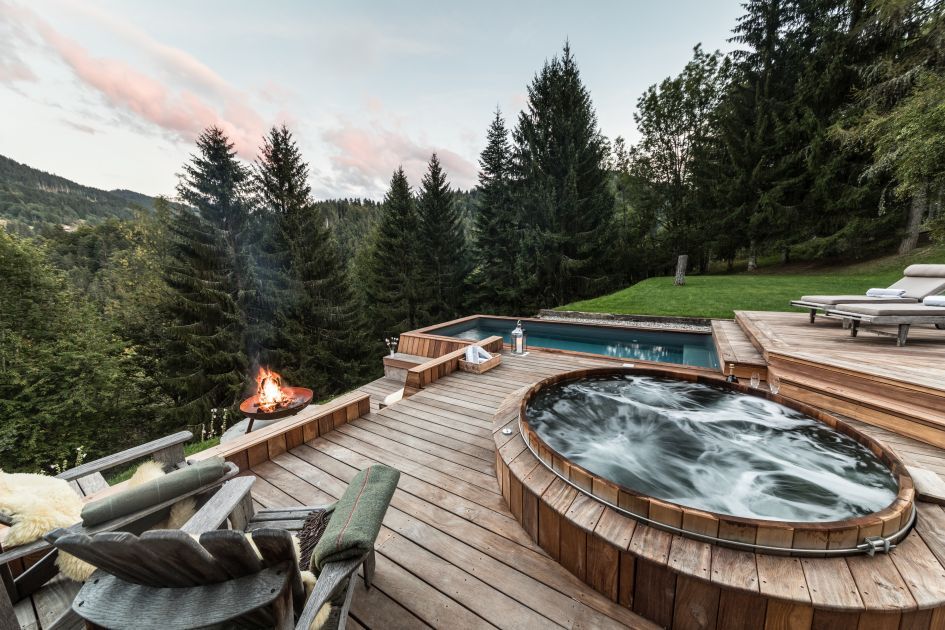 The mountains are the ideal place to escape from it all. Big open spaces and far-reaching views making you feel as though there is nothing but nature, peace and tranquillity surrounding you. Sometimes, an escapism holiday is just what we need to reset and refresh. So what better place for this than the Alps? With nearly 300 luxury summer chalets on our portfolio, we have picked 10 of the most secluded chalets for your summer alpine retreat…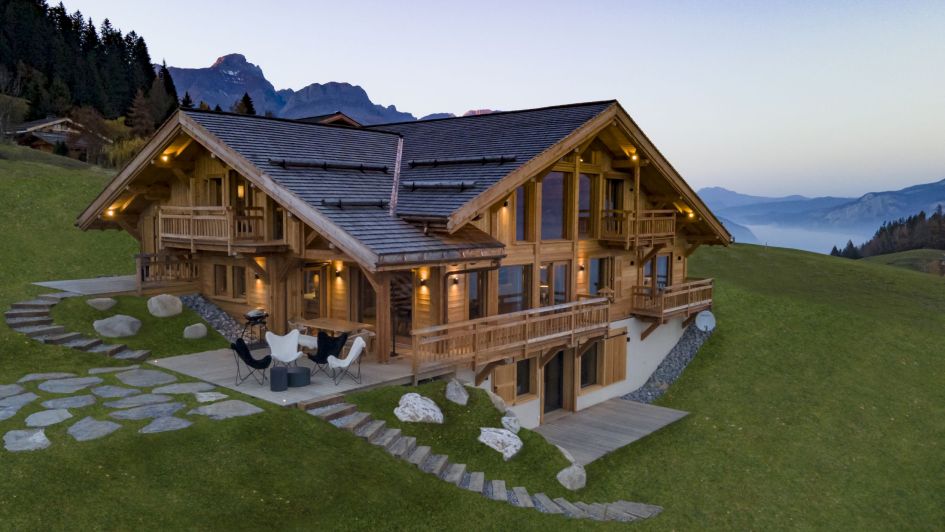 Self-Catered, Sleeps 8-14
Savoyard pasture land surrounds this beautiful Megeve summer chalet with nothing to interrupt views over Combloux and the Mont Blanc Massif beyond. To support its position on this list as the top secluded chalet for a summer alpine retreat, Chalet My View benefits from impressive spa facilities ensuring you have the privilege of unwinding and relaxing at your full convenience. And if topping up the Vitamin D levels is a key part to your summer alpine retreat, then fear not, as this secluded chalet in the Alps has a sunny terrace and garden area where you can sit back and relax in your deck-chair, soak up the sunshine and get lost in your favourite book…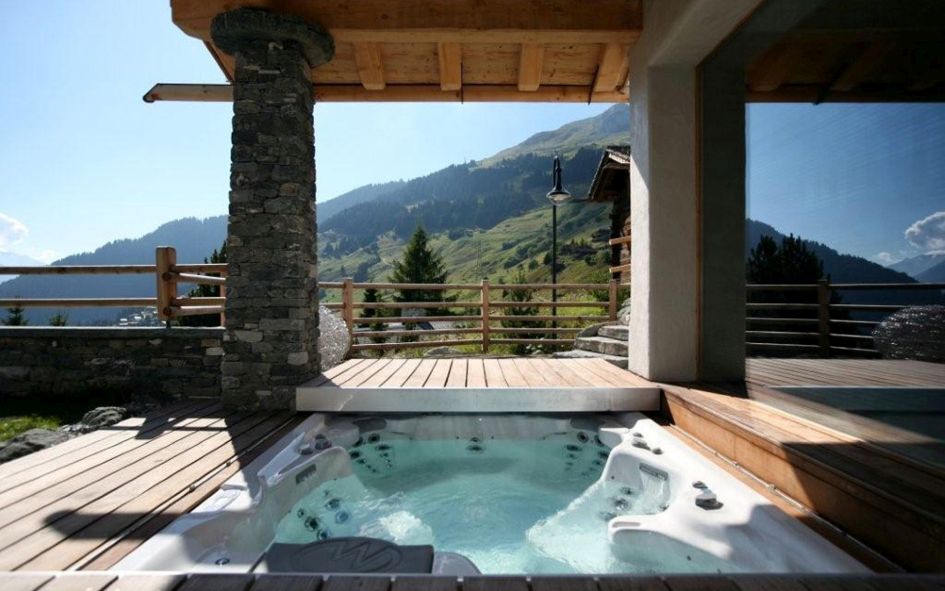 Catered, Sleeps 10
A summer spa retreat in the Alps couldn't get any better for unwinding, relaxing and resetting, than at Chalet Spa itself. Featuring a 10m x 3.3m infinity pool with bar, 2 outdoor hot tubs, a sauna, Hammam, therapy treatment room and gym, you can enjoy the facilities of a luxury spa all to yourself! What's more, its position up in Verbier's exclusive and private enclave, Entre Ciel et Terre (translating as 'between heaven and earth'), means you can admire the stunning, south and west facing views over the Verbier valley. Also featuring as one of our top summer chalets with hot tub, this secluded chalet in the mountains couldn't be more of a summer alpine retreat if it tried!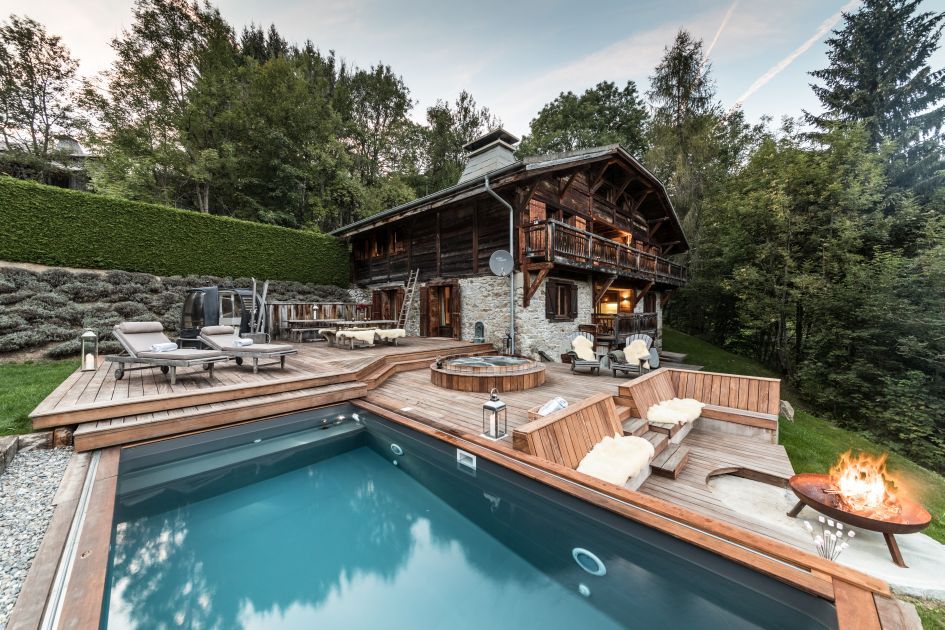 Catered/Self-Catered, Sleeps 12-14
Tucked away in its own private grounds, with views across the valley between the enchanting trees, Ferme de Moudon is a secluded mountain cabin like no other. Successfully combining traditional alpine design and contemporary luxury under the same roof, you can escape to this 17th century renovated farmhouse for one of the most luxurious summer alpine retreats in the Portes du Soleil. Home to one of the best summer chalet outdoor pools, the generous terrace area sets the atmosphere for your stay here, by way of relaxation and restoration. It's simply heavenly.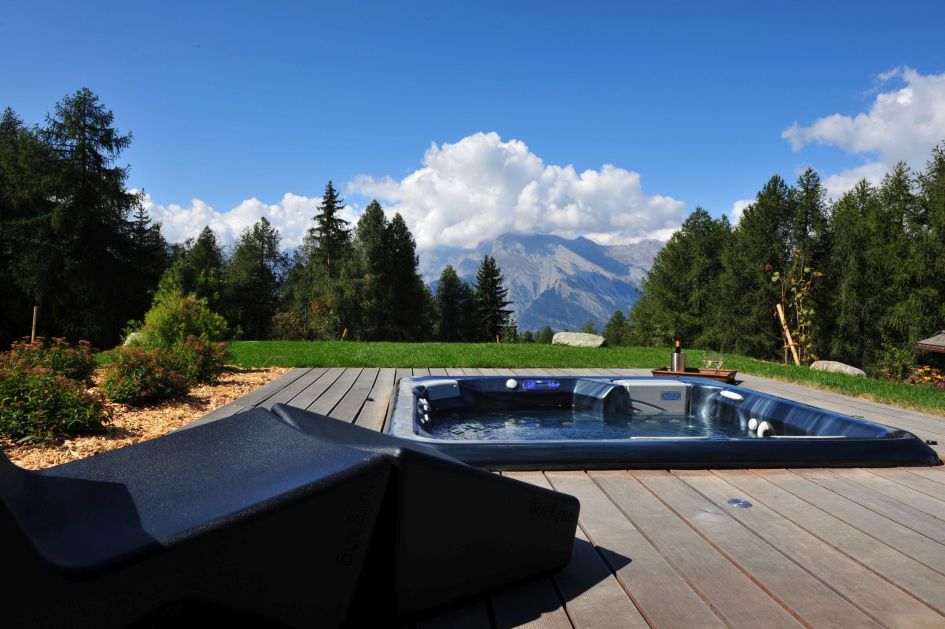 Catered, Sleeps 12
The clue is in the name. Hidden Dragon is one of the most secluded mountain chalets in Switzerland. With extensive grounds, far-reaching views over the Rhone Valley and exceptional spa facilities, this private mountain chalet makes for the perfect summer alpine retreat. The chalet's aura will take you to places even further away from the Swiss Alps with interiors and furnishings inspired by Asian accents and feng shui principles. It's truly a unique mountain escape.
Veysonnaz itself is a small, quiet and friendly Swiss village which receives an average of 300 day's sunshine each year, thus the perfect destination for a summer alpine retreat in Switzerland.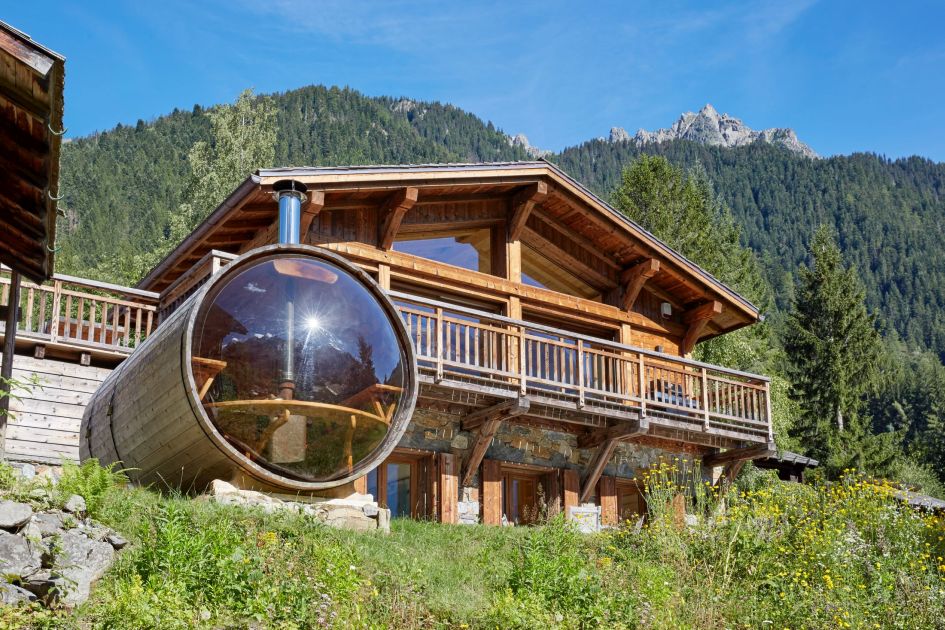 Self-Catered, Sleeps 8-10
Tucked away in a prestigious hamlet, Eco Lodge is our next secluded mountain chalet on the list. In one of our most popular summer resorts in the French Alps, this luxury Chamonix chalet is ideal for your summer mountain getaway. It not only maintains a private location in the prestigious hamlet of Les Nants, Eco Lodge also offers spectacular panoramic views, an outdoor hot-tub and superior barrel sauna. Some of you may further appreciate that this luxury summer chalet is not just a summer alpine retreat, but a sustainable summer alpine retreat due to its expert design features ensuring all energy used is self-sufficient.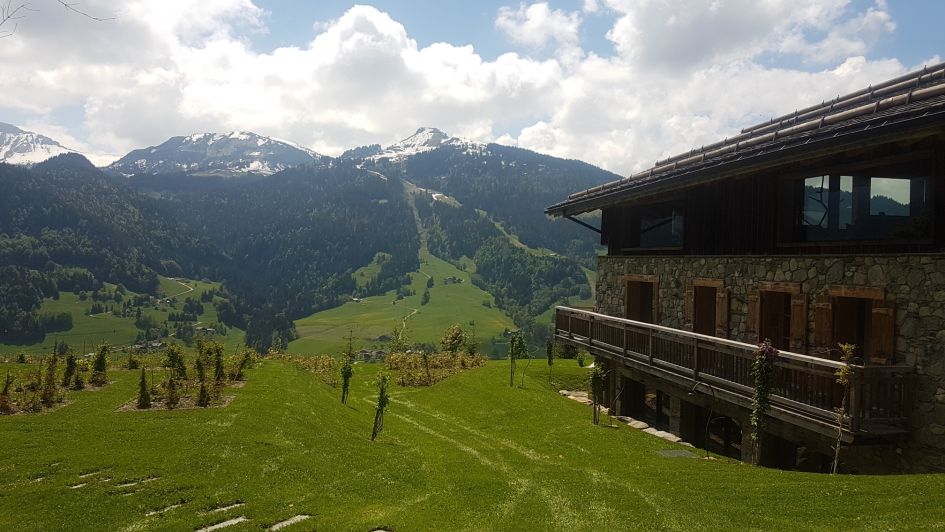 Fully Staffed, Sleeps 10-14
Fermes à la Leonthine is a superior summer chalet located just outside of Megeve, and near the small, authentic village of Praz-sur-Arly. Perched on the hillside, surrounded by large private grounds, and with beautiful mountain views reaching down the valley, this Megeve luxury summer chalet is the epitome of a luxury summer alpine retreat. Step inside and you will continue to be wowed. The wooden beams and high ceilings maintain the structure of a traditional alpine farmhouse whilst the furnishings and state-of-the-art-wellness facilities indicate the level of luxury you will experience at this beautifully secluded Alps chalet.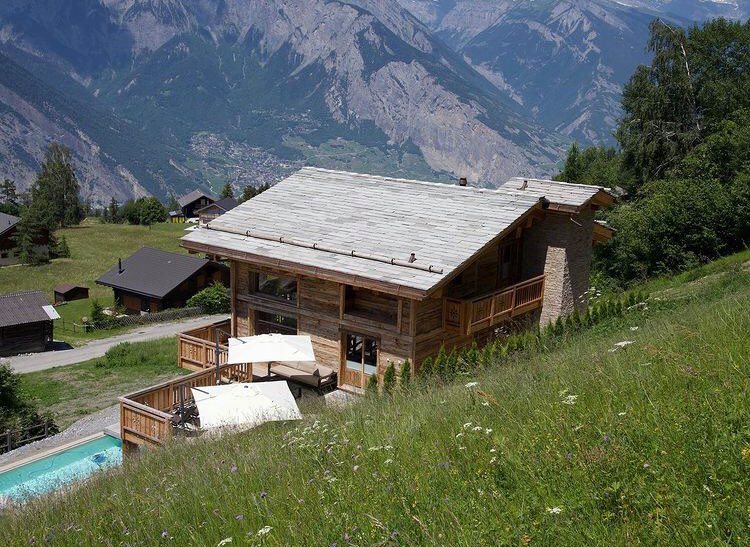 Self-Catered/Catered, Sleeps 8-12
Nothing says luxury summer alpine retreat than unwinding in the heated infinity pool at Chalet V, with its incredible views along the Rhone Valley. Located in La Tzoumaz, the neighbouring valley to Verbier, Chalet V benefits from being in a smaller and quieter resort, where you can totally feel that you've escaped from it all. Not only can you look after any overworked muscles in the outdoor infinity pool, get ready to enter full relaxation mode by soaking in the bubbly outdoor hot tub, slipping between the sauna and steam shower or simply reclining by the outdoor fire pit whilst appreciating spectacular sunsets over the mountain peaks.
And if you have the family in tow for your annual family summer holiday in the mountains, whilst this is a secluded chalet, there is plenty to keep children entertained when you're in the zone. Table tennis, a television room and pinball machine will keep them occupied for hours on end.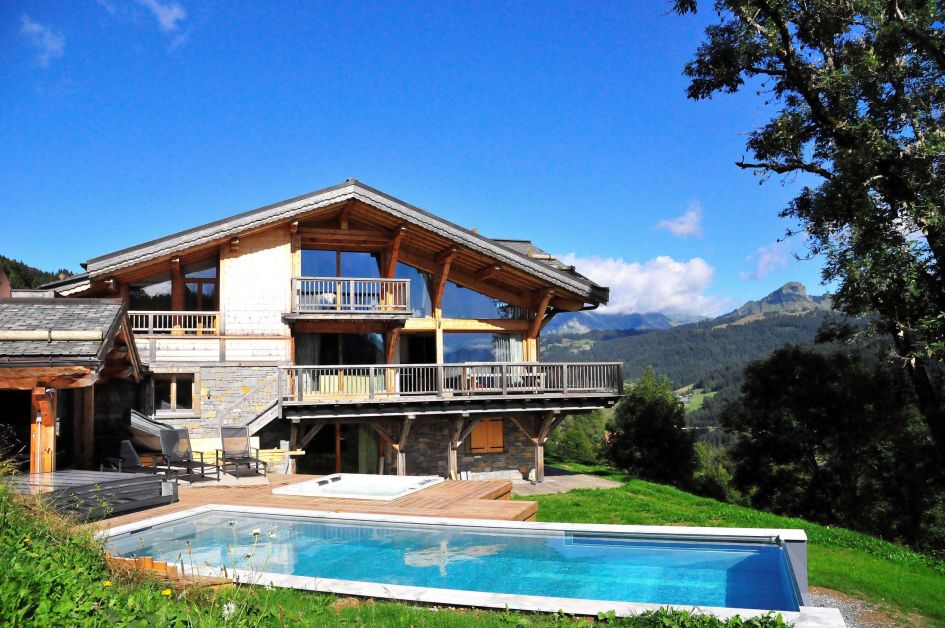 Self-Catered, Sleeps 15-19
If you were to be whisked away to Grande Corniche for a summer alpine retreat, I don't think you'd complain! This luxury Les Gets summer chalet has everything you could dream of to ensure you feel refreshed and reset. The wellness facilities range from an outdoor infinity pool and glass sauna to an outdoor hot tub. Entertainment comes via the grand piano, snooker table, cinema room and slide from the 4th floor to the bar making Grande Corniche the ideal chalet to forget about your worries, relax and have fun. Not to mention its remote location and stunning valley views which complete the fully rounded experience of a luxury summer alpine retreat on your escapism holiday.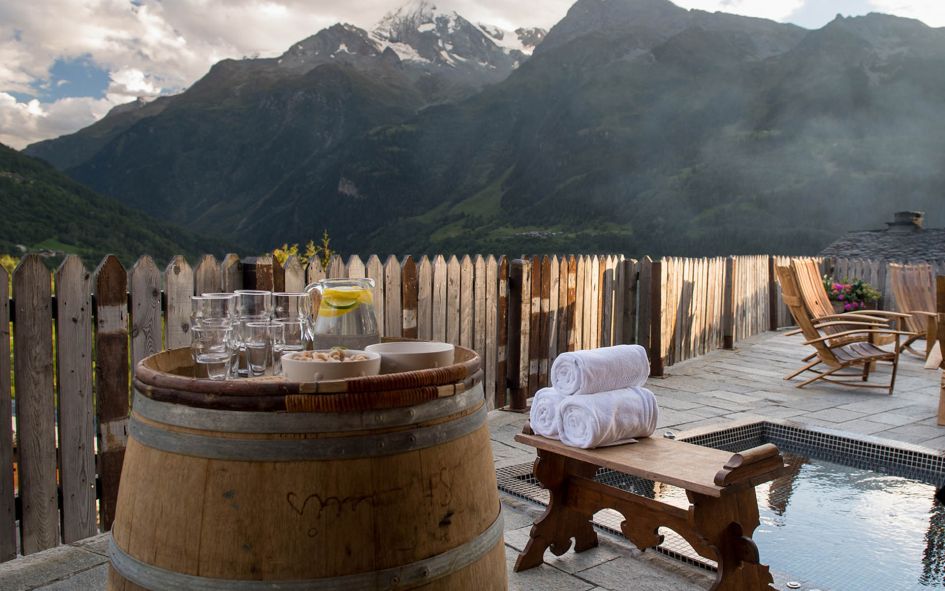 Fully Catered/Self-Catered, Sleeps 8-14
Chalet Pelerin is a truly unique alpine retreat experience. High up in the Tarentaise Valley in the tiny hamlet of Le Miroir, near Sainte Foy, you can enjoy an authentic and cultural summer holiday in the French Alps. The chalet itself is luxuriously rustic and charming. Complete with a lavish spa, indoor swimming pool, hot tub, sauna, steam room and wine cellar – you will be sure to leave feeling completely revived.
Primarily offered with a fully catered service, you will be well looked after by the chalet team inclusive of a private chef to take care of breakfast and dinner, as well as your own dedicated mountain guide for adventures. What's more, the chalet has its own private mountain refuge, for those wanting to feel even more secluded! Trek up with your mountain guide and enjoy a candlelit Savoyard feast for the most memorable, special and unique mountain experience.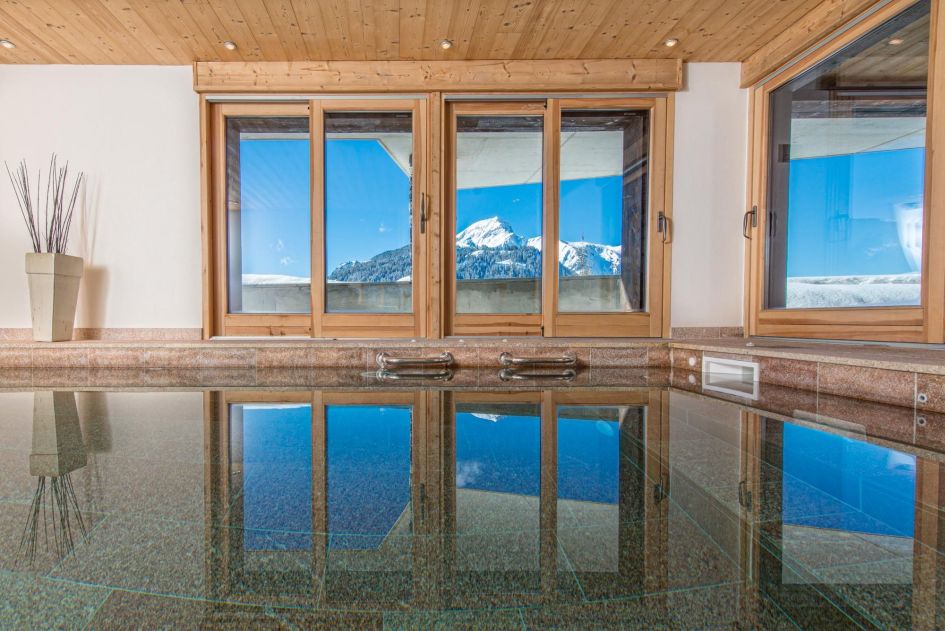 Self-Catered, Sleeps 8-14
If you are looking to escape from it all, you may consider heading to one of Chatel's most luxurious summer chalets. There are many ways to unwind and switch off at Neuf du Tenne, from taking some time to yourself in the indoor swimming pool (complete with contra flow and jets system), to relaxing on the sun terrace and getting lost on a book. As one of the highest chalets above Châtel, Neuf du Tenne enjoys plenty of space around the chalet, and boasts spectacular views of the Portes du Soleil. It's a secluded chalet that's an all-round tonic for the mind, body and soul.
If you now have a burning desire to escape and head for the hills (or mountains), then a summer alpine retreat could be exactly what you need. Reset, unwind and relax in complete peace and tranquillity from the comfort of one of our luxurious summer chalets. For further inspiration, head to our Facebook and Instagram pages, or get in touch with our Summer Chalet Specialists for help on planning your next mountain escape. You can send an email, or give us a call on +44 (0)1202 203659 and we'll look forward to hearing from you!