Tignes summer holidays cover all angles; stunning scenery, national parks, flora and fauna, excellent Savoyard restaurants, top luxury summer chalets and variety of alpine activities to fill your time. There is little left to be desired…
The choice of summer activities in Tignes is endless, perfect for adrenaline junkies in search of an action-packed mountain activity holiday or equally serving a more relaxed summer alpine escape for those who need chill out time. Set in the Tarentaise Valley, neighbouring the equally popular summer resort of Val d'Isere, Tignes is an excellent choice for your next French Alps summer holidays. Stay with us to explore the top summer activities in Tignes, ensuring you make memories that will stay with you a lifetime…
Paddle Boarding in Tignes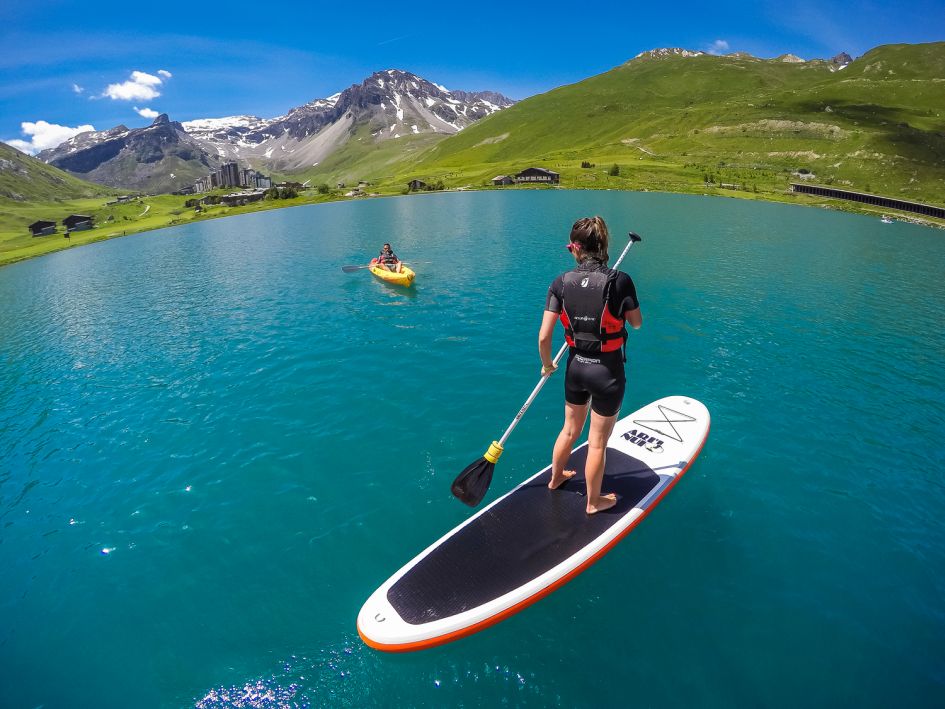 Ready to discover Tignes by water? Dive into Lac de Tignes and explore the 61 acres of water by paddle board. Paddle your heart out and admire the stunning views of the Tignes mountains from the peace and tranquility surrounding you on the lake. Cool off from the heat by indulging yourself in clear blue waters, where you might spot some of the local brown and rainbow trout inhabitants. Endless fun and panoramic views are waiting for you on your Tignes summer holidays.
Tignes Summer Skiing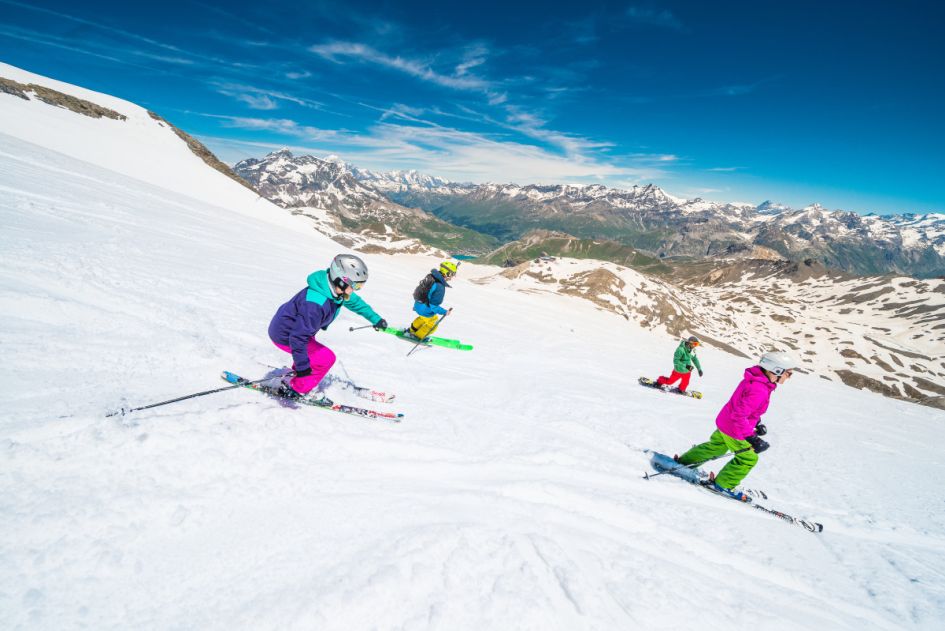 Spice up your Tignes summer holiday and go skiing! You can usually still ski in the summer between mid-June to the end of July, depending snow cover and summer temperatures. Enjoy 20km of ski runs from heights of 2,724m to 3,456m and level up your ski abilities in a unique setting. Go on your own, with family or with friends and explore and ski in the bright sunshine. It's an unique offering to this summer alpine resort in the French Alps and a perfect way to make the most of your Tignes summer holidays.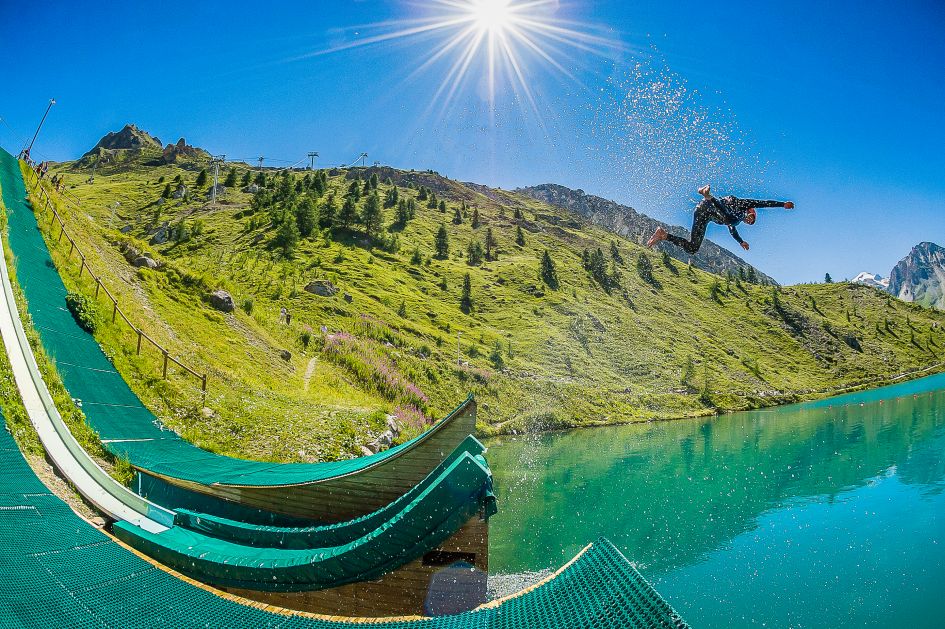 Back with a splash to the theme of watersports in Tignes, let us introduce you to Acroland! With seven huge slides and an airbag, this place is waiting for you to make memories for a lifetime. The slides are designed for the whole family to enjoy; ease yourself in with choice of three slides at 6m tall, step it up to the two 9m slides, and if your confidence climbs, test your adrenaline levels with the two slides at 12m high! How you get down them is up to you; ski, cycle or body board down, the choice is yours. They'll launch you into the air with more than enough time for a flip (or two). To gain maximum altitude, grab a couple of friends and launch yourselves sky high on the huge air bag. The fun never stops at Acroland, it is definitely one way to level up your Tignes summer holidays!
Hiking in Tignes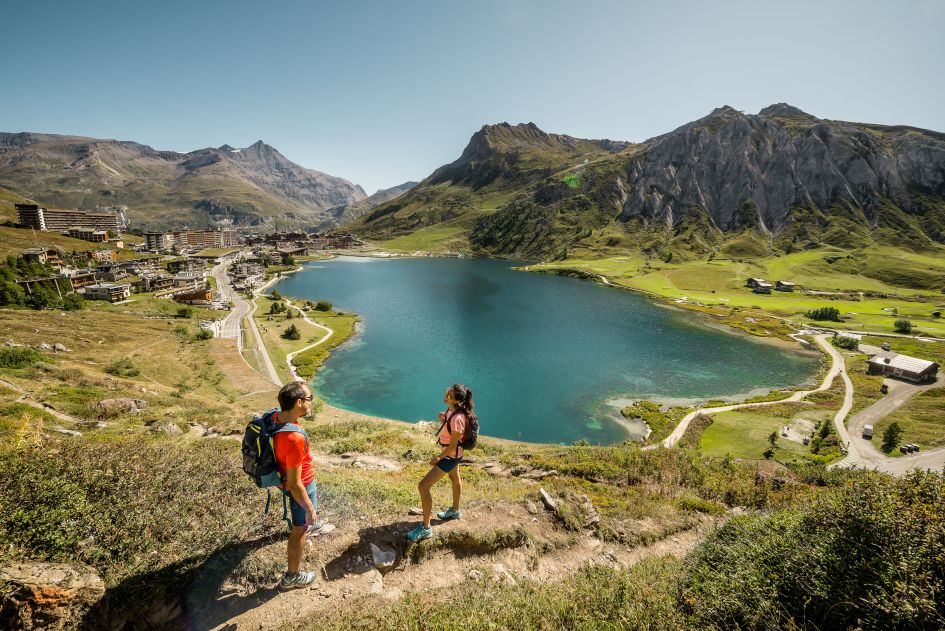 Carve you own path, or be lead by a trained professional to explore the large range of hiking trails in Tignes, complete with stunning mountain views. Discover all types of hiking trails from beginner to intermediate, the one with the perfect lakeside picnic spot, or with the best photo opportunity – hiking in Tignes offers something for everyone. Relax and let your breath be taken by exploring the Vanoise National Park, surrounded by 5 nature reserves and thriving with protected nature and wildlife. Keep your eyes peeled for animals in the Alps such as marmots and chamois! This summer activity in Tignes has to be one of the best!
Via Ferrata and Climbing in Tignes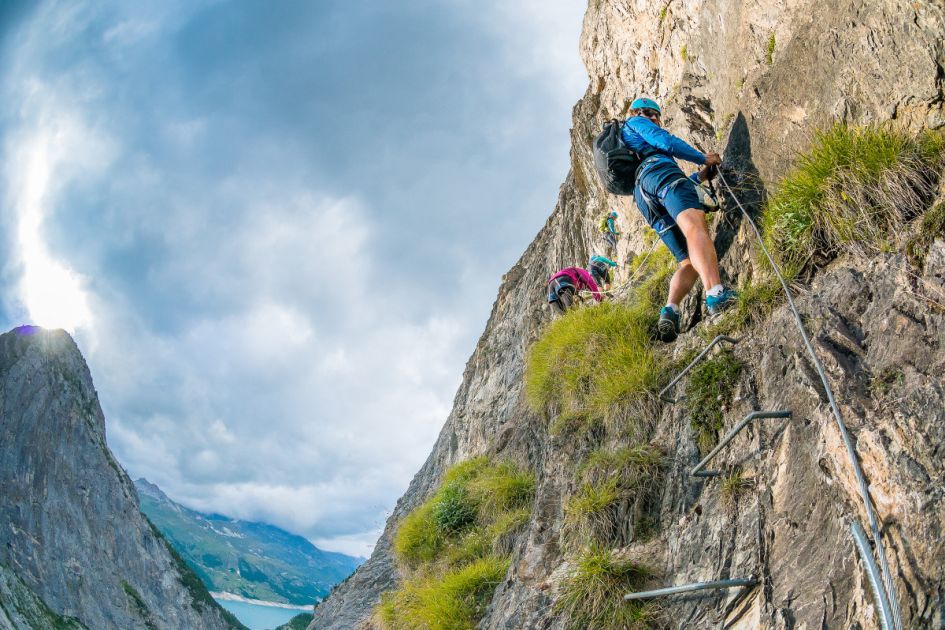 Adrenaline junkies this one's for you! Spend anywhere between 45 minutes and all day exploring the popular climbing routes in Tignes. Gain altitudes of just under 2,000m on your own or with a UIAGM qualified guide who can tailor a route suited to your capabilities. Via Ferrata is hugely rewarded by a resounding sense of achievement and stunning views from up high. You can also go climbing indoors at Tignespace, where you will find a bouldering wall with routes for beginners, intermediates and even experts if you're up for the challenge! Are you hooked? Have we roped you in? Explore more places to Via Ferrata in our Top Via Ferrata Route in the Alps.
Paragliding in Tignes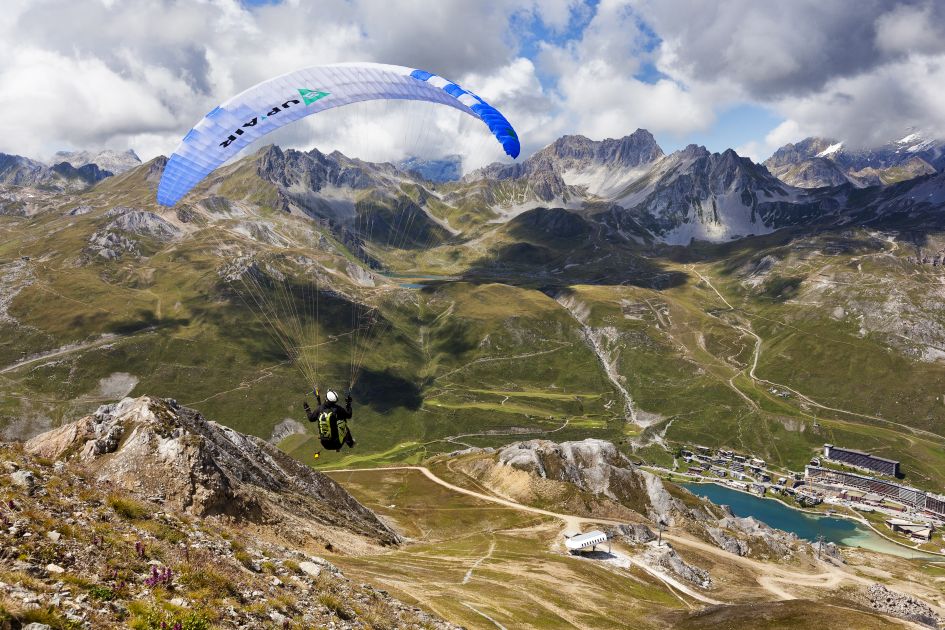 Feel free and glide through the sky on a paragliding trip in Tignes. Take it all in from a different angle, through the eyes of an alpine kite, and look down on the stunning mountain ranges and villages beneath you as you explore new heights and soar through the skies. Tignes offers tandem paragliding lessons from beginner to advanced levels. Will you dare to change the perspective and glide through the air at new and undiscovered heights on your Tignes summer holidays?
Tignes White Water Rafting
Look no further for one of the most adrenaline fuelled summer activities in Tignes. Team up and venture out into the choppy waters on a white water rafting trip in Tignes. Well suited for some bonding and teamwork on a corporate summer trip to the Alps or to simply satisfy the adrenaline seekers amongst you. The real question is, who will have reached the end having not fallen out the boat? Although some may argue that's the best part! Whether falling in the water is your choice or not, this adrenaline pumping experience is perfect for adventurous people. The nearby river for rafting in Tignes is the Doron de Bozel Torrent which lies at the bottom of the Vanoise Glacier – the creator of the white water for your enjoyment!
Road Biking in Tignes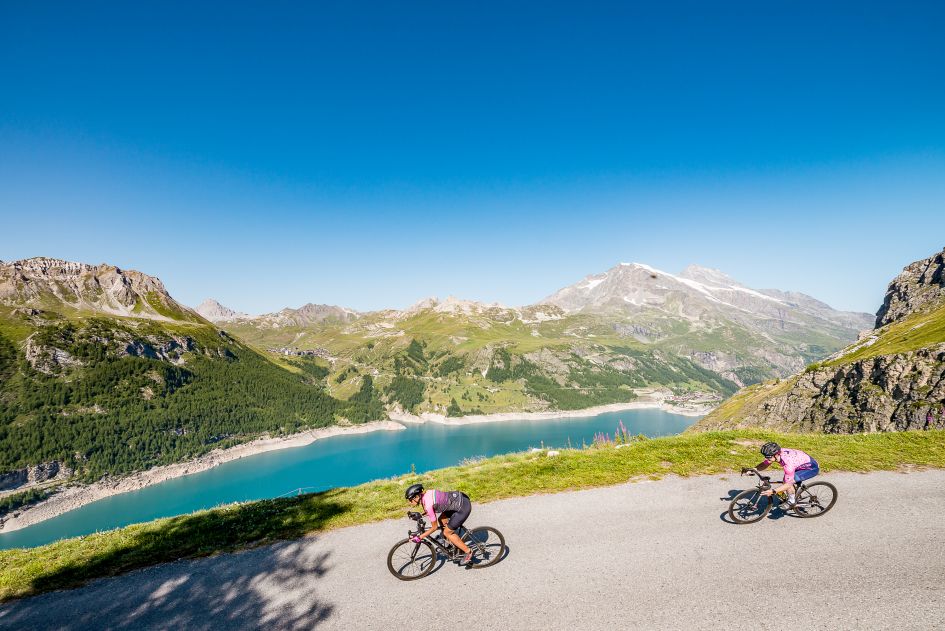 With a chance to experience some of the toughest stages recent Tours de France, Tignes is a perfect destination for a road biking holiday in the Alps. Tignes offers an array of road cycling routes of varying difficulty. Find yourself whizzing downhill, pedalling through cols and pushing for peaks on tough climbs amongst some of the most spectacular mountain views in the Alps. Who will be the first to earn the King of the Mountains polka dot jersey?
Base yourself near the Grande Motte for some of Tignes best road cycling routes, or make your way to the neighbouring resort of Val d'sere for a spot of lunch. Whatever you choose, you wont be disappointed with road cycling in Tignes.
Le Lagon Swimming Pool in Tignes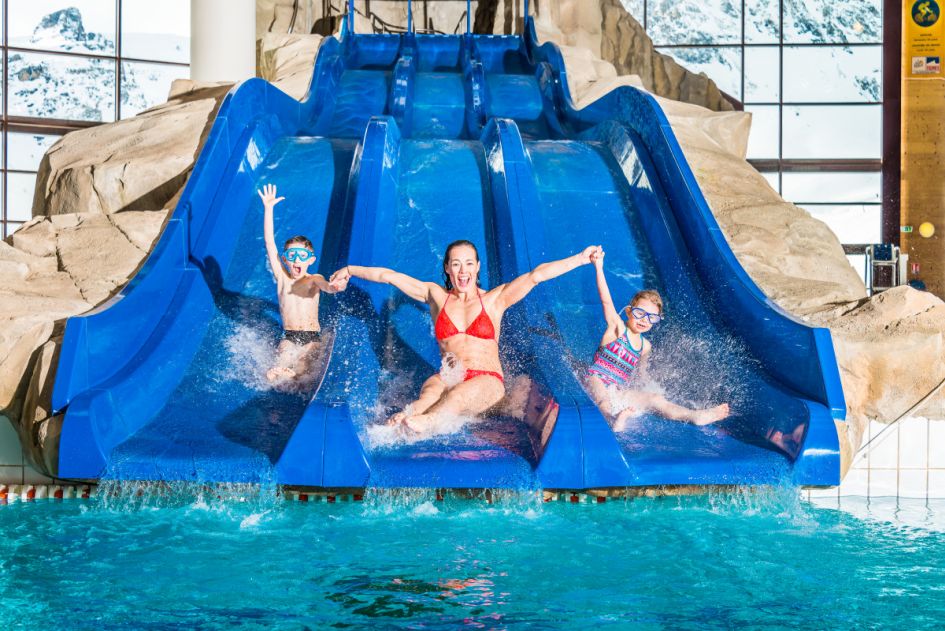 Tignes summer holidays with the family aren't complete with a visit to the resort's aqua and wellness centre. It's an opportunity to have a splash around with the kids, or perhaps even to enjoy some well-earned downtime in the spa; a visit to La Lagon is a must. Only a two minute walk from the heart of Tignes Le Lac, plunge into the fun pool with a bubble bath, waterfall and a 3 way slide, swim lengths of the 25m sports pool or take your toddler down to the paddling pool with a mini slide, mini waterfall and bubbles. You can purchase a daily or weekly pass, plus under 5s are free!
Tignes Bike Park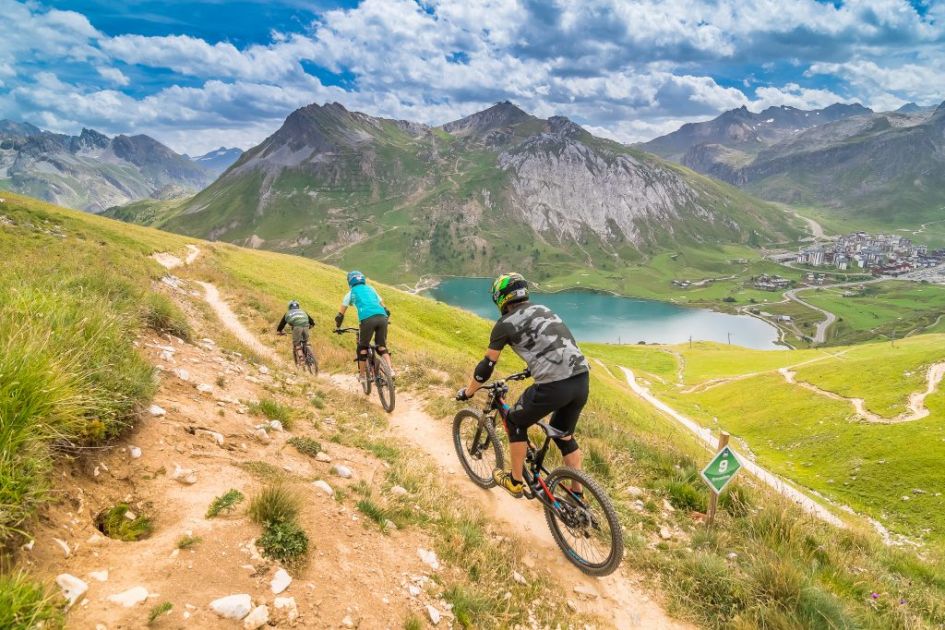 The Tignes Val d'Isere Bike Park offers an amazing 220km of dedicated mountain bike and e-bike trails and loops to explore. Pick your challenge from blue runs to black runs; the bike park in Tignes is accessible for all abilities. For the adrenaline seekers, speed down the challenging trails and take the opportunity to get air from the lips and jumps in the course along the way. All these trails are accessible by the Borstal chairlift, Tovière gondola, Palafour chairlift and the Tufs chairlift.
As you can see, the summer activities in Tignes are endless, ranging from mountain biking to paddle boarding. Tignes summer holidays leave little to be desired, especially when it comes to unwinding in the wellness facilities in one of our luxury summer chalets in Tignes after a hard day on the mountain. To start planning your activity holiday in Tignes, get in touch with our Summer Alps Specialists by sending an email or giving us a call on +44 1202 203659.