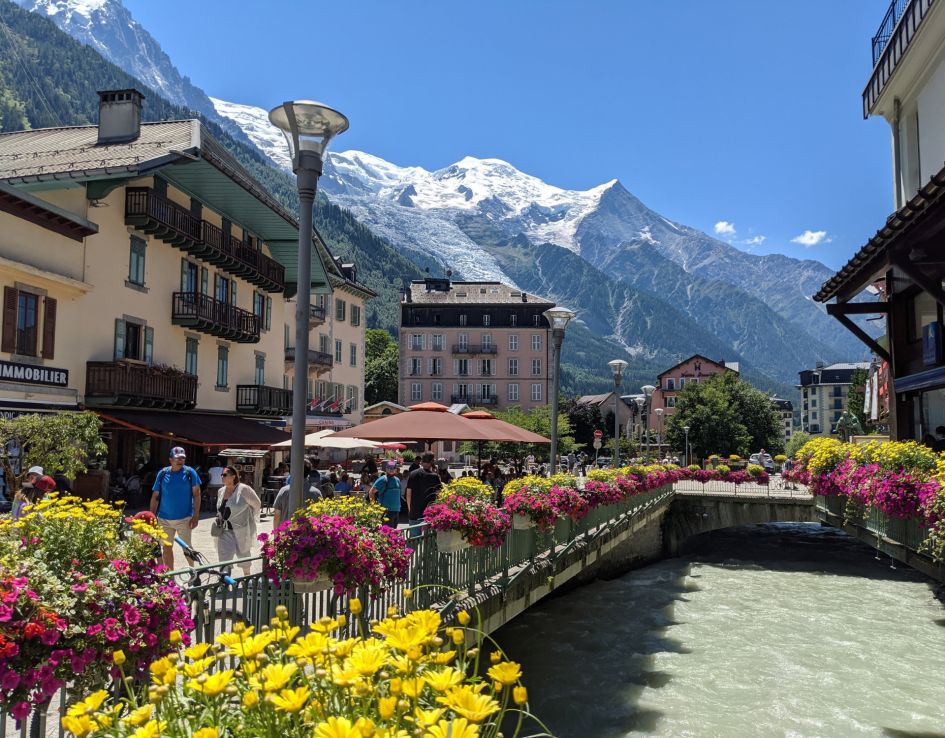 Why visit Chamonix in summer? Featuring beautiful scenery and an array of activities for all ages, Chamonix summer holidays present the picture-postcard setting for your dream Alpine retreat. Majestic Mont Blanc mountainscapes tower over the resort's lively centre, offering perfect picturesque views for a range of our luxury summer chalets perched on the hillsides. It's no wonder why Chamonix takes its rightful place on our Top 5 Summer Resorts in the Alps. If you've been lucky enough to experience a winter ski holiday in Chamonix, perhaps even through our sister brand Ski In Luxury, you'll be happy to know that this popular European mountain resort is just as enjoyable (and popular) in the sun!
Alps In Luxury are experts in the field by experiencing our resorts and properties first hand. And this year, I got the opportunity to my first summer holiday in Chamonix. So it was time to switch up from sitting behind the computer screen to experiencing the awe-inspiring and a completely unique reality of the Alps. They say a picture paints a thousand words, but being there in person left me completely speechless. If you're unsure of where to stay in the Alps in summer, or why Chamonix summer holidays should be top of your list, sit back and take a look at my top reasons to visit Chamonix this summer…
Why Visit Chamonix In Summer?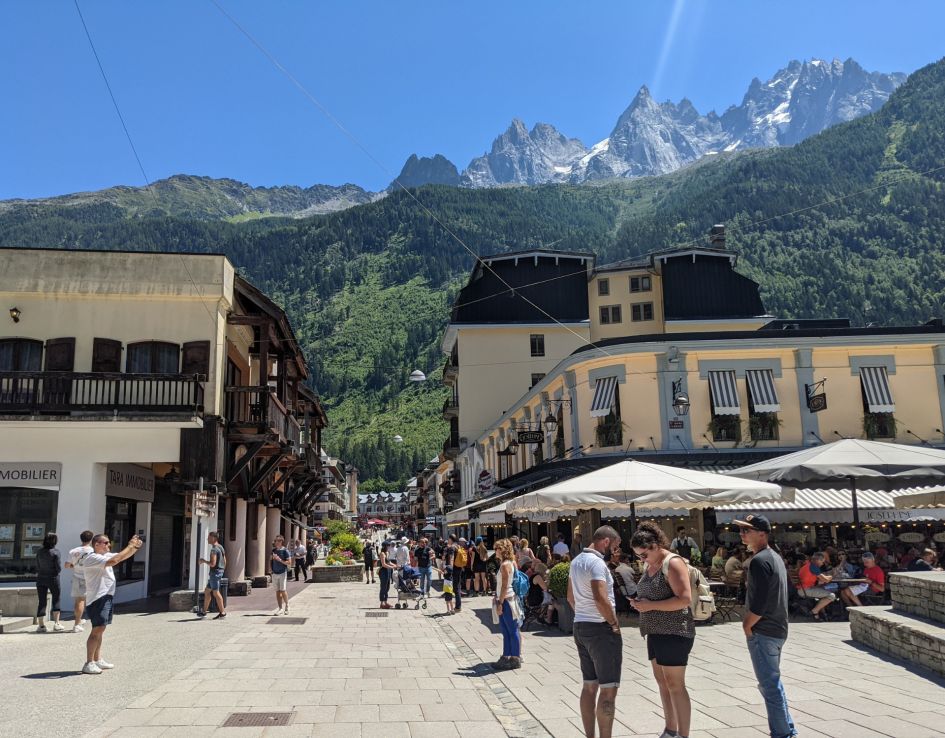 Chamonix summer holidays offer something for everyone. In the summer, the Alps Events Calendar is packed full of things to watch and get involved with, and Chamonix is at the forefront of this. Whether it's a gruelling mountain running race, such as the UTMB Mont Blanc, or something more relaxed like the Chamonix Yoga Festival, events in Chamonix attract tourists of all ages. During our stay we were lucky enough to witness the World Rock Climbing Tour in action, starring competitive climbers from across the globe!
Although our getaway coincided with one of Chamonix's events, it always feels like there is something going on in resort, even on a 'quiet' day! There's a real buzz in the main square, and the evenings are alive with the energy and vibrancy of Chamonix in summer. Alfresco dining and outdoor bars create a social atmosphere, perfect for nights' out on your luxury self-catered holiday to the French Alps (more of these nights out later on in the blog!). However, should you decide to opt for a quiet night in, the rejuvenating facilities found in a selection of our luxury summer chalets in Chamonix will be a more than sufficient back-up option.
Mountains, Mountains, Mountains…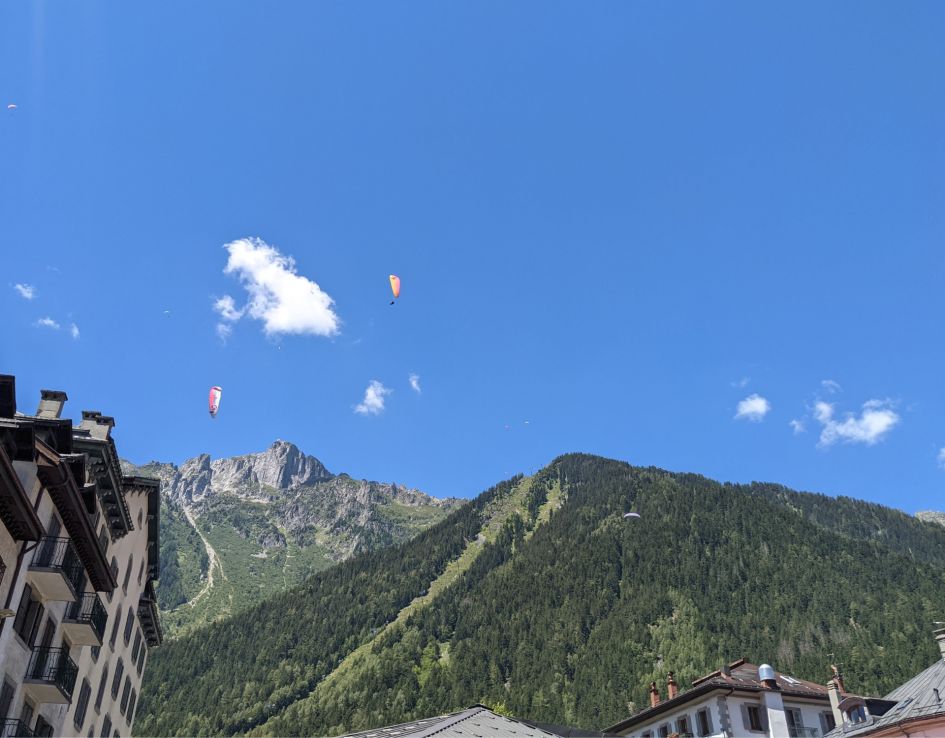 Located in the Mont Blanc region, Chamonix lies in a valley surrounded by mountain peaks on either side, sprinkled with icing sugar, even in summer. When first arriving, I was completely blown away by the sheer size of the natural wonders that towered above ground level.
However, the beautiful landscapes are just one of the many reasons to spend a summer in the Alps. In summer, the mountains create a playground for nature lovers and outdoor enthusiasts alike, from hiking to paragliding in the Alps and everything in between! Whether you are looking for a family summer in Chamonix or something more adrenaline-fuelled, Chamonix holidays will cater for all. There is just so much to do in Chamonix to fit it all into one short trip, but there is no reason why you can't try on your Chamonix summer holidays! To help you plan, read our Top 5 Activities for your Chamonix Summer Holiday blog to identify the best activities suited to your group…
Cham Charm & Character…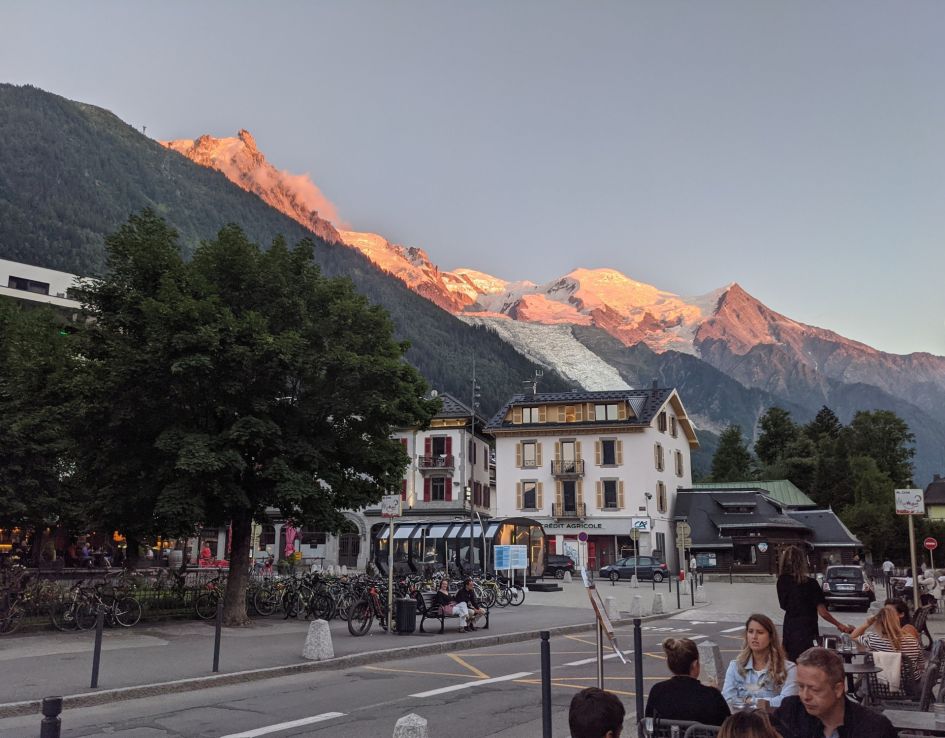 Prior to visiting Chamonix, traditional chalet decor and rustic features weren't high on my holiday wish list. However, now I have experienced summer in the Alps first-hand, it all makes sense! Beautiful mountain surroundings, beaming sunshine cutting through blue skies, delicious local aromas and charming, rustic town buildings…it is quite literally the definition of an Alpine holiday. Chamonix centre is full of character and hosts beautiful townhouses to keep your eyes fixed, if you ever become tired of looking at the mesmerising mountain landscapes.
Things To Do In Chamonix – Aiguille Du Midi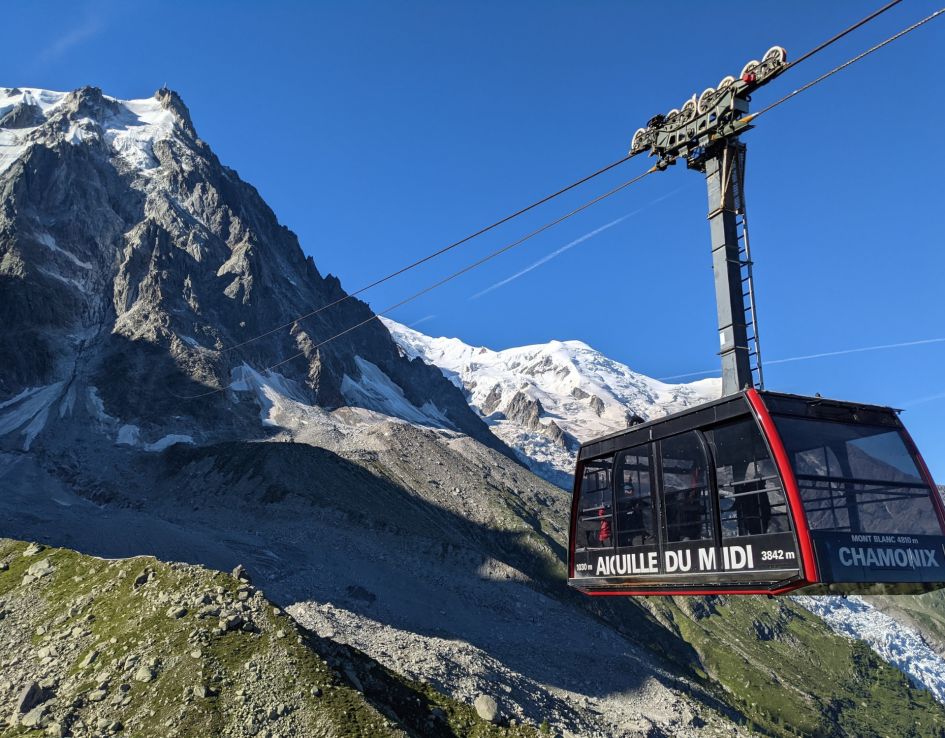 The Aiguille du Midi is a must for your French Alps summer holidays, let alone a summer holiday in Chamonix. In fact, the Aiguille du Midi cable car features on our French Alps Bucket List – a full guide for how to spend your summer in the Alps.
With this Chamonix summer holiday being a trip full of many firsts for me, the Aiguille du Midi lent itself as my first time in a mountain cable car – not a bad way to start! Transporting everyone up to an altitude of 3,842 metres, I was pleasantly surprised at how smooth and speedy the transition up the mountain was. Not to mention gazing at the beauty of Chamonix as we left it behind on ground level. For anyone not wishing to take the 'easy' route up, the Plan de L'Aiguille walking trail is one of the hardest hikes in Chamonix, as featured on our 'On Yer Hike!' blog.
When at the top of the Aiguille du Midi, it is not only the Mont Blanc and panoramic views of the Chamonix valley that await its eager visitors. During the beautiful blue-sky morning, my colleagues and I were able to fully absorb the monumental Mont Blanc, visit the Museum of Alpinisme, venture to Italy via the Panoramic Mont Blanc cable car, and even brave the Step Into The Void glass box! We could even spy the iconic Matterhorn Mountain in Zermatt, poking through the rugged skyline in the distance. With climbing in Chamonix a popular summer Alps activity, especially starting at the Aiguille du Midi, we strapped into our…only joking! We watched a number of ice climbers begin their ascent from a comfortable distance, much to the disappointment of my colleague, Ant, who's a keen climber!
Things To Do In Chamonix – Step Into The Void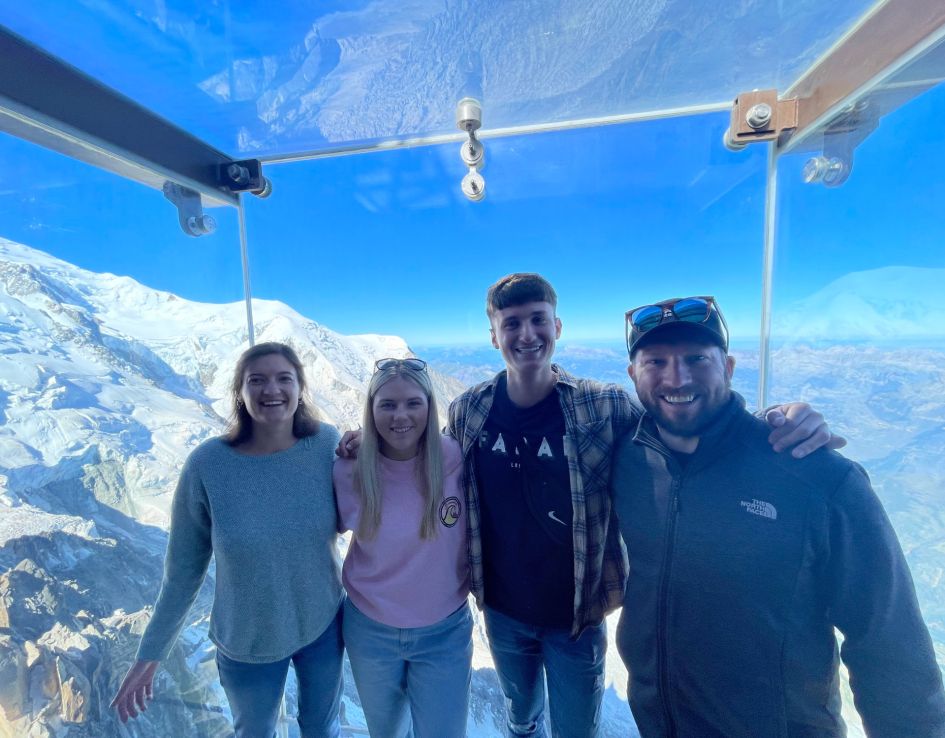 Not for the faint-hearted, would you dare to Step Into The Void on your luxury summer holiday in Chamonix? Situated at the top of the Aiguille du Midi, at a height of 3,842 metres, the Step Into the Void glass box offers a unique experience looking out to some of the highest mountain peaks in Europe.
One of the most popular things to do in Chamonix is the Step Into The Void which provides a sense of adventure for all ages. Children can challenge themselves, mountain lovers can spot their favourite peaks, and groups can walk away with an Insta-worthy photo which perfectly documents your summer in Chamonix – smiles, blue skies and mountain views! It's a real adrenaline rush, and the after feeling is truly amazing; you walk away knowing that you have just experienced some of the most beautiful, uninterrupted views from one of the very highest points in the Alps…
If you're looking for what to do in Chamonix in summer, or want to experience 'the highest tourist attraction in Europe, Step Into The Void should be at the top of your list!
Places To Eat In Chamonix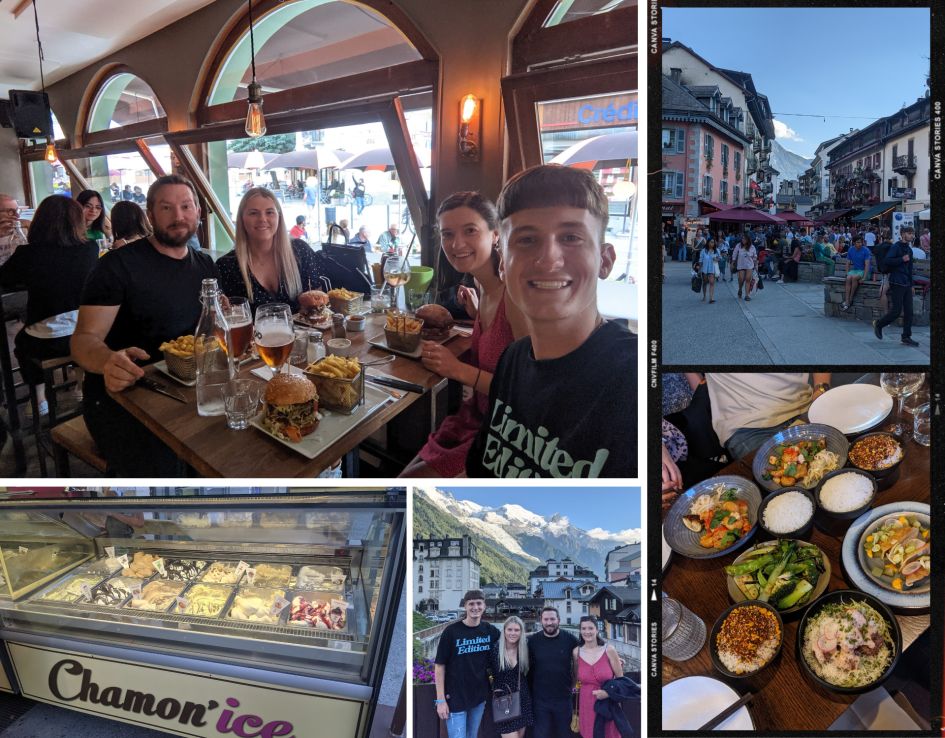 There are a number of places to eat in Chamonix, for even the most discerning diners. Perfect for a foodie's holiday in France, mouth-watering cuisine can be enjoyed throughout the course of the day. At lunchtime, we enjoyed a taste of 'classic France', savouring baguettes and pastries served by just one of the many local cafés and patisseries in the centre of Chamonix. Mountain restaurants in Chamonix offer heartier meals to fuel your days exploring the mountains, ideal for supplying that much-needed pre-hike or bike energy.
In the evening, the best bars and restaurants in Chamonix offer something for whatever you desire. Featuring a range of cuisine styles, even the most particular eater is catered for. During our stay, we dined at MOO Bar and MUMMA Restaurant. MOO Bar, a characterful burger restaurant, is perfect for a quick bite to eat with tasteful decorations inside, space for alfresco dining and a quality selection of music being played – their 'Walk In, Dance Out' slogan is perfectly advertised! MUMMA Restaurant offered a bit of a different dining experience in Chamonix. Presenting a néo-bistrot style atmosphere, suited to longer social evenings catching up with friends and family, the restaurant is full of life and emphasizes the sharing of its selection of pan-Asian delicacies – the Popcorn Shrimp dish was one of my favourites! Alternatively, for a contrasting experience, why not book one of our luxury catered summer chalets in the Alps for exquisite meals by your very own private chef in the comfort of your own chalet accommodation?
Rather than having dessert alongside our meal, our walk back in the evenings consisted of a mandatory stop at Chamon'Ice. Sure to be loved by kids on a luxury family summer holiday, and ice cream lovers in general, Chamon'Ice is a must-visit! The Kinder Bueno and Rum & Raisin flavours were firm favourites in our group and thoroughly recommended for your own Chamonix summer holiday!
Going Out In Chamonix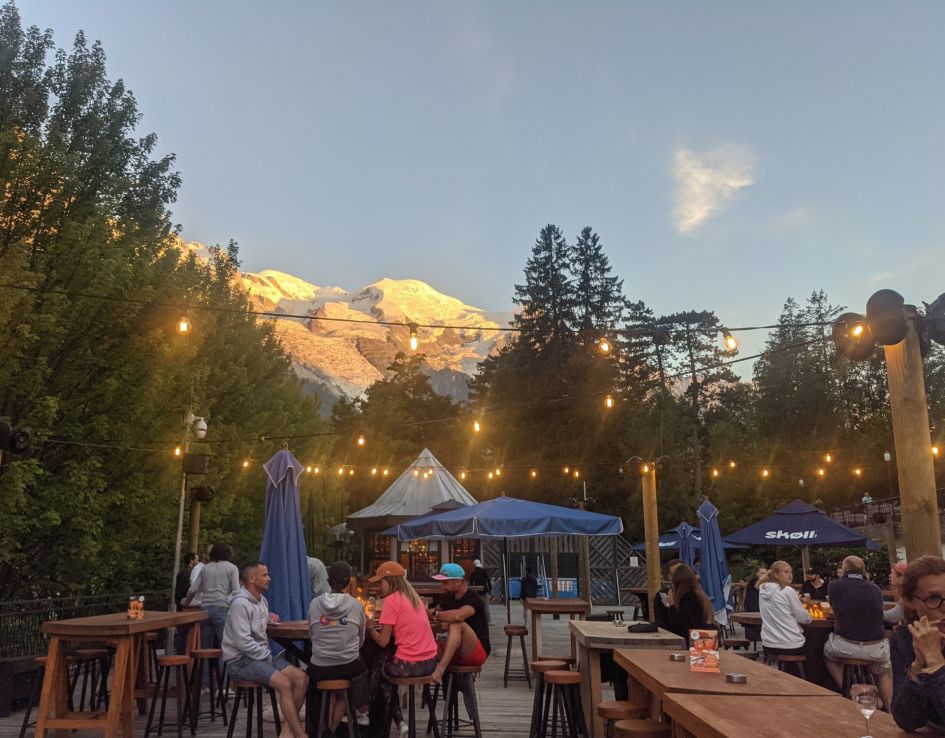 As mentioned previously, Chamonix summer holidays make the most of warmer weather in the Alps, with alfresco dining consistent across every side street of the town centre. Contributing to the buzz of the resort, going out in Chamonix is a lively, social environment for all generations.
On our first night, we were able to watch the sunset over Mont Blanc from La Folie Douce's terrace – a truly memorable experience after a long day of travelling! Perhaps hard to believe, for those who know La Folie Douce in the winter, we enjoyed a chilled atmosphere outside, complemented by a resident DJ and fire pit tables to warm to. It was the perfect place to spend the first night of our Chamonix summer holiday. Inside, we discovered the more familiar Folie Douce scenes, which is usually only open to guests staying at the hotel. The live dinner performances offered a memorable dining experience, starring incredible singers and flamboyant dance routines which enticed guests away from their food to join the sing-song!
Navigation Around Chamonix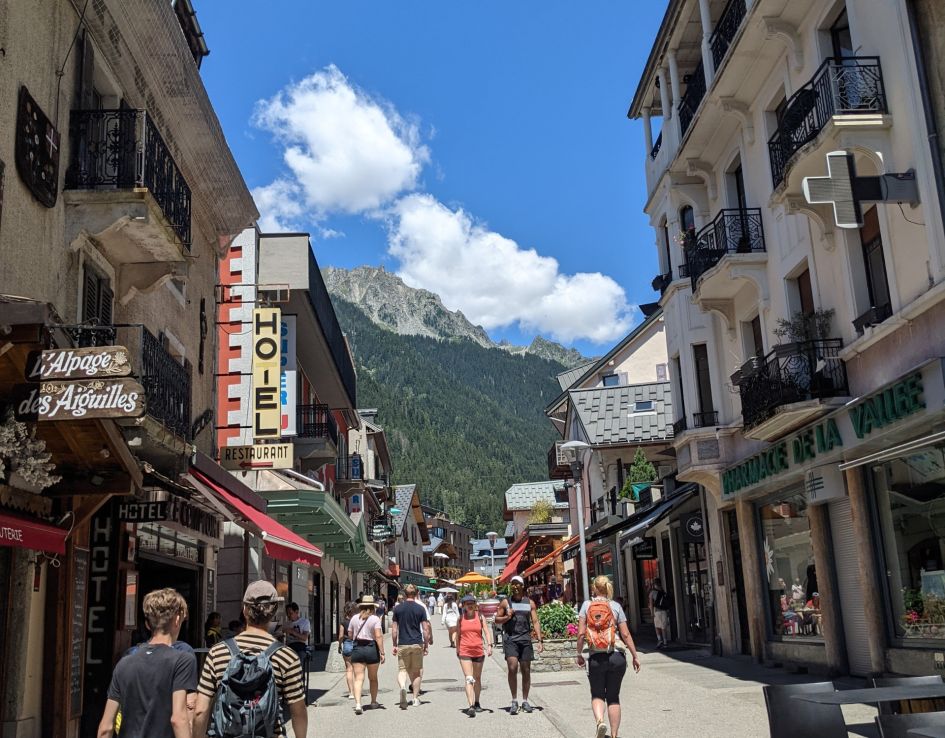 From one side of the town to the other takes approximately 15-20 minutes on foot. An ideal distance for exploring with any little legs on a family chalet holiday to the Alps, visitors will be enticed with the smells of French pastries, enchanting mountain landscapes and the clusters of paragliders in the air. Despite only spending a couple of days here, the resort was very easy to navigate around – the iconic Mont Blanc mountain was the ideal reference point to gather our bearings!
Many of our luxury summer chalets are situated within walking distance to the centre, ensuring you're never too far away from the action. For access to other areas within the valley, including Les Houches and Argentiere summer resort, a car is recommended for your adventures.
Places To Stay In Chamonix
Luxury summer chalets in Chamonix fuse together luxury wellness facilities with traditional Alpine beauty, ideal for your French Alps summer holiday. If you're considering your own Chamonix summer holiday, let me introduce you to a selection of our luxury chalet rentals in the Mont Blanc region…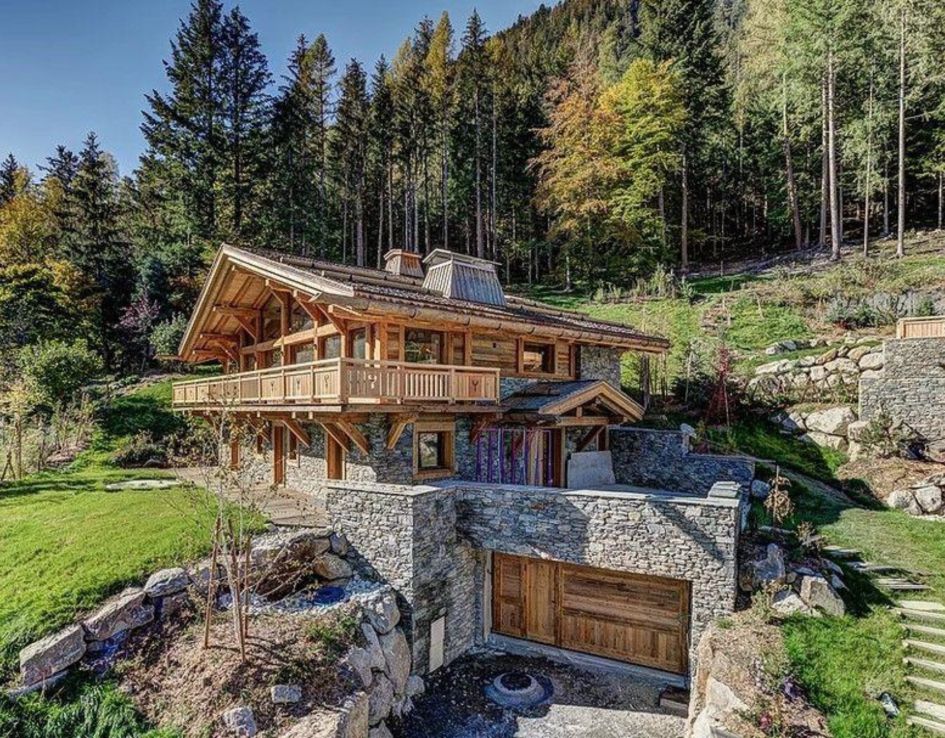 Chalet Saphir was the perfect place to host our Chamonix summer holiday. Serving as the idyllic Alpine home-from-home for our stay, the chalet was as impressive from the moment we stepped through the door to the moment we sadly had to leave. Entering through the garage, the private lift ensured easy transportation for heavy suitcases to the main bedroom floor. Situated on Chalet Saphir's ground floor, each of us made a choice between equally luxurious double en-suite bedrooms, like children at a sweet shop. Three of these bedrooms benefit from terrace access, leading out to beautiful Mont-Blanc Massif views – suitable for an alfresco coffee before your day of activities in Chamonix.
Chalet Saphir features as one of our luxury summer chalets with hot tubs, which was also accessible from three of the bedrooms. Taking advantage of a prime hillside position in the exclusive hamlet of Hameau des Plans, we were lucky enough to see flocks of paragliders landing beside the chalet after a long day's 'work'. You can gain a better view from the wrap-around terrace on the second floor, inclusive of impressive Aiguille du Midi and Mont Blanc Massif views. The main open-plan living area offered a spacious, yet homely, setting complete with a comfortable TV corner, large feature dining table and a social fully-equipped kitchen space. Four single beds and an en-suite shower room occupied Chalet Saphir's mezzanine floor, ideal for little ones on a luxury summer holiday in Chamonix.
For larger groups up to 41 guests, this luxury summer chalet in Chamonix can be taken with Chalet Alaska and Chalet Azurite to create Le Hameau des Plans. Perfect for mixed holidays with family and friends, these chalets are perfect for those seeking individual chalet privacy yet in very close proximity to each other.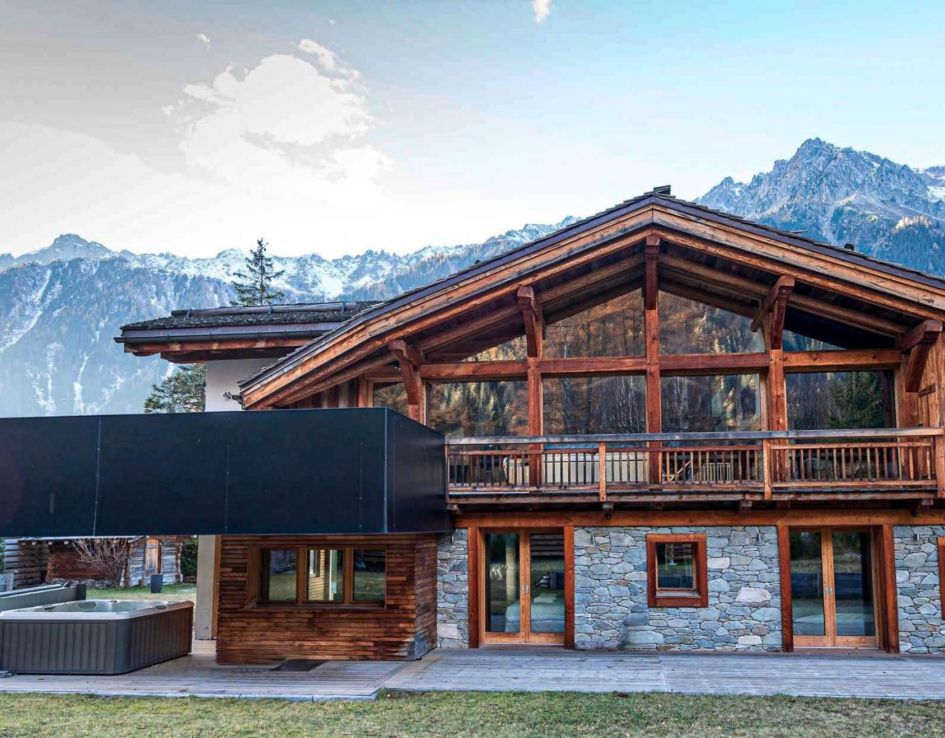 Chalet Bonami is a completely renovated farmhouse situated in one of the resort's most popular, yet peaceful, neighbourhoods; a truly picturesque setting for a summer holiday in Chamonix for up to 14 guests. Retaining an authentic feel and oozing luxury, contemporary design, Chalet Bonami's interiors leave nothing to be desired. High-vaulted ceilings and full-height windows surround the open-plan living area, complete with everything you could need for a luxury self-catered holiday in Chamonix, including a games room on the mezzanine floor. In the evening, enjoy a glass of wine from the temperature-controlled wine cellar, as you watch the sunset over the mountain landscape on the balcony, or make the most of the cinema room in this luxury summer chalet, for movie nights in.
On the ground floor, a collection of wellness facilities offer the appropriate luxury on your summer getaway, including a covered outdoor hot tub, sauna, Hammam and gym facilities.
Chalet Bonami sleeps 10 adults and 4 children in 6 beautiful bedrooms, an excellent option for family holidays in Chamonix this summer.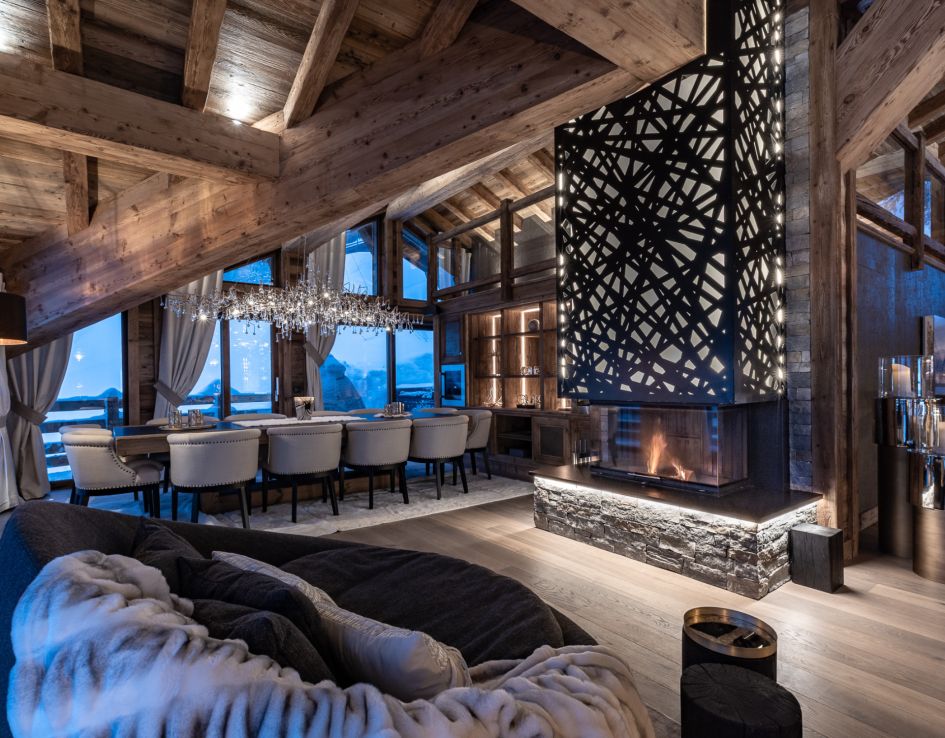 Featuring as one of our Top 100 Luxury Chalets in the Alps, Chalet Infinity certainly did not disappoint! Located in Argentiere, this sensational luxury chalet is an idyllic setting for your summer holiday to the Chamonix Valley. As soon as you enter the property, alluring aromas will welcome you into the luxury interiors, complete with exposed wood, contemporary lighting and sumptuous furnishings. A spacious, yet cosy, open-plan living area commands the top floor, alongside the deluxe master bedroom, showcasing traditional elements as well as a wrap-around terrace looking across to the Aiguilles and garden below.
On the lower floor, luxury wellness facilities are in abundance; a spa area, complete with a large infinity swimming pool, sauna, Hammam, shower and lounge area, offers the perfect place of serenity. A massage room, sound-proofed cinema room, bar area and football table continue your evening's entertainment. Or in contrast, the gym facilities provide the opportunity to continue your workout – what more could you hope for during your stay in Chamonix in summer? Sleeping up to 10 guests, the 4 remaining double/twin en-suite bedrooms offer a luxury homely atmosphere for your night's rest. Each of these rooms benefit from garden access, as you enter the property on its main bedroom floor level.
Chalet Infinity is one of our best family summer chalets in the Alps and also perfectly set up for summer Alps corporate trips, offering a lot of everything for discerning travellers.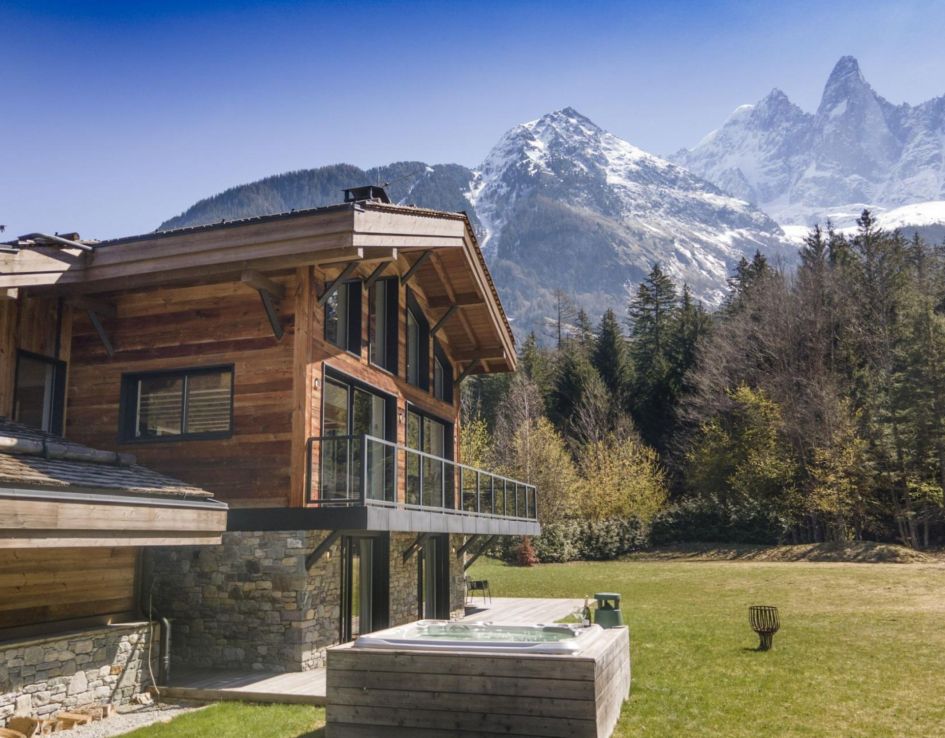 Chalet Elevation is a modern luxury summer chalet that maximises mesmerizing mountain views, plenty of outdoor space and relaxing wellness facilities for your holiday in Chamonix. Train spotters will love catching a glimpse of famous Chamonix train as it winds its way along the valley floor. The chalet is an extremely impressive property for up to 12 guests in the beautiful area of Les Bois and Les Tines.
Characterised by open-plan living spaces and floor-to-ceiling windows, to make the most of mountain views, Chalet Elevation's interiors are bright, spacious and perfectly configured for social evenings with the whole group. The remarkable kitchen window will be sure to impress! A welcoming spa area, complete with an indoor swimming pool and sauna, can be found on the lower ground floor. There's also a fabulous cinema room which also has its own bar area. Sleeping up to 12 guests, there are 3 double en-suite bedrooms, 2 double/twin en-suite bedrooms and a bunk bedroom. Chalet Elevation presents itself as a great option for those luxury family summer holidays in Chamonix.
There were even more chalets that we viewed on our luxury summer holiday in Chamonix, including Chalet Black Diamond. Due to it's location it should be considered one of the top chalets for your climbing holiday in the Alps or a Chamonix golfing holiday. To decide the best place for your holiday, view our full range of our luxury summer chalets in Chamonix.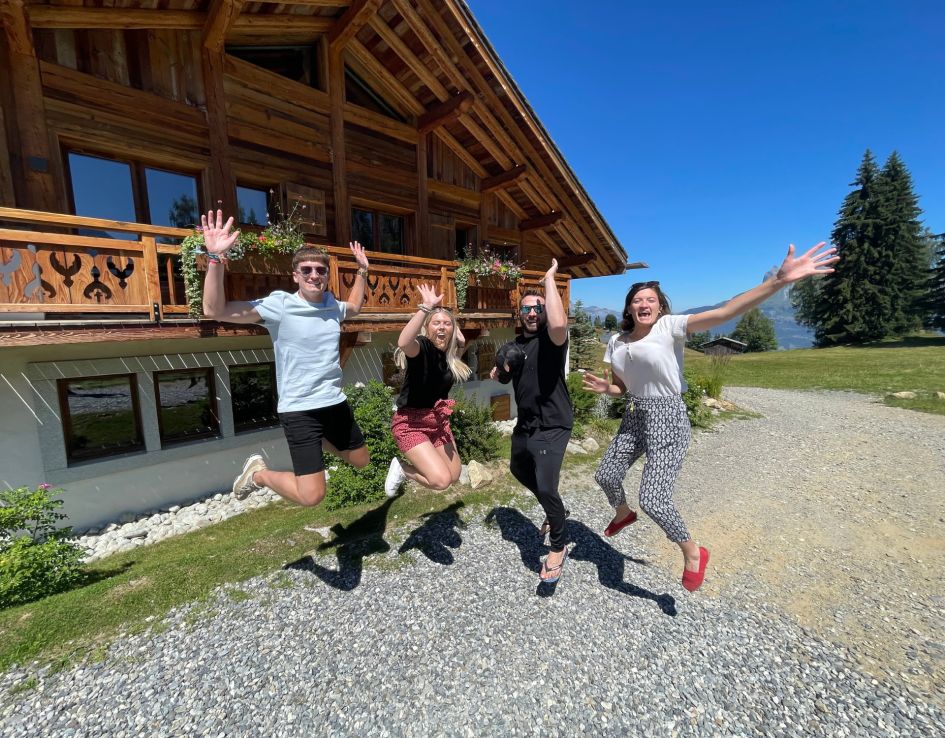 My experience of Chamonix in summer was completely unforgettable! Being able to enjoy just a small part of what there is to do on a summer holiday in Chamonix, not to mention visiting a selection of luxury Chamonix chalets we have to offer, is something I won't be forgetting in a hurry…
If Chamonix seems like the perfect location for your next luxury summer holiday in the Alps, get in touch with our team of mountain specialists to start planning your stay today! Give us a call on +44 1202 203659 or email us.